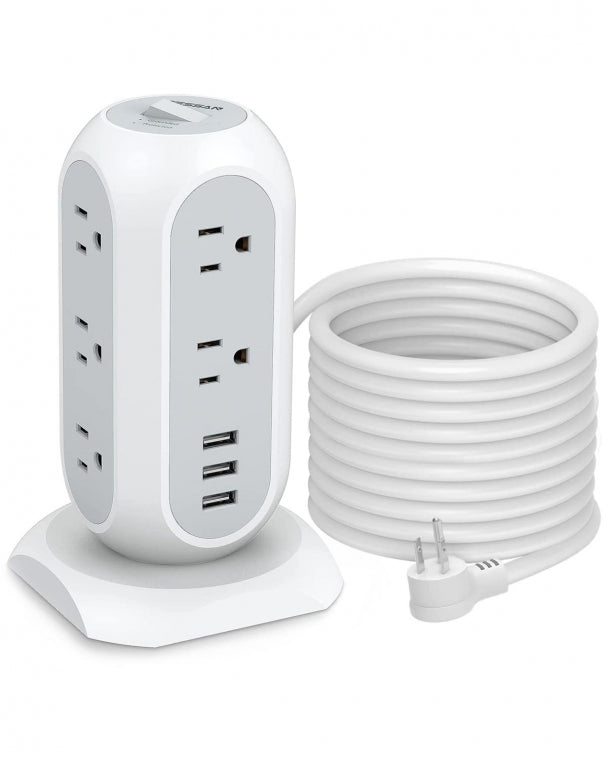 Surge Protector Power Strip Tower 6 FT Extension Cord With 11 Outlets 3 USB Ports
Trusted Delivery
Power Strip Tower has 11 AC outlets and 3 high-powered USB ports
About This Item:
Multiple Outlets Power Strip Tower: Our surge protector power strip tower has 11 outlets, and 3 USB ports. The multi-outlet plug tower supports a wide voltage of 100V-250V, with 15A heavy-duty 6ft extension cord rated 1875W. And 3 USB Ports total is 5V/ 3A. (5V/ 2.4A Max Per Port) This 14 in 1 power strip can be your charging station for multiple devices.
Multiple Safety Protection: This surge protector power strip with USB has surge protection (1050J), overload protection, short-circuit protection, over-current protection, and so on. The on/ off switch can automatically shut off to protect your expensive devices like computers, TV at home, office, college dorm, etc
Space-Saving Tower Design: With the unique vertical design, the TESSAN charging station helps you save space. You can think of it as a desk organization, don't need to worry about big plugs blocking each other. Choose this office supplies, and make your desktop tidy.
Standing Tower with Stable Base: The stable base has 4 rubber foot, keeps it from slipping and sliding, and increases the stability on any tables.
Flat Plug for Widely Used: The extension cord with multiple outlets also has a 45° flat plug, which fits easily into hard-to-reach places behind your bed or sofa. Widely used for home, office, or other places
Space-Saving Tower with USB
The extension cord tower with multiple outlets is in different directions. The size of power strip tower is 6.61 x 2.55 x 2.55inches. Vertical design helps you save more space.
Built-in Multiple Protection
Tower power surge protector has surge protection, overload protection, lightning protection, short-circuit protection. Built-in safeguards circuit breaker protect your devices against excessive current.
Widely- Spaced Multiple Outlets
The closest distance to each plug is 1.55inch (39.5mm). Widely spaced for big adapter using at the same time without blocking each other.
Overload Switch Tower Charging Station
The power strip has a built-in circuit breaker switch. And power strip has a surge protector and ground protection indicator light. It will automatically stop to ensure electronics are safeguarded from overload.
Stable Base Power Strip Tower
The width of the base is 3.93inch, which is bigger than the power strip itself, make it stable and durable. And 4 rubber feet on the bottom keep it from slipping and sliding.
45° Flat Plug Power Strip
The 45° flat plug is engineered to allow the power cord to sit close to the wall and fit easily in tight spaces, like behind the sofa, wardrobe, or other furniture.
Specification:
Power Rating: 1875W - 15A MAX, 125V~(2500W - 15A MAX, 250V~)
USB Input: AC 100-250V~ 50/60Hz
USB Output: 5V - 2.4A Max Per Port. Total Output: 3A
Surge Protection Rating: 1050 joules
Item Dimension: 6.61 x 2.55 x 2.55inches
11 Widely AC Outlets
3 USB Charging Ports
1050J Surge Protection
Overload Protection
6 Feet Extension Cord
Standing Tower Design
Right Angled Flat Plug
Mini Size & Stable Base