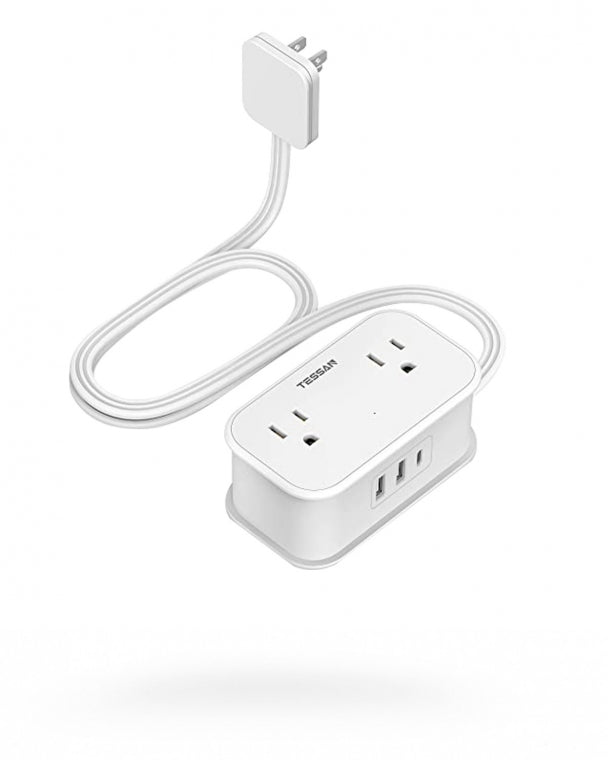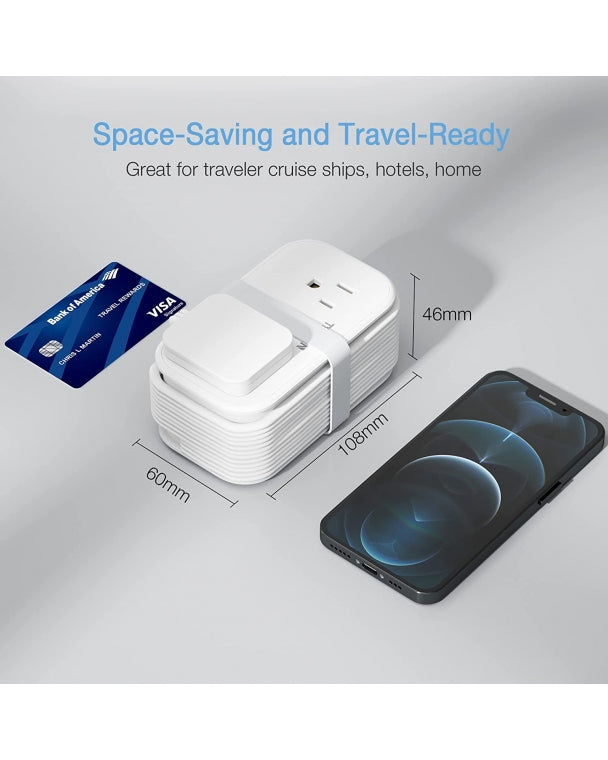 Travel Flat Plug Power Strip 3 FT Extension Cord Flat Plug With 4 Outlets 3 USB Ports(1 USB C Port)
Attention to Our Valued International Customers
Outside the U.S.? Please shop our products hassle-free on Amazon.
Travel Flat Plug Power Strip
About This Item:
Space Saving and Travel Ready: This small power strip is smaller than the size of a cellphone and can fit comfortably in your palm or pocket, ideal to bring during business trips and vacations to keep all your essential devices charged
3FT Wrap-Around Short Extension Cord: This travel extension cord wraps around itself to make it packs easily and provides the perfect length from a wall outlet to a nightstand or desk. It occupies only a single outlet on your wall panel, put it on the outlet below and you still have enough space to be used
7 in 1 Portable Power Strip with USB: Short Extension Cord could turn 1 socket into 4 outlets and 3 USB charging ports, which could charge up to 7 devices at the same time without a variety of converters, saving your space and making your desktop organized
Flat Plug Power Strip: With only a 0.35-inch ultra slim design, a flat wall plug is much thinner than traditional plugs, which can close to the wall easily, and hide in the back of furniture, bed, or refrigerator, with no waste for every inch of space for your home office college dorm room
Cruise Accessories Must Haves: This cruise power strip with USB ports is designed with no surge protection, making it a cruise-approved power strip. Compact and lightweight make it fits right in your hand, pocket, and luggage, great for traveling cruise ships
0.35inch Low-Profile Flat Head
TESSAN power strip flat plug can easily fit behind any furniture which is close to the wall, it allowed you to push your couch right up against the wall and still able use the outlet behind the couch
0.12inch Ultra Slim Flat Cord
The 3 ft wrapped flat cable is thinner than the standard round power bar to run under the carpet and doesn't hurt when you step on that spot; It can keep unsightly cords hidden and allows furniture placement without having to accommodate
No Surge Protection for Cruise Essentials
Cruise Accessories Must Haves
This Cruise Accessories Must Haves will triple the available outlets in your Cruise Cabin. You'll find most cabins have only two available wall plugs! But you have cell phones, laptops, cameras, and many other devices that need charging. Our Cruise plug is the ultimate solution and easy addition to your cruise essentials list
Cruise lines require that power strips DO NOT have Surge Protection. Our product was made specifically to adhere to these rules so it's fully cruise compliant.
Widely Spaced Power Strip
Widely spaced outlets fit for slightly 4 big power adapters without blocking adjacent outlets. Saving your space and making your desktop organized.
3 ft Wrapped Short Extension Cord
Our travel power strip only with 108*60*46 MM handy size, easy to fit in the corner of your suitcase. Good choice to take to travel. This cruise power strip is designed with NO surge protection, making it fully cruise ship approved
USB C Power Strip
This thin outlet concealer includes 3 USB ports to meet your multiport charging demands. Dual USB-A ports can charge up to 2.4A, and the USB-C port can charge up to 3A; Ideal for cell phones, tablets, power banks, and laptops; Note: total USB ports output is 5V/3A, 15W max
Suitable for Any Occasions
This short extension cord can widely apply to most electronic appliances to be used in any indoor place, such as a home, office, dorm room, hotel, or cruise ship
Specification:
Voltage Compatibility: 100~125V AC 50/60Hz
Power Rating: 1250W, 10A Max, 125V~
Item Dimensions: 4.25*2.4*1.8 in
Product Weight: 0.43lb
USB-A output: 5V/2.4A per port
USB-C output: 5V/3A
Total USB output: DC 5V, 3A/15W in Total
Length of Cable: 3 Ft