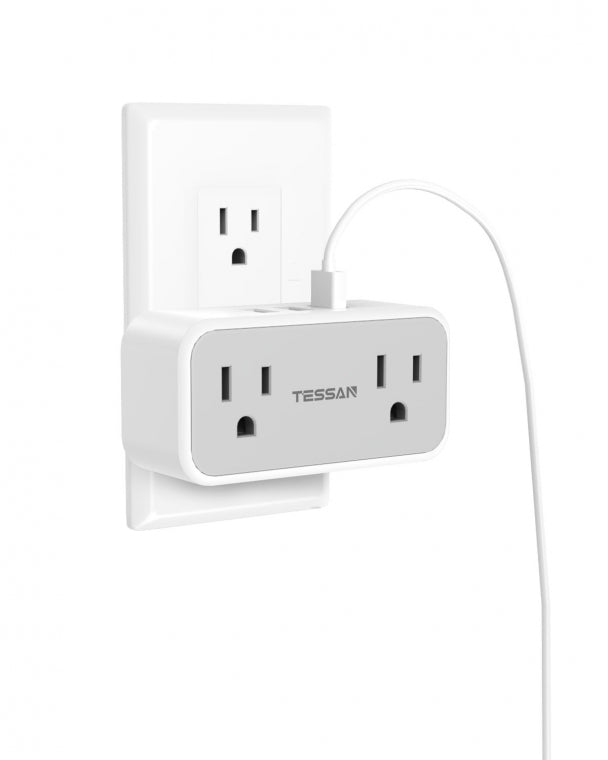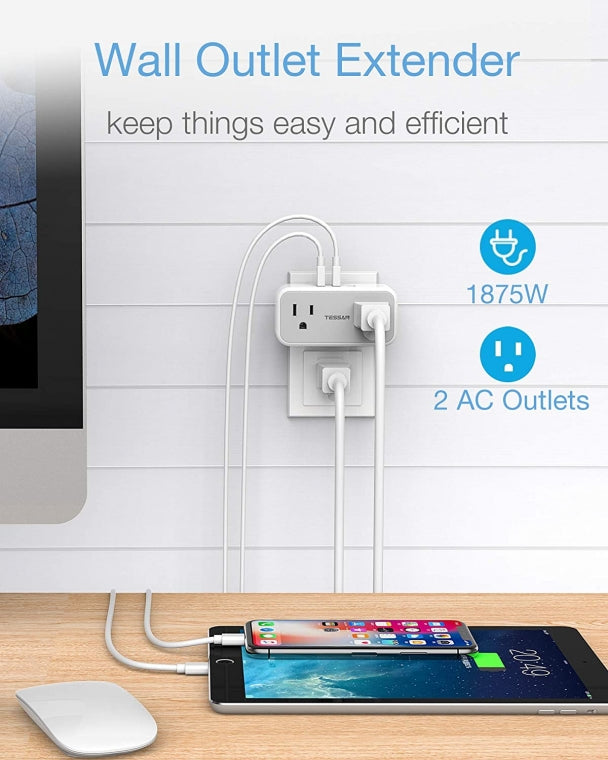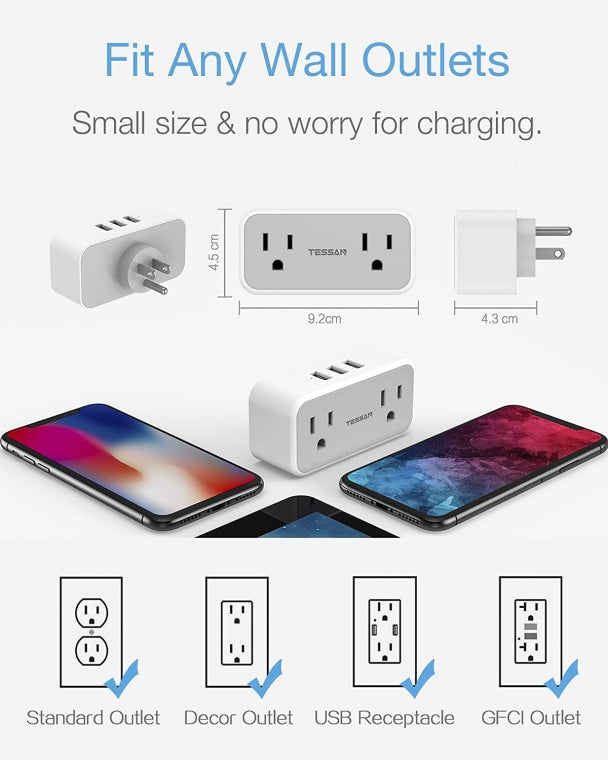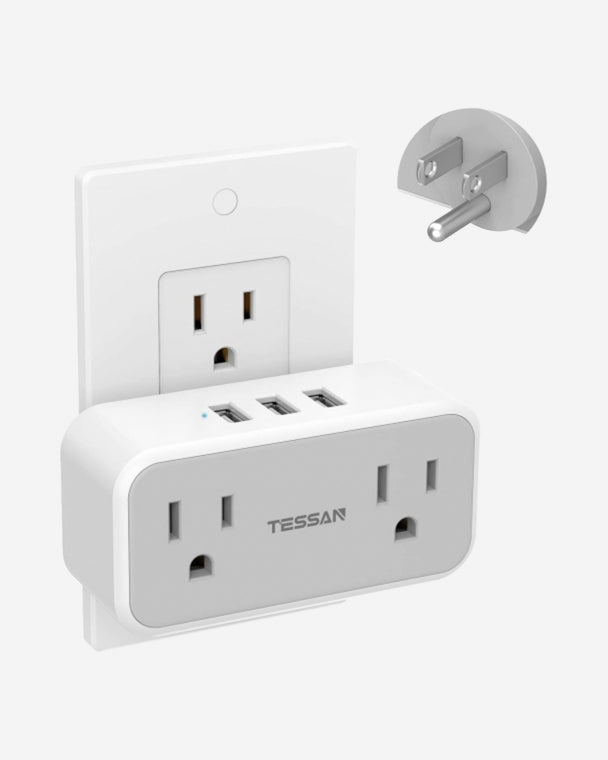 Travel Multi Plug Outlet Extender With 2 Outlet Box Splitter 3 USB Wall Charger
Trusted Delivery
5 IN 1 Multi Plug Outlet
2 AC Outlets 3 USB Ports
TESSAN wall outlet expander is compact design makes it easy to carry around. You can pack this wall plug expander along with your other travel gears while traveling in the US or Canada.
About This Item
Cruise Accessories Must Haves: No surge protection, No cords, making outlet splitter fully cruise essentials approved
Travel Size: This multiple plug extender is small and lightweight design to fit into luggage and briefcases, Ideal for travel and business trip
USB Wall Plug Charger: 3 USB ports can detect charged devices and deliver optimum fast charging speed up to 2.4A (max), ideal for cell phone, Tablet, etc; The indicator let you know the usb outlet power is on/off
Wall Outlet Expander: Accommodates 2 bulky plugs at the same time without blocking, support dual range input of 100V-125V, 15A, max 1875W, suitable for most home appliances like laptops, hairdryers, shavers and more; Fit over both GFCI and standard receptacles
Space Saving: This mini multi outlet plug occupies only a single outlet on your wall panel, put on the top outlet and you still have enough room to be used; 1 outlet can extender to 3 USB ports and 2 outlets, powering up to 5 devices at the same time
Multiple outlet wall plug
1875W Electrical Outlet Extender
This wall plug expander has 2 AC outlets, rated for 15A, 125V, 1875W, suitable for most home appliances laptops, hairdryers, shavers and more; Fit over both GFCI and standard receptacles.
USB Charging Station
3 USB ports provide a total of 2.4 amps of power. It also comes with built in device detection to ensure the fast charging. Compatible with cell phone, tablets, and other USB devices.
Cruise Ship Must Have
This outlet extender box has no surge protection, making it fully cruise ship approved. No cord design can simply plug into any vertical grounded AC outlet to less cable chaos and reduce the superfluous wall socket
Outlet plug extender
Widely Spaced Outlets
Power adapters are often so big that they partially cover adjoining outlets and make it difficult to plug all your gear onto a single outlet extender. But the wide spacing of this wall plug extender can accommodate 2 bulky plugs.
Compact Outlet Splitter
Our power outlet expander is palm-size and ultra-light. helping you save your briefcases or luggage space, making it suitable for travelers, business man, travel family. No need to install just plug the usb outlet into the wall socket
Suitable for Any Occasions
TESSAN plug splitter with USB port is very useful for your household appliances at home or office. Outlet splitter can be used in any indoor place with socket, especially for the bedroom, bathroom, hotel, college dorm room essentials.
Specification
Input voltage: AC 100-125V
Rated power: 1875W-15A Max.
It Does NOT convert voltage
Item Dimension: 3.7 x 2 x 2.63 inches
Suitable for All Receptacles
There is no plastic stake on the back, making it suitable for all receptacles, including standard receptacle, decor receptacle, USB receptacle, GFCI receptacle, etc.