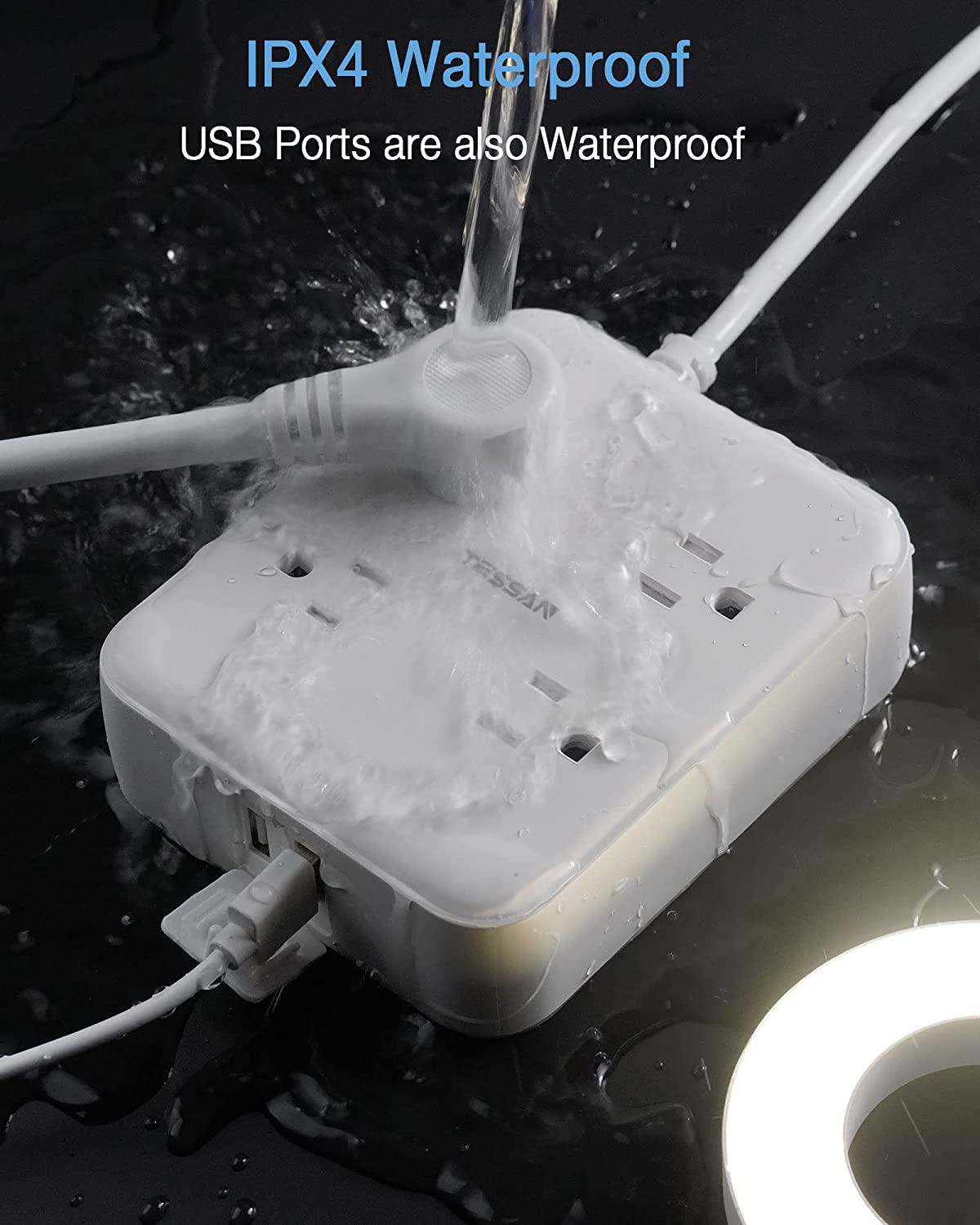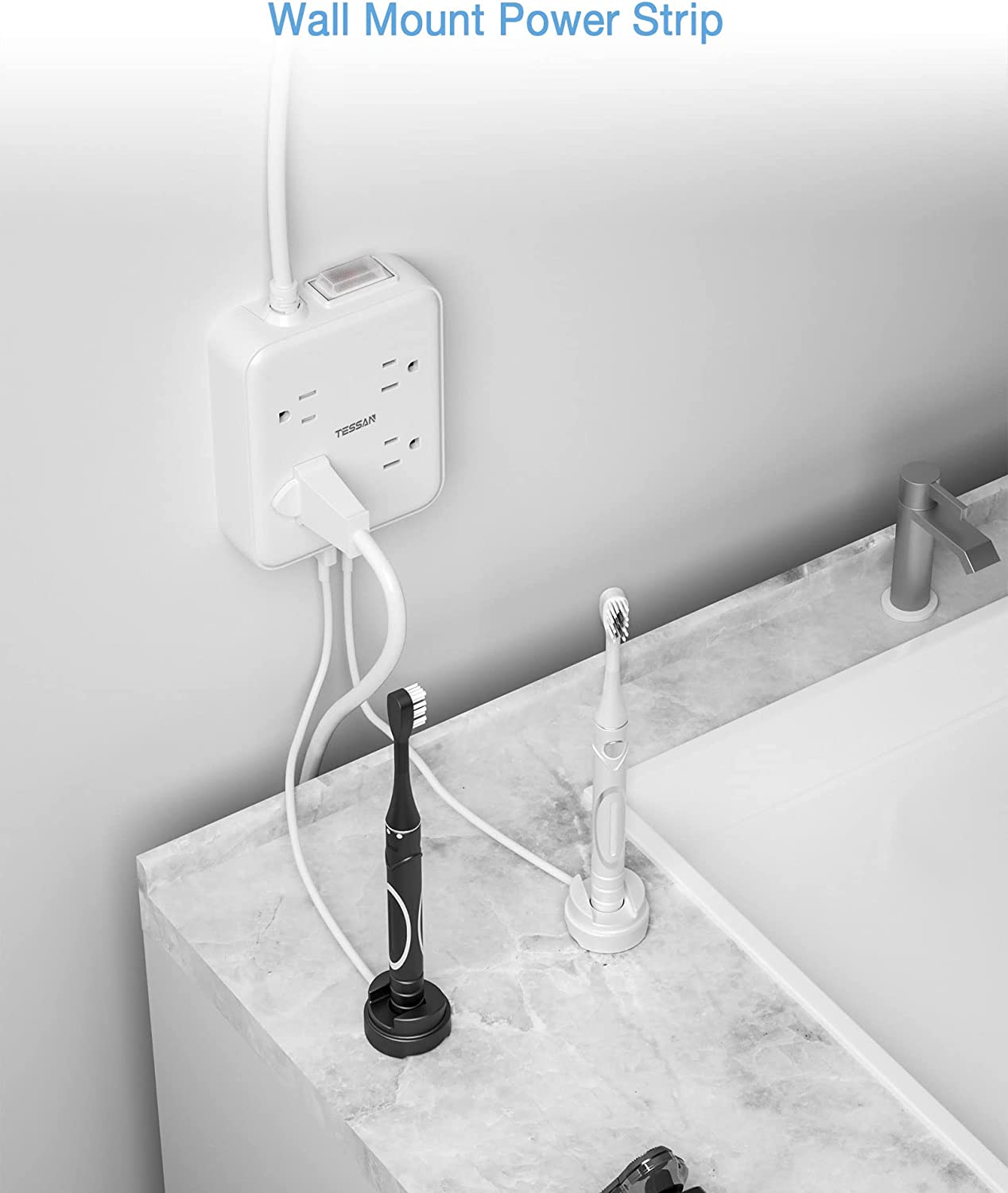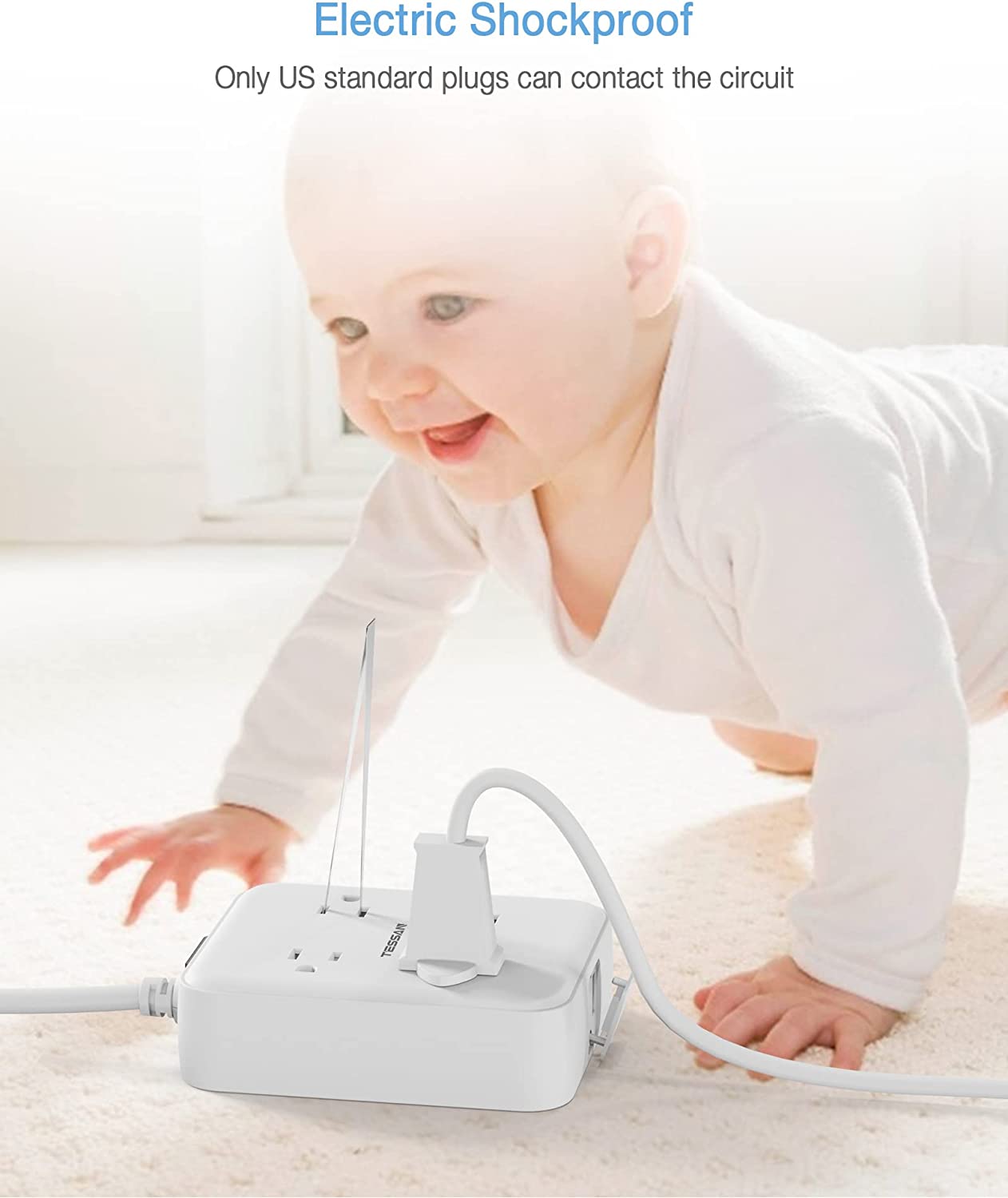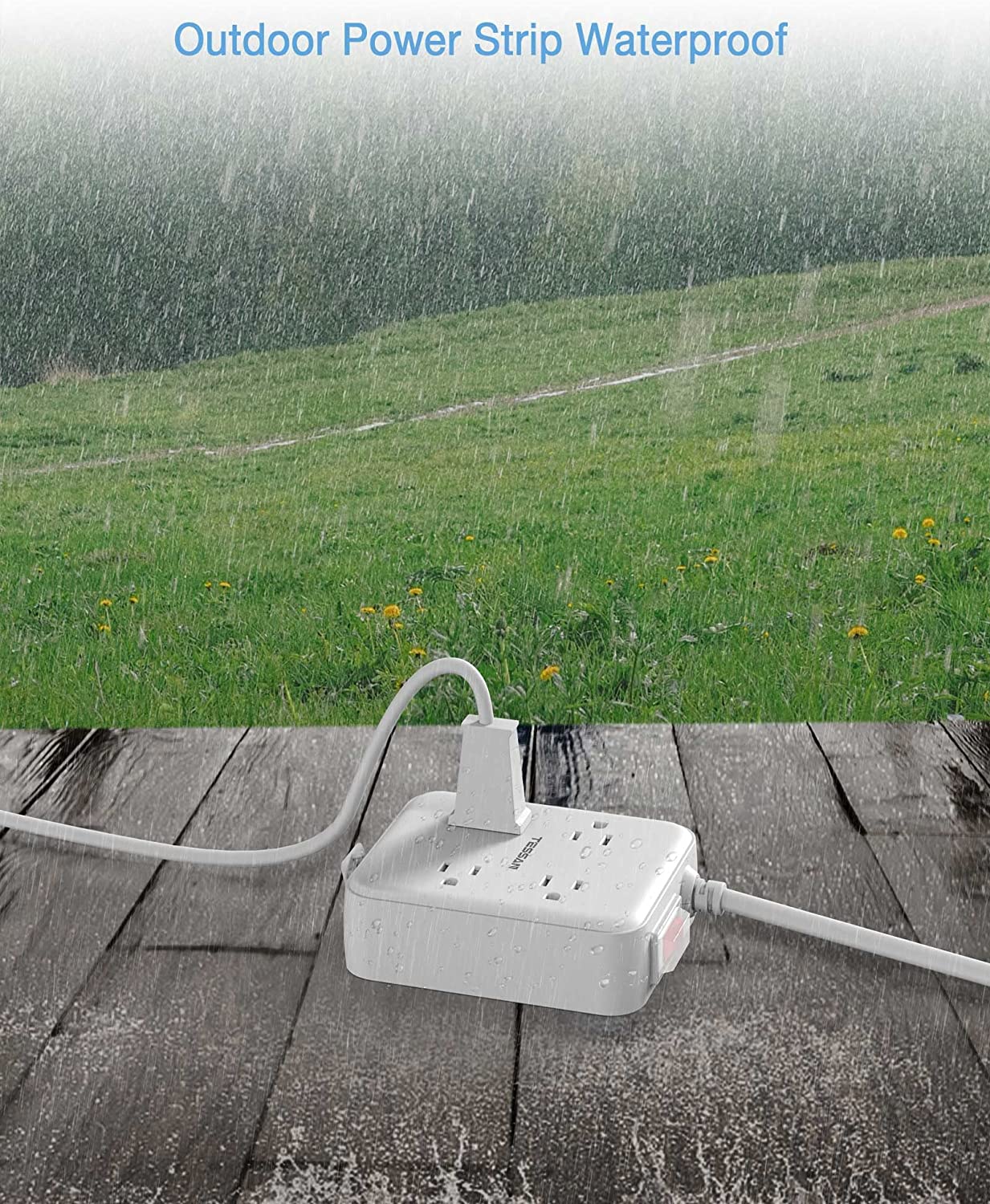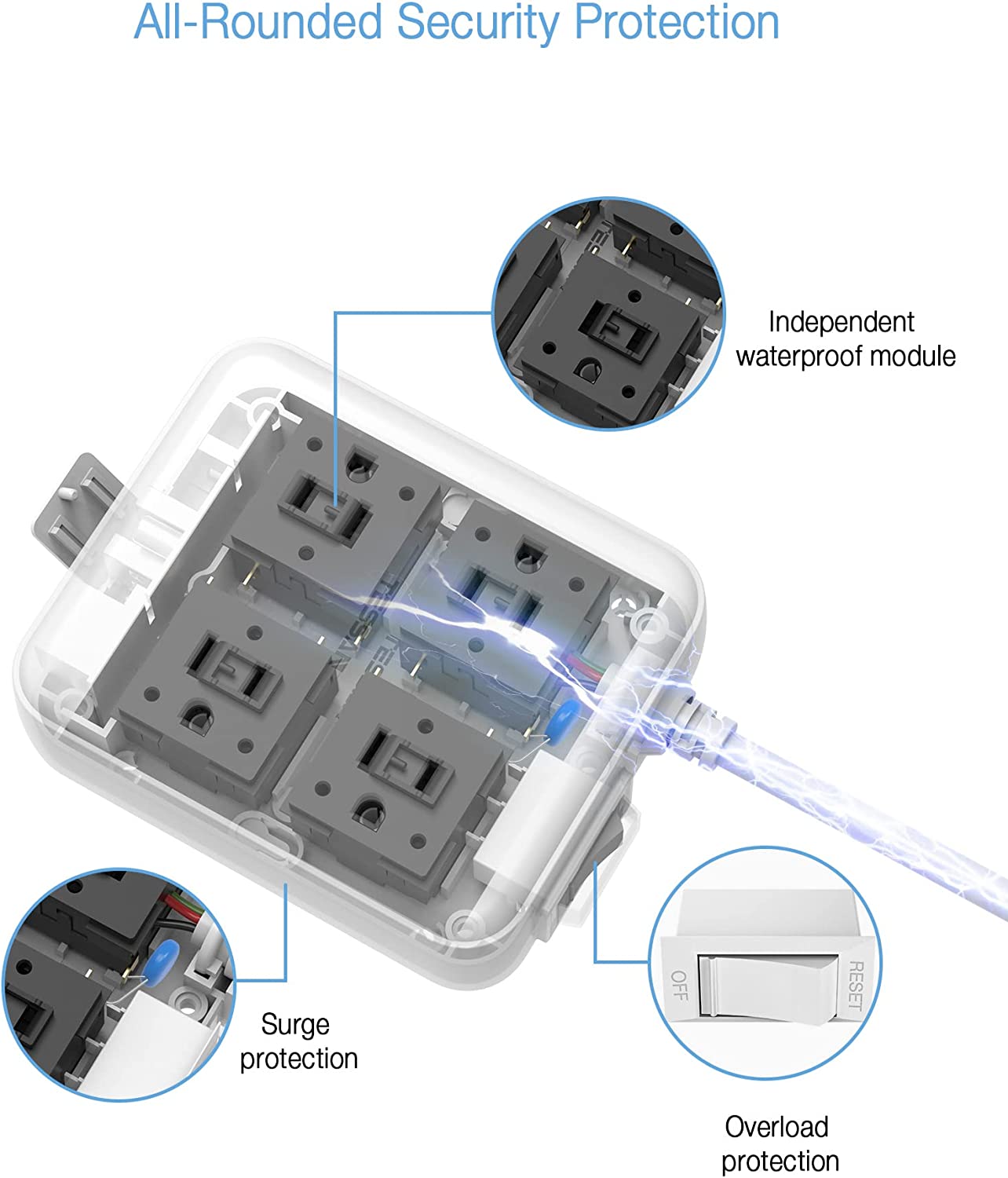 Outdoor Waterproof Surge Protector Power Strip 6 FT Extension Cord With 4 Outlets 2 USB Ports
Trusted Delivery
Outdoor Power Strip Waterproof
AC Outlets and USB Ports support IPX4 waterproof, weatherproof, electric shockproof.
Solve the power problem in humid environment, and solve the risk of electric shock that may be caused by accidental touch.
Ideal for wet environments such as kitchen, toilets and bathroom, outdoor shower, decoration lighting, and camping.
NOTICE:
This power board can withstand rain and water flow, but do not completely immerse the product in water
When water flows into the socket, there are drain holes on the back of the power board to drain the water
Please make sure that there is no water inside the power board before turning on the power
About This Item:
Water-resistant and Splash-proof: The outdoor Power Strip with 4 Outlets is IPX4 rated waterproof and electric shockproof, which can be used safely indoors and outdoors in Rain or thunder and it can prevent electric shock or short circuit and other safety issues caused by water splash
Surge Protector Outside with 2 USB Ports: 2 USB Ports are waterproof and this outdoor extension cord is built-in over-current and over-heat protection, that will disconnect automatically when overloaded, which can protect your devices against lightning strikes and sudden surges
Electric Shockproof Outlets: This power strip with USB ports uses a unique electric shockproof structure designed specifically for American standard plugs, Which means forks, tweezers, keys, and even children's fingers can't get powered through these electric shockproof outlets
All-round Safety Design: Excellent drainage structure, independent waterproof module, surge protection, overload switch with rubber cover, ABS and PC flame retardant, and the bottom of the power strip is equipped with drainage holes to provide waterproof and safe
Suit for Outdoor and Indoor: The outdoor extension cord waterproof can be used in the bathroom, kitchen, patio, deck, garden, etc where get wet by water splash, humid and wet sometimes by rain and lightning
Electric Shockproof Outlets
Built-in a safety door while the metal things(such as forks, tweezers, keys) or kids' fingers directly contact the power strips, the power strip will be not energized. Great for families with babies and the elderly.
Suitable for High Humidity
Our outdoor surge protector with 8 drainage holes. Water flowing into the socket will not damage the internal circuit because of its special internal structure, and the water will be discharged by the drain holes
Multiple Safety Protection
Built-in surge protection, overload protection, waterproof, and electric shockproof casing to offer comprehensive safety for you and your devices.
Overload Protection Outlet Strip
The reliable overload switch will trip off automatically to protect your expensive computers, tv, and all other electronic devices when the power overloads.
Wall Mountable Design
The power strip with 2 mounting holes on the back can be mountable, such as workbenches, wall mounts, floor mounts, under counters, and more.
Flat Plug Power Strip
The plug of this waterproof strip with 6 feet extension cord is a 45° flat plug design. So it can be easily installed in tight spaces and doesn't block the bottom receptacle of your duplex wall outlet.
Specification:
AC Outlets: 4
USB Ports: 2
Power Rating: 125V ~10A 1250W
USB Output: 5V 2.4A(2.4A Max Per Port)
IPX4 Waterproof Level