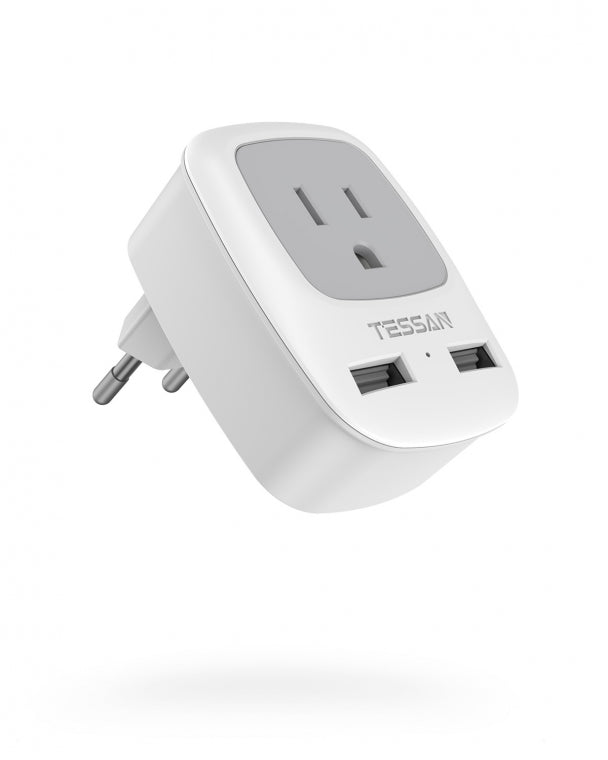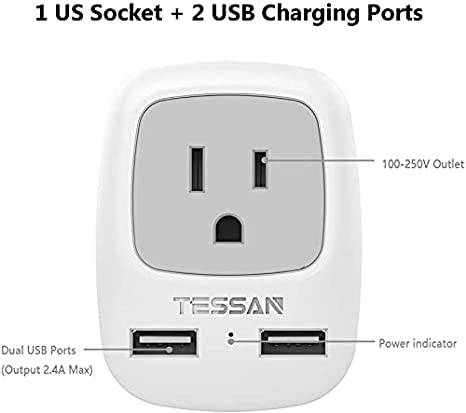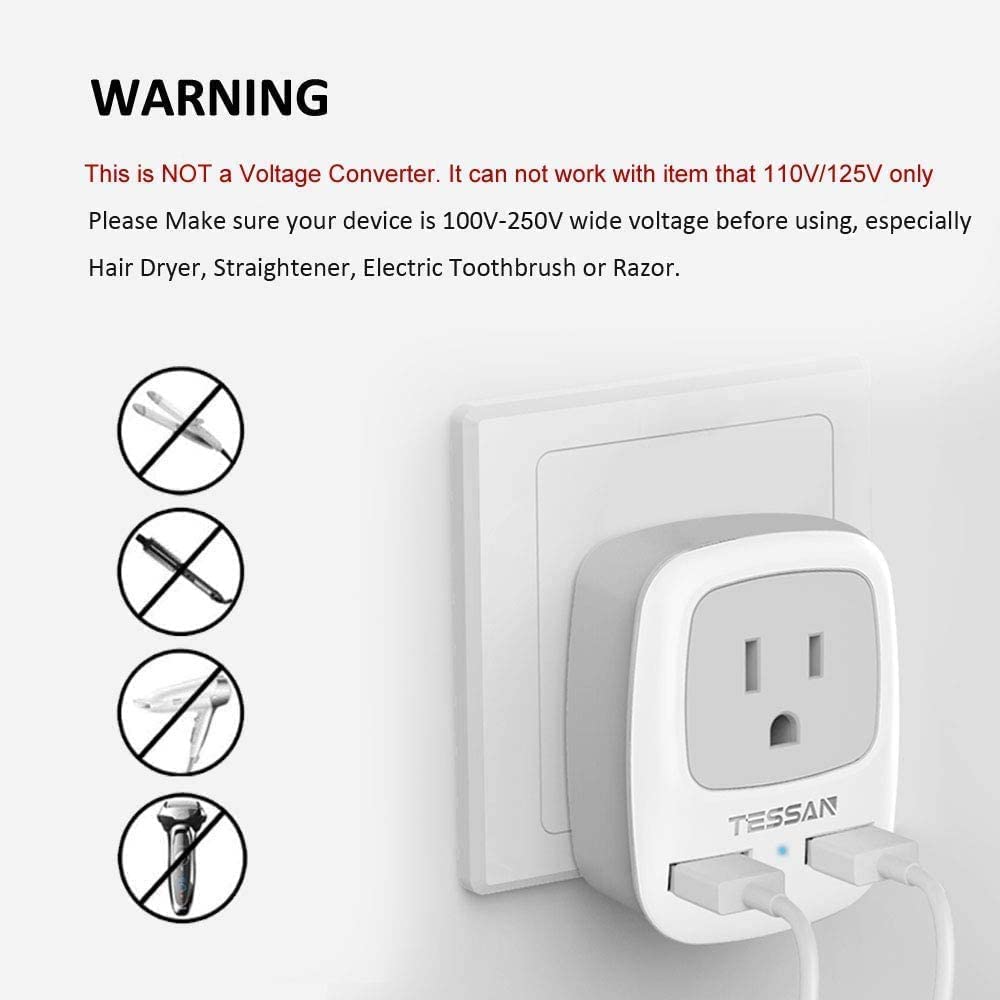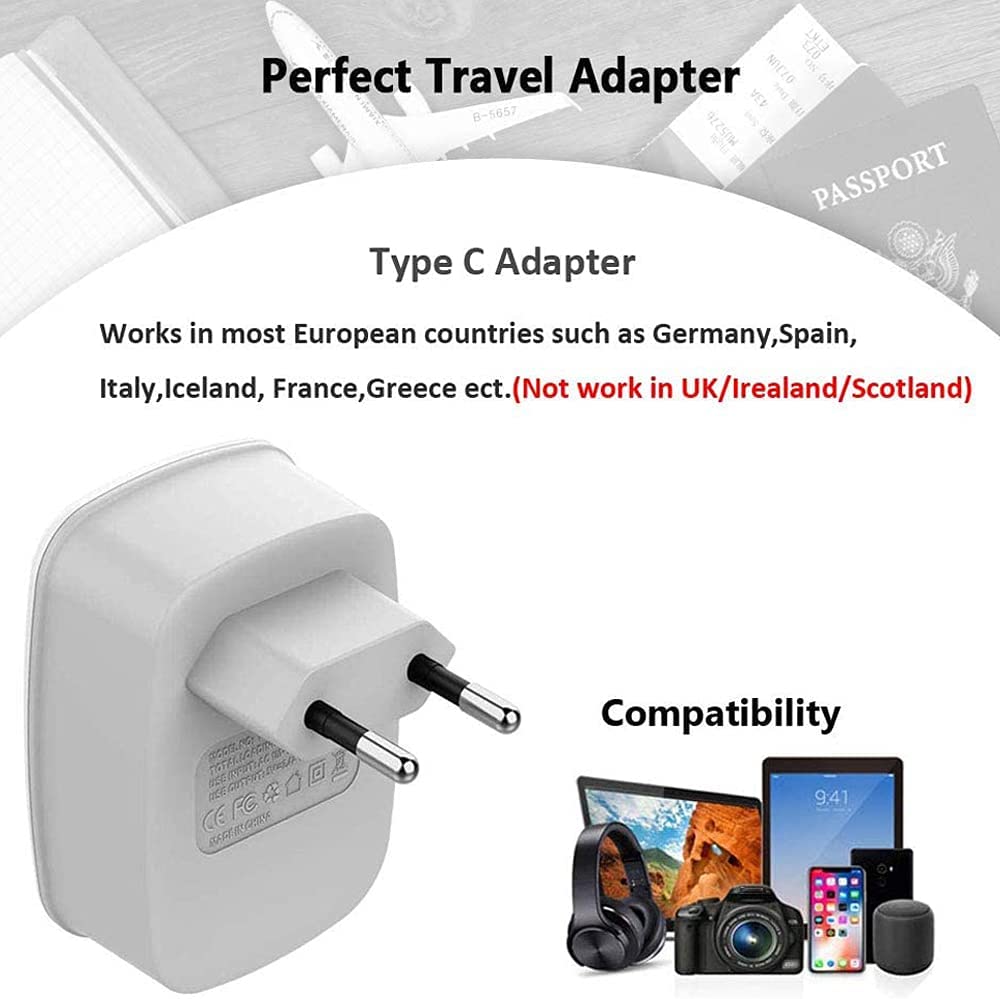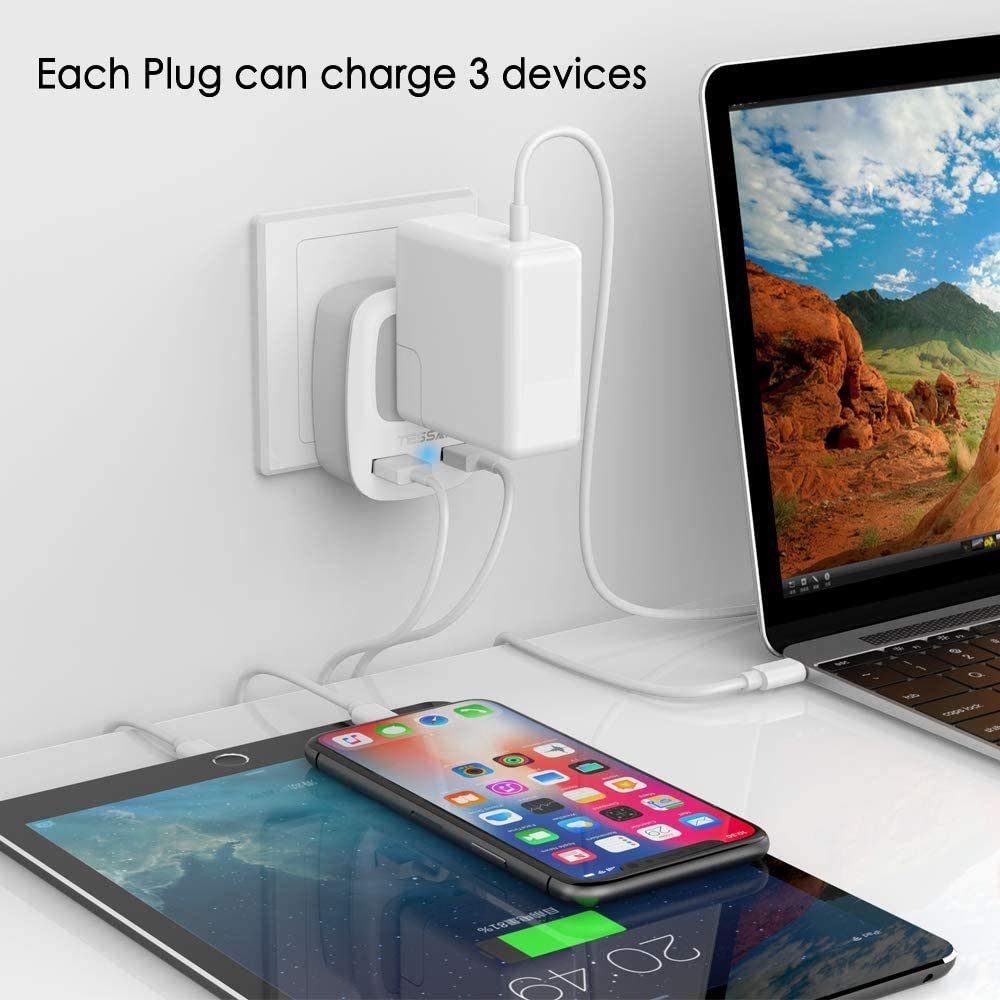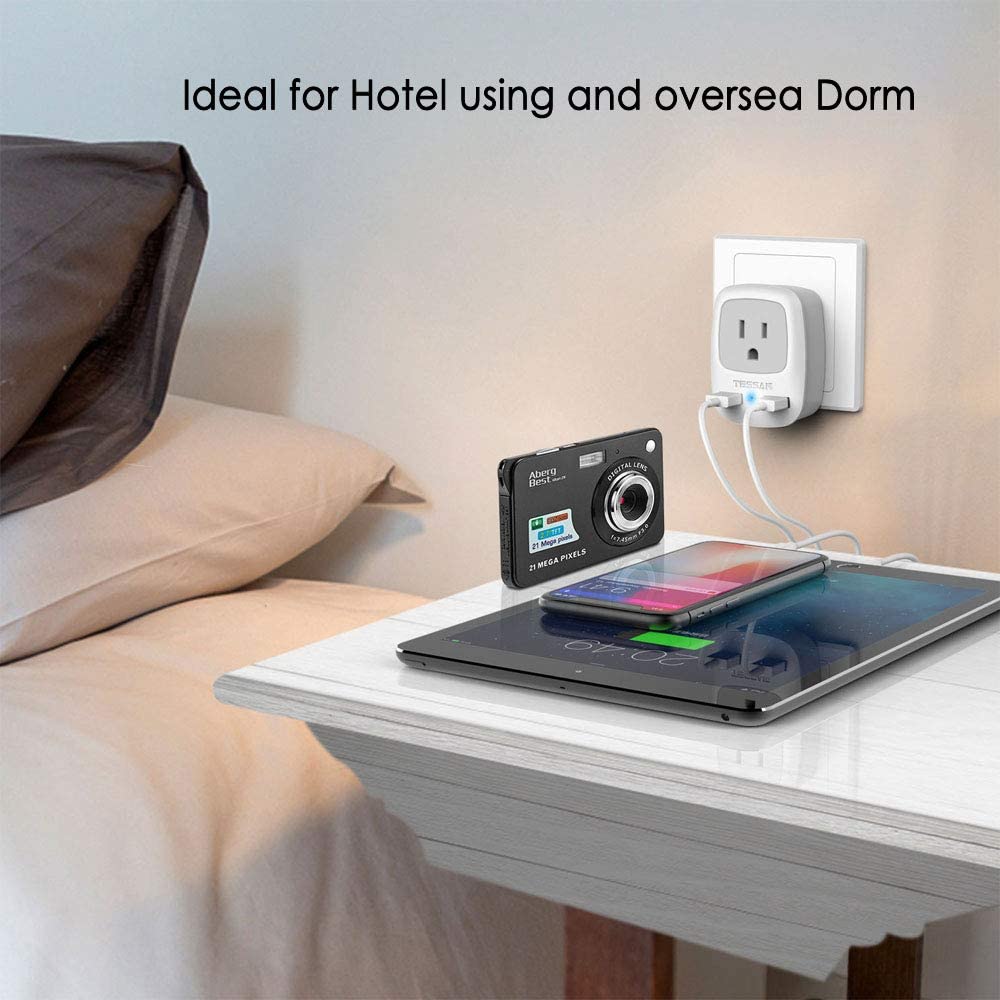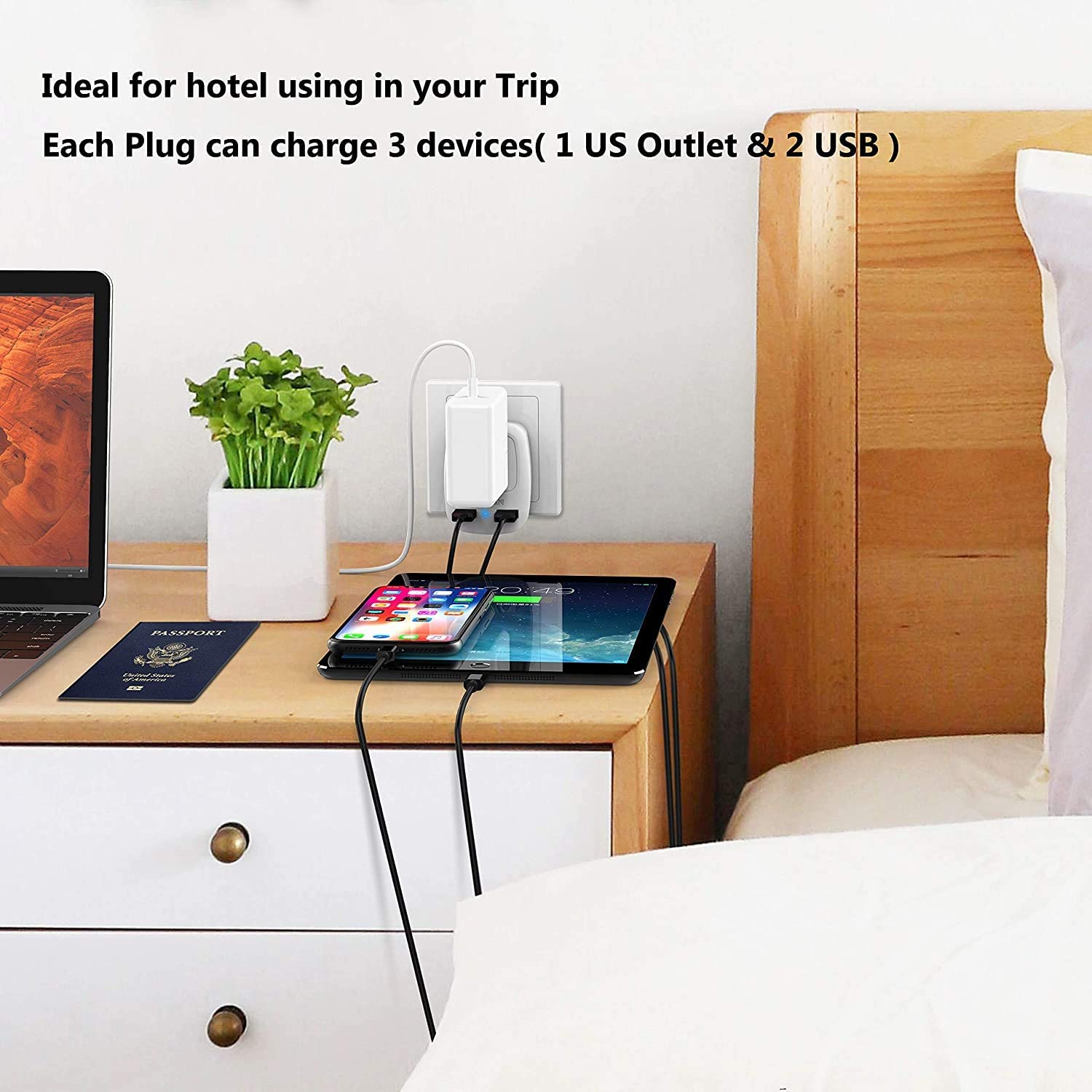 US To European Travel Adapter with 2 USB Ports
Attention to Our Valued International Customers
Outside the U.S.? Please shop our products hassle-free on Amazon.
TESSAN European Travel Adapter with 1 outlet and 2 USB charging Ports
Type C Plug Adapter - Europe, Asia, Central America
Compatible Countries: Armenia , Austria , Azerbaijan , the Azores, the Balearic Islands, Belarus, Belgium,Bosnia-Herzegovina,Bulgaria, Croatia ,the Czech Republic, Denmark, Estonia , Finland,France, Germany, Georgia , Greece, Hungary, Italy,Kazakhstan ,Kyrgyzstan,Latvia ,Lithuania, Luxembourg, Macedonia, Moldova , Monaco, Montenegro, the Netherlands , Norway,Poland, Portugal ,Romania,Russia, Serbia,Slovakia, Slovenia and more.
This adapter is mini and it is easy to carry for your travel.
Compact Adapter for Most of Europe Countries
About This Item:
US to Europe Plug Adapter: Compatible in most European countries such as Austria, Belarus, Belgium, Croatia, Denmark, Finland, France, Germany,Greece, Hungary,Portugal, Poland, Netherlands,Spain, Turkey, Italy; More country list can be checked in description; Note: not work in UK/Ireland/Scotland
3 in 1 Inputs European Plug Adapter: This adapters for European outlets accept the standard N American 2 or 3 prong flat pin plug, max capacity up to 2500 watt (max 250 Volt, 10 A); Dual USB ports can charge up to 2.4A, ideal for cell phone ,tablet, ect; No need to carry extra adapter and power strip for your traveling, a small US to Europe plug adapter can save your suitcase space
Compact Size and Indicator: This european plug adapter is mini and suitable for travel or cruise ship; Indicator can let you know the Europe power adapter is on/off
Suitable for Any Occasions: TESSAN european adapter is small size and suitable for bedroom, bathroom, kitchen and college dorm room
Note: This is not a voltage converter; This type c plug adapter is only compatible for 100V to 250V wide voltage device, especially your hair dryer, straightener, electric toothbrush or razor need to support 100V to 250V dual voltage, otherwise you may need a voltage converter
3 in 1 Type C European charger adapter
3 in 1 Input: Accepts the standard N American 2 or 3 prong flat pin plug (including polarized). Dual USB charging ports can charge up to 2.4A max.
Mini Adapter for Europe Specification
Product Dimension: 2.8*2.3*2.6 inch
Input Voltage: 100V-250V AC, 50/60Hz
Max load: 10A
Power rating: 2500W (Max 250V, 10A)
USB output: 5VDC/2.4A(Total)
Ideal for Travel
This European plug adapter is compatible for Cell phone, Tablet, Camera and other USB charging electronics.
This europe adapter plug is suitable for overseas business and oversea students.
Not work in the UK
This electric adapter for europe does not work in the UK / Ireland / Scotland/ South Africa.
This is TYPE C plug which can work in most of Europe such as Germany, Italy, France, ect, but except for UK, for UK adapter please choose Type g plug adapter.
Slightly Bent Plug Designed for more compatibility
Sockets in European countries are different, Germany, France, Spain sockets are bigger, flat legs will be easy to fall off. This inner feet will improve the compatibility without effecting your using.
Not a Voltage Converter for 110V only device
This is not a voltage converter. Because Europe is 220V voltage, please make sure your devices especially your hair dryer, straightener,hair curler, electric toothbrush or electric razor need to support 110V to 250V Dual Voltage, If your device are 110V or 125V only, you will need a voltage converter.
Specification:
Product Dimension: 2.8*2.3*2.6 inch
Input Voltage: 100V-250V AC, 50/60Hz
Max load: 10A
Power rating: 2500W (Max 250V, 10A)
USB output: 5VDC/2.4A(Total)
Quality - Perfect for travelling
Been travelling Europe for 4 months now across 10 countries. These have worked perfect just about in every country - western Europe and the Balkans. I let my friend use the 2nd one while he was visiting. It can charge everything at once. I have my laptop plugged in, phone, portable charger and headphones. Don't hesitate to buy this !
Perfect for my Trip
This two pack has two different of adapters. I used the adapter for the round outlets in French Polynesia. They worked very well for charging mobile phones, tablets and laptops during our trip. Having two USB ports is very useful. I will buy two more before my next trip.
The best gadget for my trip to Europe!
I used it on my trip to Europe, and it was so helpful. I plugged it on the plane, on the train, at the hotel, and even at some restaurants. It is fantastic and secure. It keeps you communicated and safe all the time. I am the happiest to get it on time.
Device works as advertised.
This device was used for my iPhone, Apple Watch and my Kindle all at same time while In Taormina, Sicily, and worked beautifully. Also used it for my straightening iron for my hair. Easy to use. I highly recommend!
excelleng adapter
Worked great for a 2 week vacation we had overseas. Charged phones and laptops great and didn't overheat.