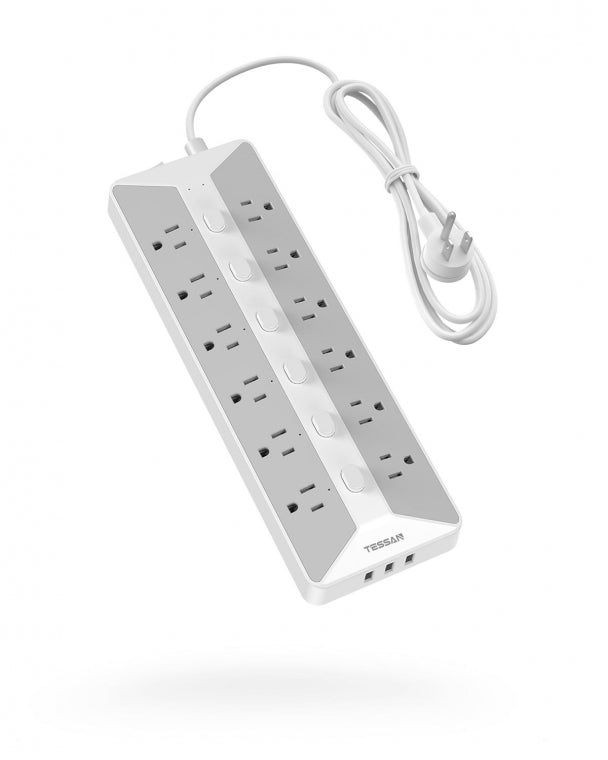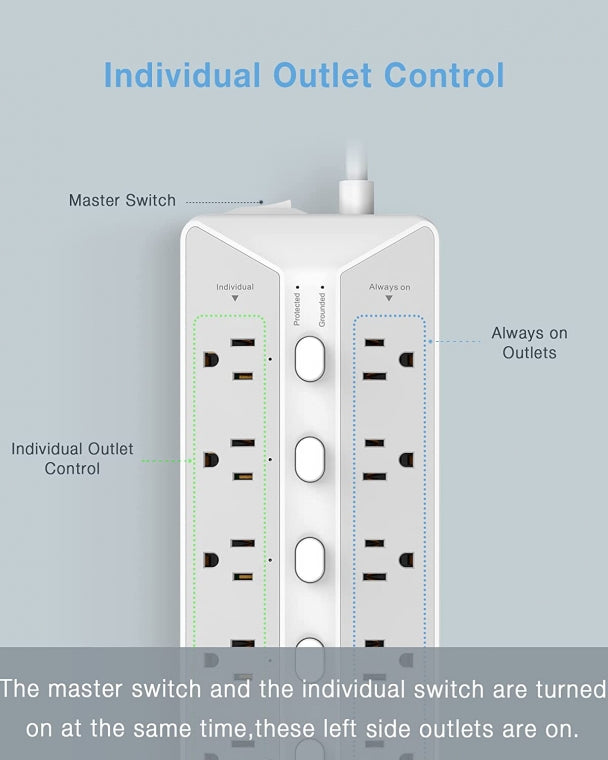 Individual Switches Surge Protector 6 FT Extension Cord With 12 Outlets 3 USB Ports
Attention to Our Valued International Customers
Outside the U.S.? Please shop our products hassle-free on Amazon.
12-outlet surge protector
About This Item:
Power Strip with 6 Independent Switches: 12 AC outlets low profile USB power strip has 6 separate switches with indicator lights. it can individually control your appliances, save energy and money when not in use and provide great flexibility in areas where plugging and unplugging would be a hassle
Multiple Safety Protection: The power strip surge protector features a 1700J surge protection rating to protect your electronics from power surges and spikes; the integrated circuit breaker switch will automatically trip off while your electronic equipment suffering the overheating, overcharging, over-current, and over-voltage (Rated Power: 1875W/15A)
Power Strip with USB: This 3 prong extension cord with 3 USB ports, provide 5V/2.4A max charging current in one port at a time and total 3A/15W output, would charge your cellphone, laptop, tablet, or cameras without a variety of converters, save your space and make your desktop organized
Extension Cord with Flat Plug: 6 ft flat extension cord can get easy access to the place that's hard to reach; the flat plug features a low profile fit in tight spots, such as behind bed, nightstand, bookshelves, or couch
Wall Mountable Design: 4 keyholes on the back allow you to securely install this surge protector extension cord in various applications, such as workbenches, floor mounts, wall mounts, under counters, dorm rooms, garage, and more
Surge protector
This surge protector will help protect your valuable electronics from potentially damaging power surges and spikes. Fits for homes or offices with sensitive equipment such as computers, printers, TVs, and more, the surge protector provides defense when you need it most, 6 foot extension cord can get easy access to the place that's hard to reach.
Convenient Individual Switches
This surge suppressor includes 6 individual on/off switches and indicator lights for shuting off the power of the specified outlets when not in use to save energy and money
Note: 6 Individually Switched Outlets - controlled by the master switch and individual switch together. only the master switch and the individual switch are turned on at the same time, these outlets are on.
Wide Spaced Outlets
Power adapters are often so big that they partially cover adjoining outlets and make it difficult to plug all your gear onto a single power strip. but these 12 outlets of the power surge protector are designed wide enough, so you can plug in larger adapters with ease.
Surge Protection
1700 Joules surge protection rating protects your home/office electronics from power disturbances, such as lightning, surges, and spikes.
"Protected" indicator illuminates when the surge protection feature is working properly.
"Grounded" indicator will light on while the electrical wiring is properly grounded. If the light DOES NOT illuminate, there may have a ground-wiring problem in your home, you should consult a qualified electrician to examine your outlet wiring.
6FT Indoor Extension Cord
6ft power extension cord can get easy access to the place that's hard to reach. Its heavy-duty power cord helps protect the cord itself from damage and ensures optimal power flow to your electrical equipment.
Right Angle Flat Plug
The flat plug features a low profile fits easily in tight spaces, and the 45° angled plug to keep other outlets used, is the ultimate space-saving power strip for your home, hotel, or office.
Wall Mountable Power Strip
Mount this USB power outlet on the wall/desk/nightstand would be easily by 4 slots on the back.
Step by Step
1. Measure the distance between the 4 slots with the vertical and horizontal direction on the back of the power bar.
2. Punch 4 holes on the baseboard with the distance you just measured and insert self-tapping screws.
3.Hang the outlet strip on the screws then pull it down a little to make sure the strip is tight.
Note: Mounting screws are included.
Specification:
Dimensions: 11.42X3.66X0.94 inch
Rated Voltage: 125 V
Rated Current: 15 A
Maximum Power: 1875W
Surge Protector Rating: 1700 joules
Current Frequency: 50/ 60 Hz
USB Rated Current: Total Max 3A(2.4A MAX Per Port)
Length of Cable: 6 FT