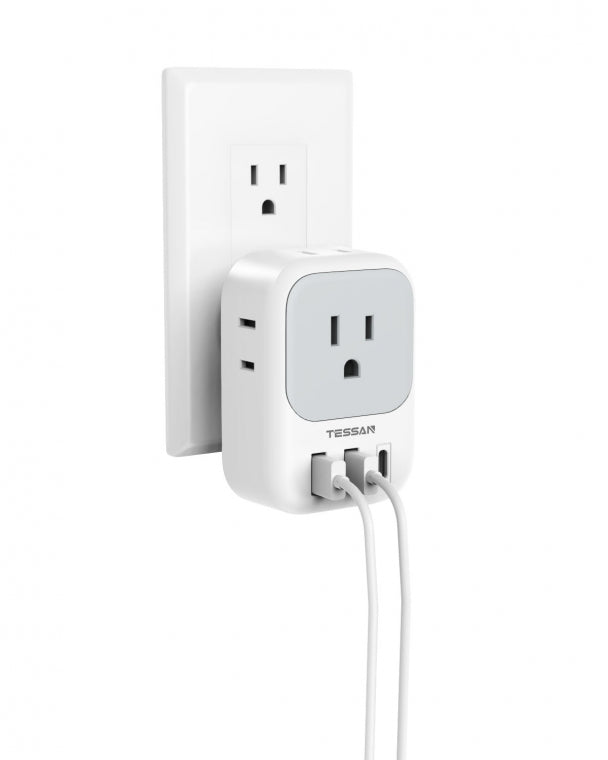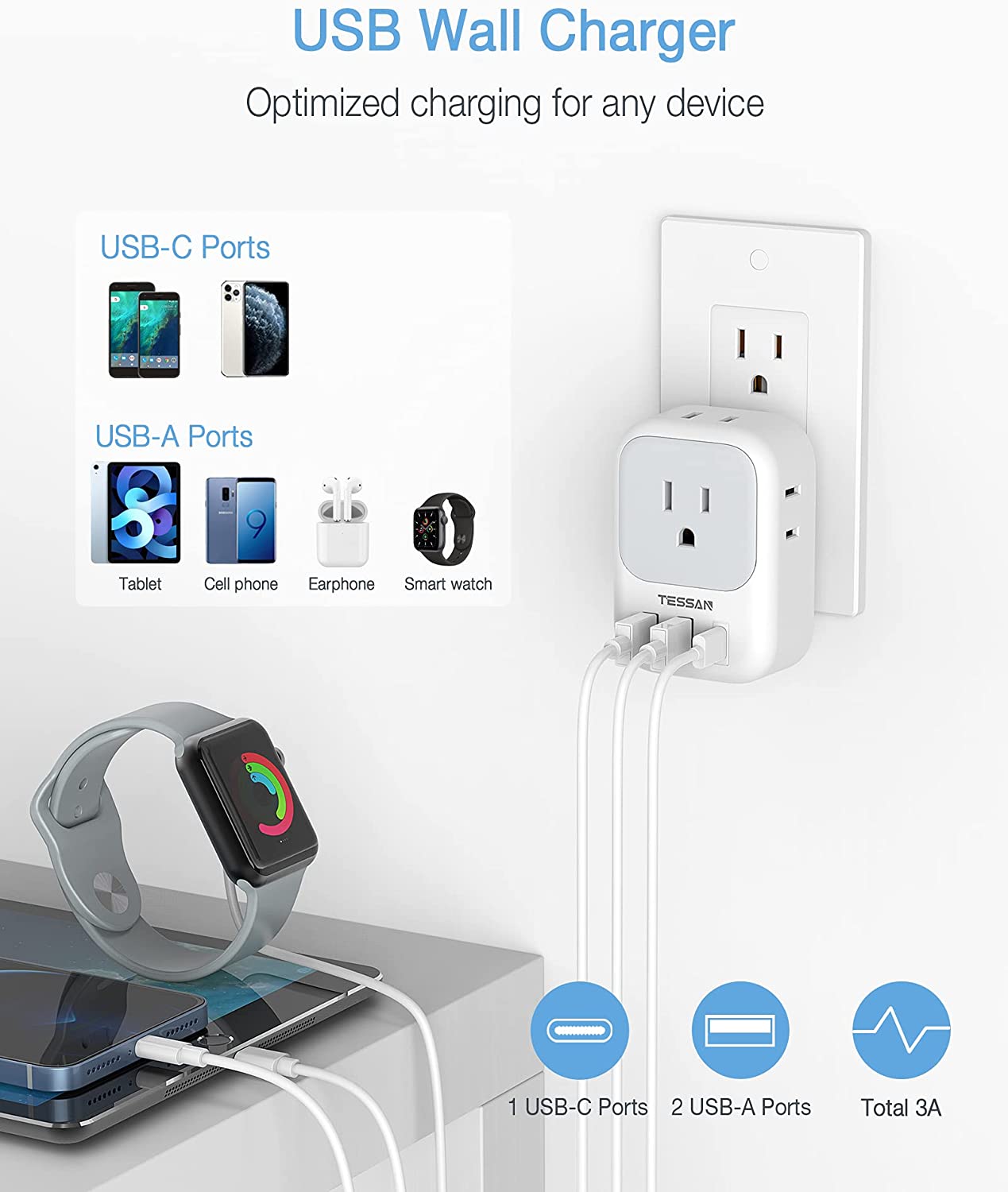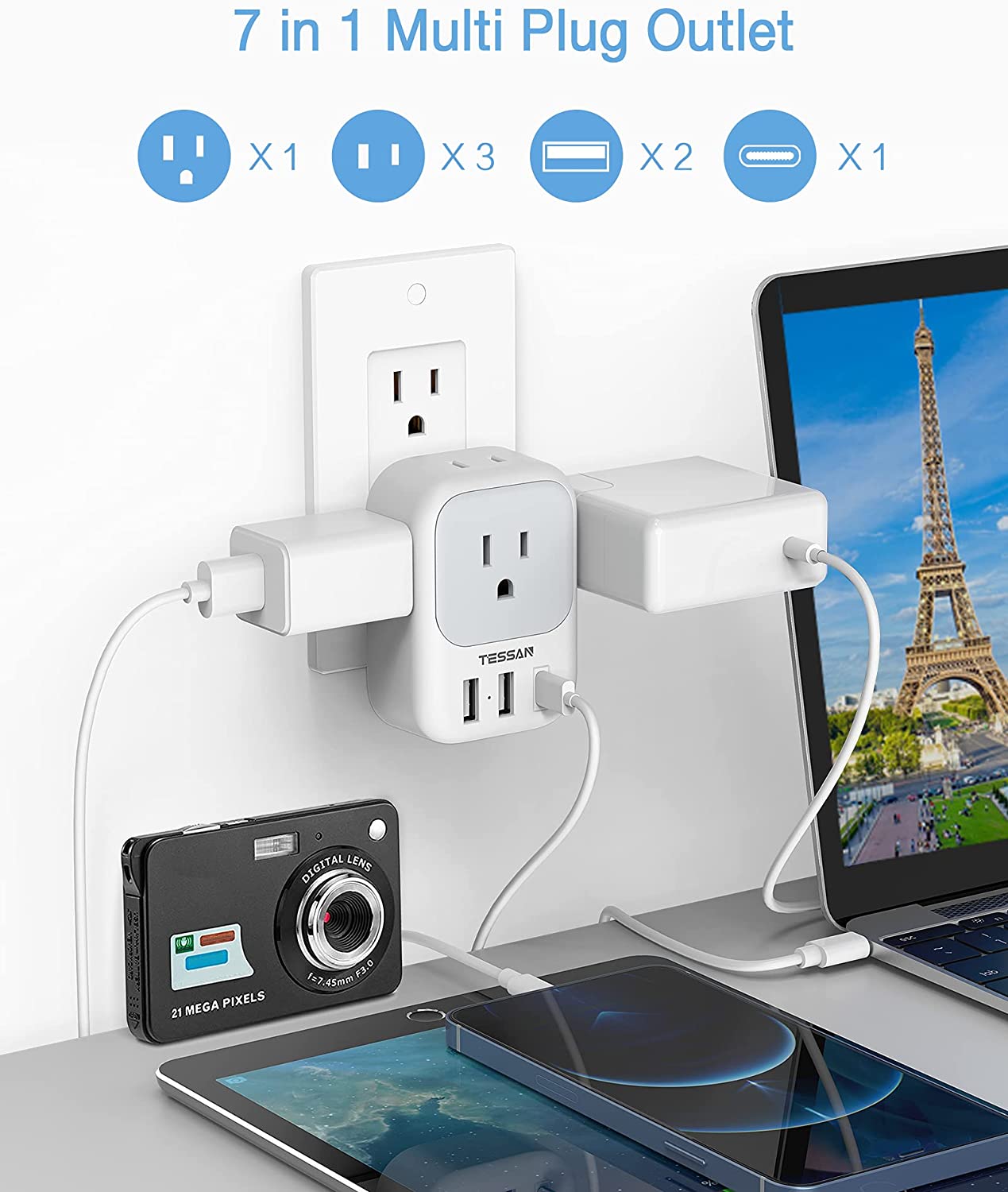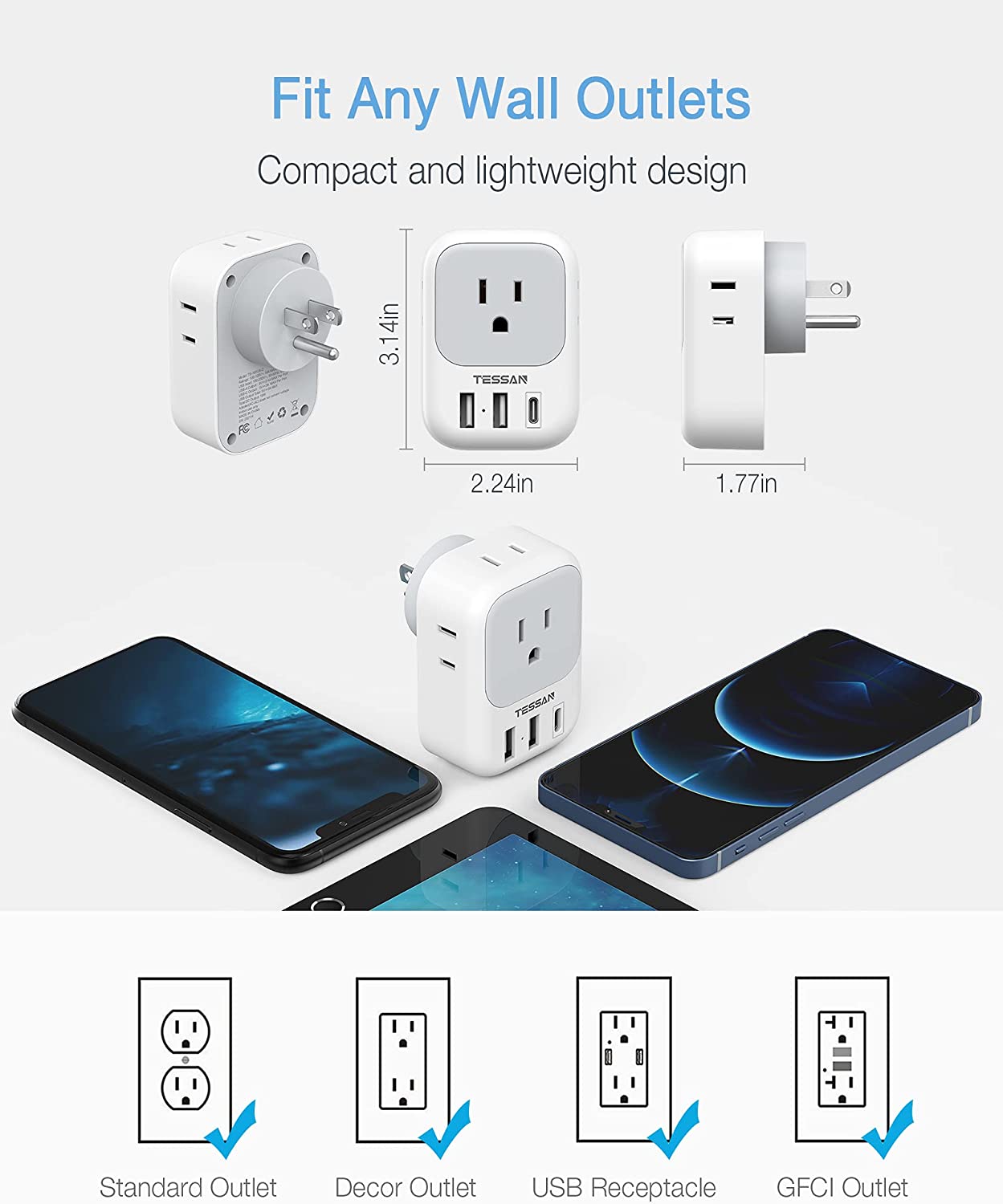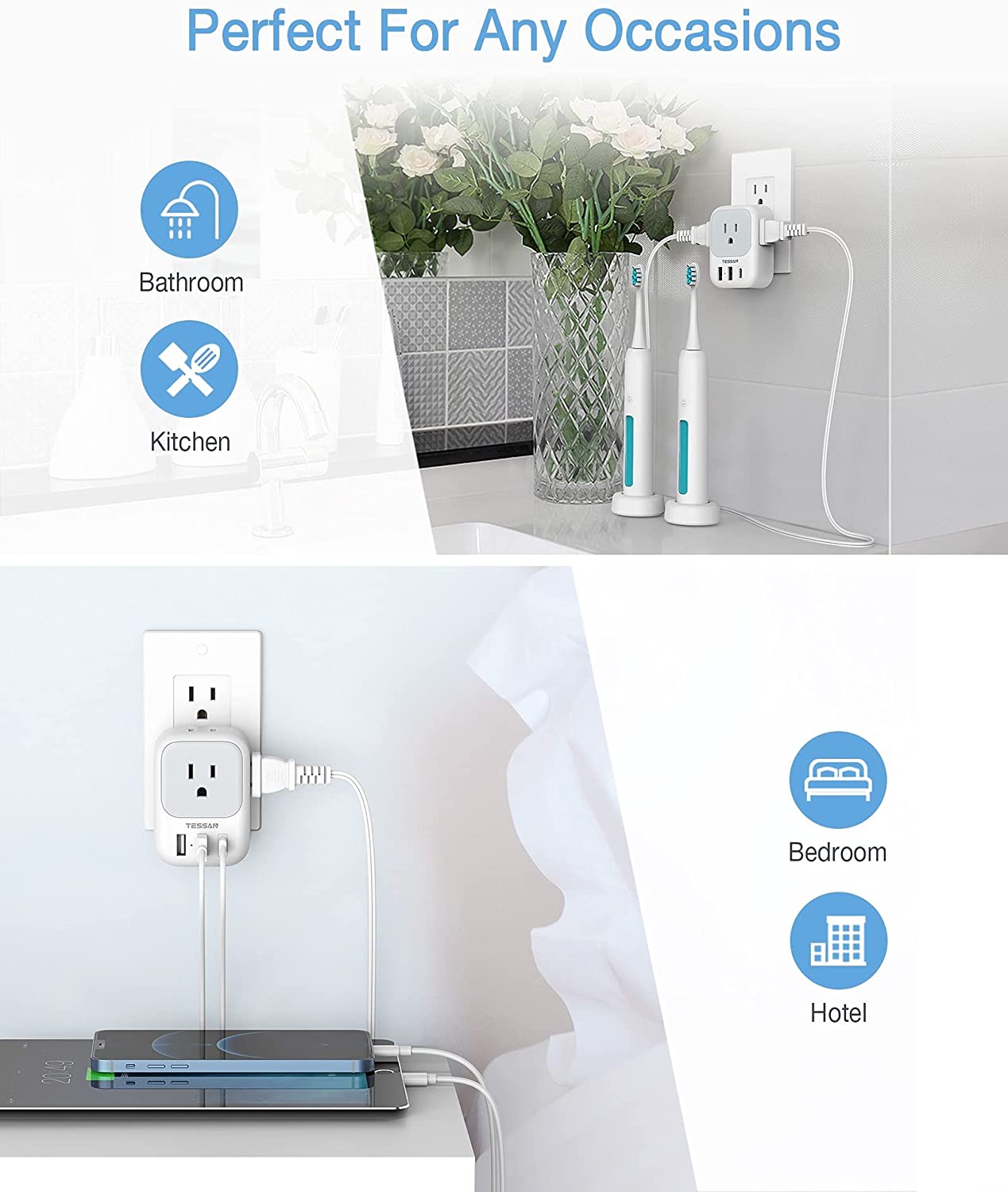 Multi Plug Outlet Extender With 4 Outlet 3 USB Wall Charger (Fast Charging PD 20W)
Attention to Our Valued International Customers
Outside the U.S.? Please shop our products hassle-free on Amazon.
7 in 1 Multi Plug Outlet Extender
TESSAN USB Outlet Expander
Travel Accessories
USB outlet plug is compact design makes it easy to carry around. You can pack TESSAN outlet extender along with your other travel gears while traveling in the US or Canada
Suitable for All Receptacles
There is no plastic stake on the back, making it suitable for all receptacles, including standard receptacle, decor receptacle, USB receptacle, etc
About This Item:
USB Adapter Plug: This USB C wall charger can detect charged devices and deliver optimum charging speed up to 3A (15W max), max output of single USB A port is 2.4A; ideal for chargering cell phone, tablet, earphone, etc; The indicator let you know the USB wall plug power is on/off
USB Wall Plug: Accommodates 4 plugs at the same time without blocking; Accept the standard N American 2 or 3 prong flat pin plug, suitable for most home appliances like laptops, hairdryers, shavers and more; Fit over both GFCI and standard receptacles
Small and Travel: This USB outlet adapter is compact and lightweight design to fit into luggage and briefcases, no need to carry extra charger plug for your traveling, ideal for travel and business trip
Space Saving: TESSAN outlet with USB provides a convenient to charge 7 devices at a time, giving you a neat and tidy place; This multi usb plug has no surge protection, no cords, making it fully cruise ship approved
Suitable for Any Occasions: TESSAN USB charging station can be used in any indoor place with socket, especially for the bedroom, bathroom, kitchen, hotel and college dorm room etc
Multiple Outlet Wall Plug
4 AC Outlets: Accepts the standard N American 2 or 3 prong flat pin plug. AC outlets are separated without blocking each other
USB Wall Plug
2 USB A ports deliver optimum fast charging speed up to 2.4A Max; 1 USB C charging port features 3A Max, ideal for most USB devices
Cruise Accessories Haves
This multi usb charger has no surge protection, no cords, making it fully cruise ship approved, idea for travel and business trip
Compact & Lightweight
Palm-size and ultra-light design Helping you save your briefcases or luggage space, making it suitable for travelers, business man, students
Specification:
Input voltage: AC 100-125V 50/60Hz
Rated power: 1250W (125V/10A)
USB-A Output: 5V/2.4A
USB-C Output: 5V/3A
Item Dimension: 3.3*2.8*2.5 in
USB for u n me
First of all, looks great, compact, plenty of outlets for devices..USB works very well; travels easily.
Still leaves room for upper outlet
You obviously cant access all the ports/outlets but I hate when one device blocks both wall outlets. This one leaves enough room and still offers some additional outlets besides the usb ports.
What a Great Idea!
I have a couple places in my home where I need more than one USB and two AC outlets. This simple product solves that perfectly so I bought two. With USB charging becoming almost universal these days you will want at least one of these eventually.
Tessan USB wall charger
Hi. Amazon delivered as promised. Tessan wall charger works well. I am able to plug anything in plus 2 usb ports & 1 type C port. Just what I needed!!
Charging Powerhouse
I've hooked up everything from my iPhone and iPad, to my Ryobi batteries and Apple watch, and it's handled them all with ease. The charging speed is fantastic. It's like having your own personal charging station right at home.
Installation was a breeze and about as straightforward as it gets - just pop it into the wall socket and you're good to go. Now, it does generate minor heat when too many things are plugged in, but that's to be expected, and it's never been an issue or safety concern for me. As for value for money, I'd say it's worth every penny, especially considering the convenience and time saved not having to wait for one device to charge before switching to another.