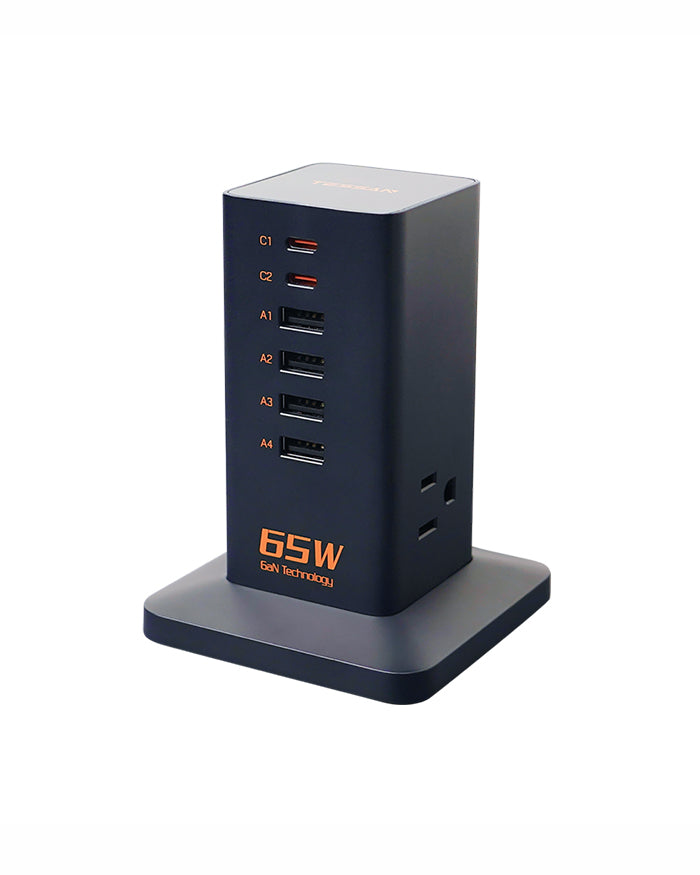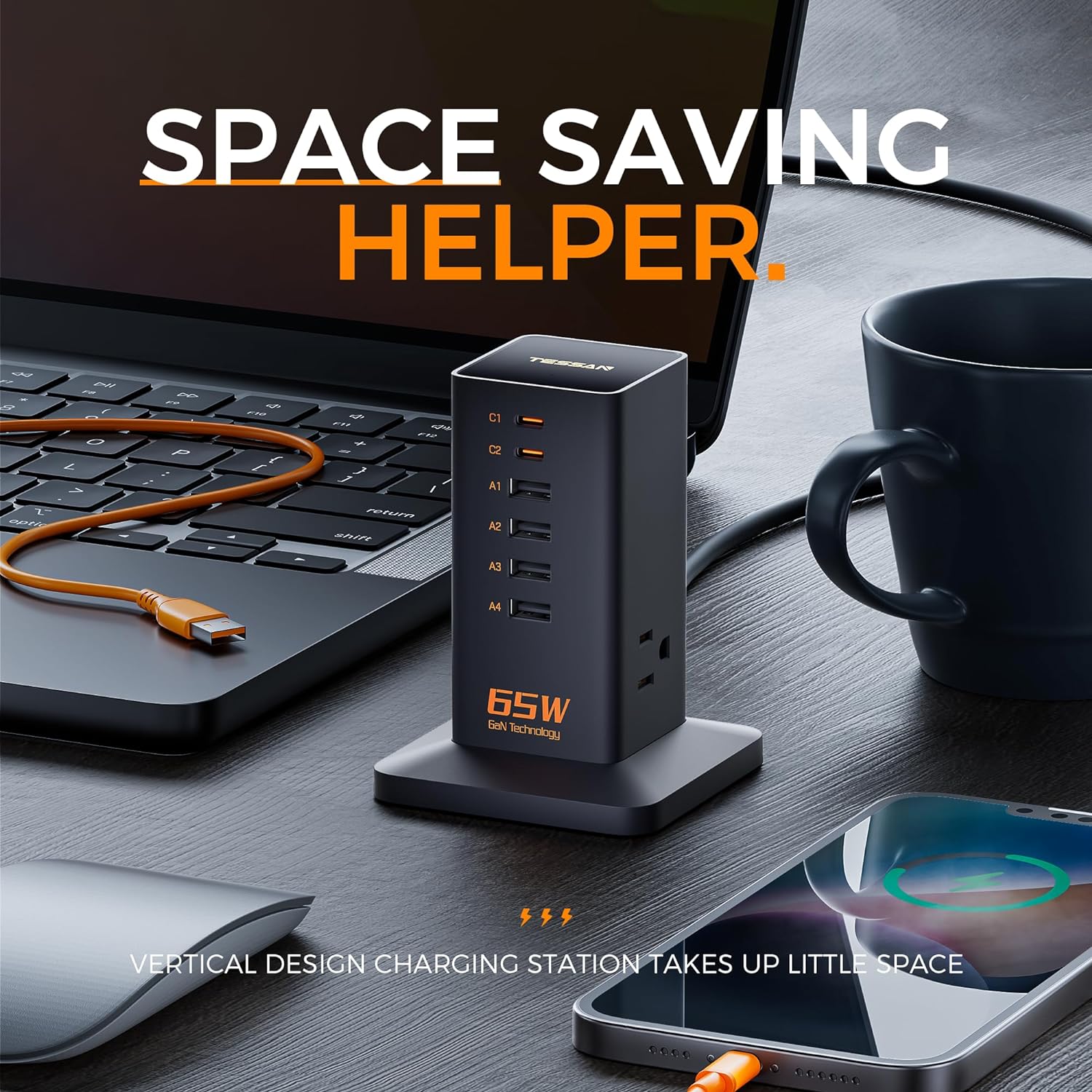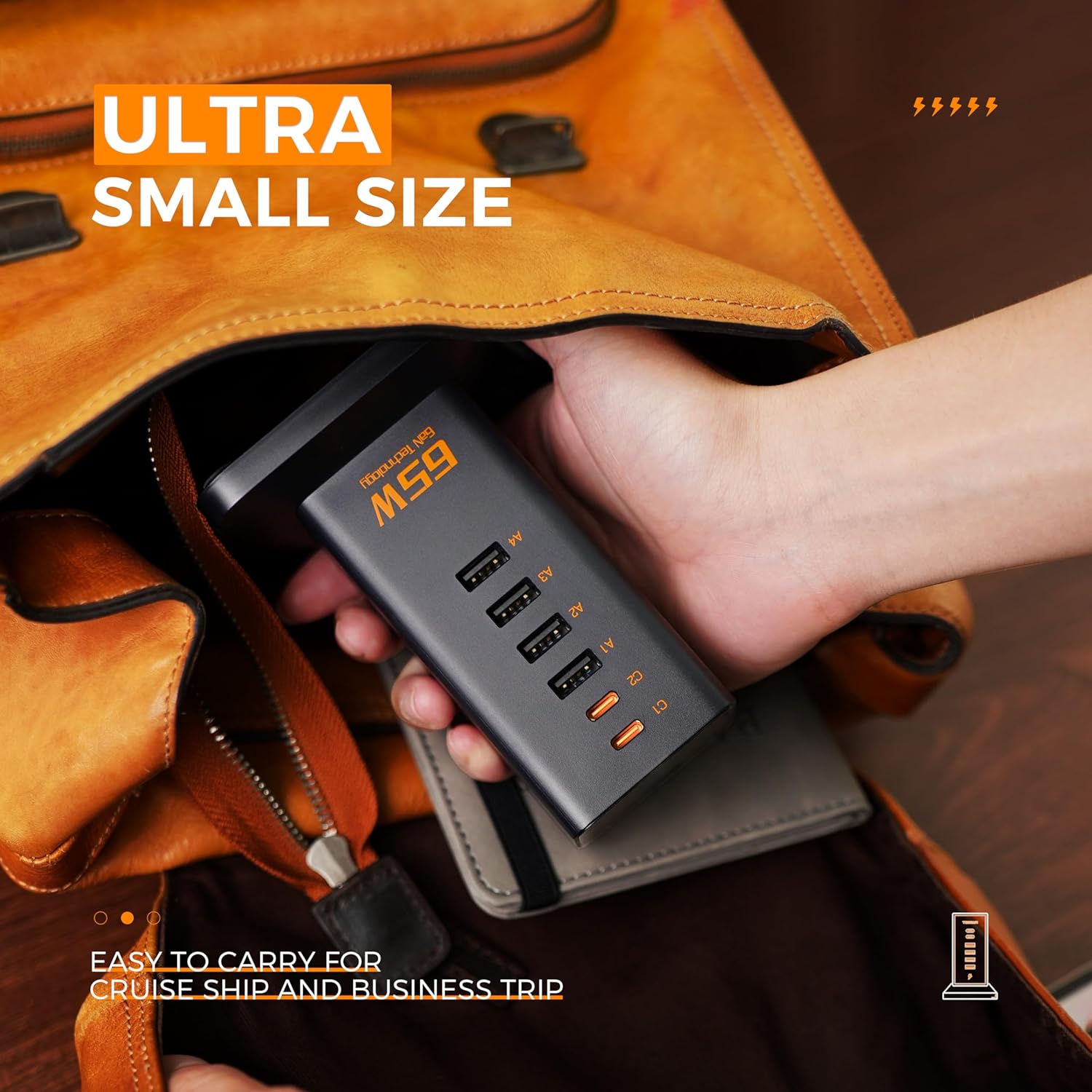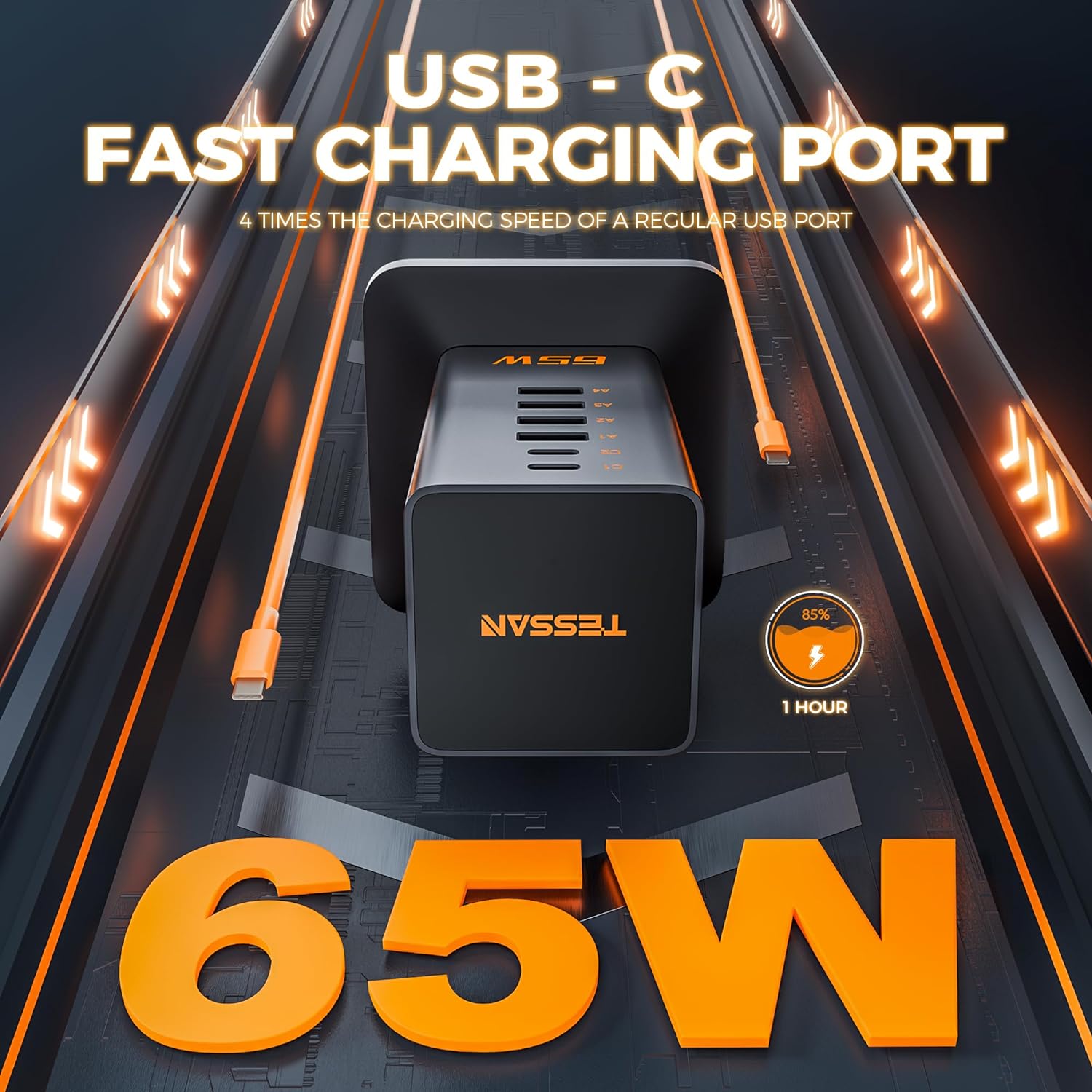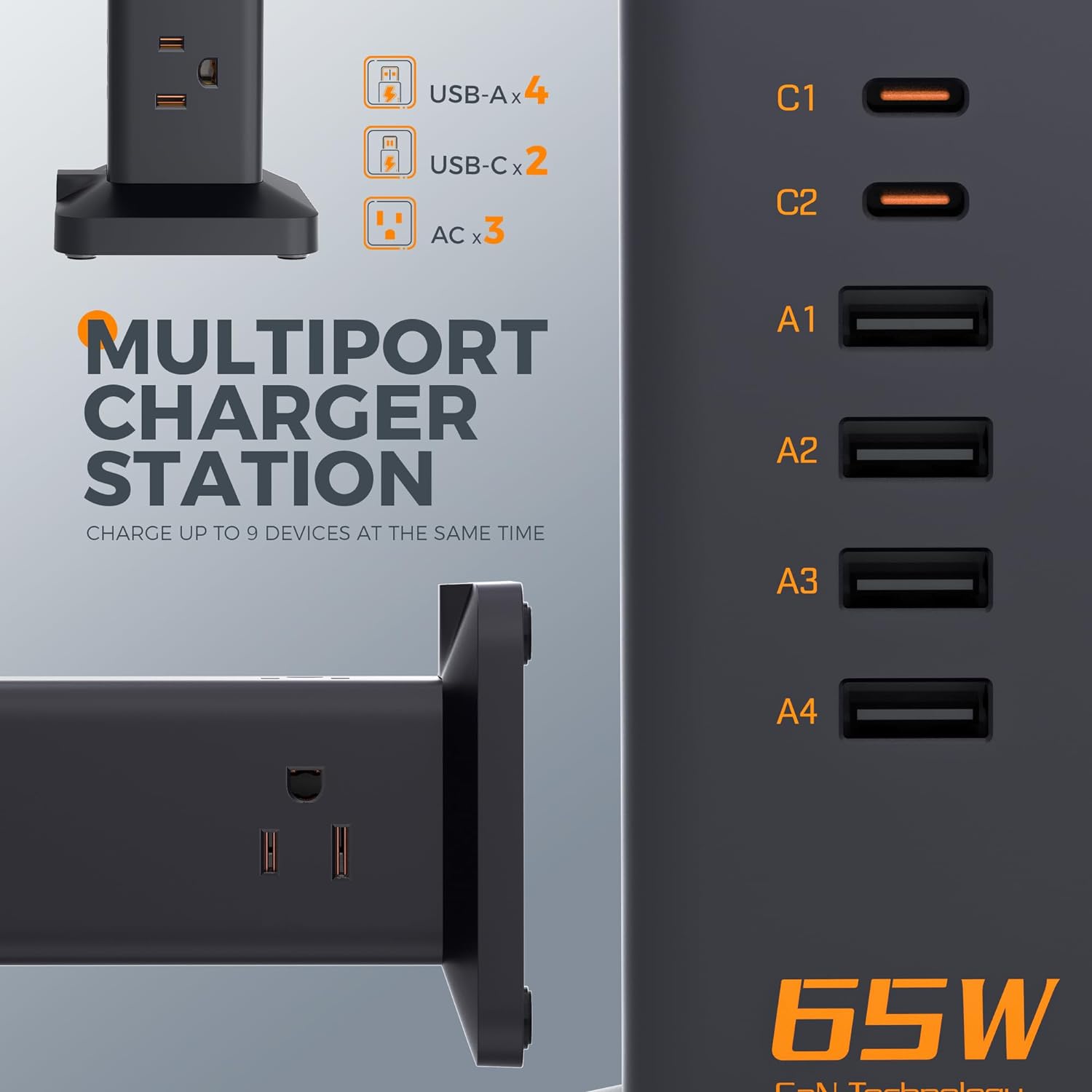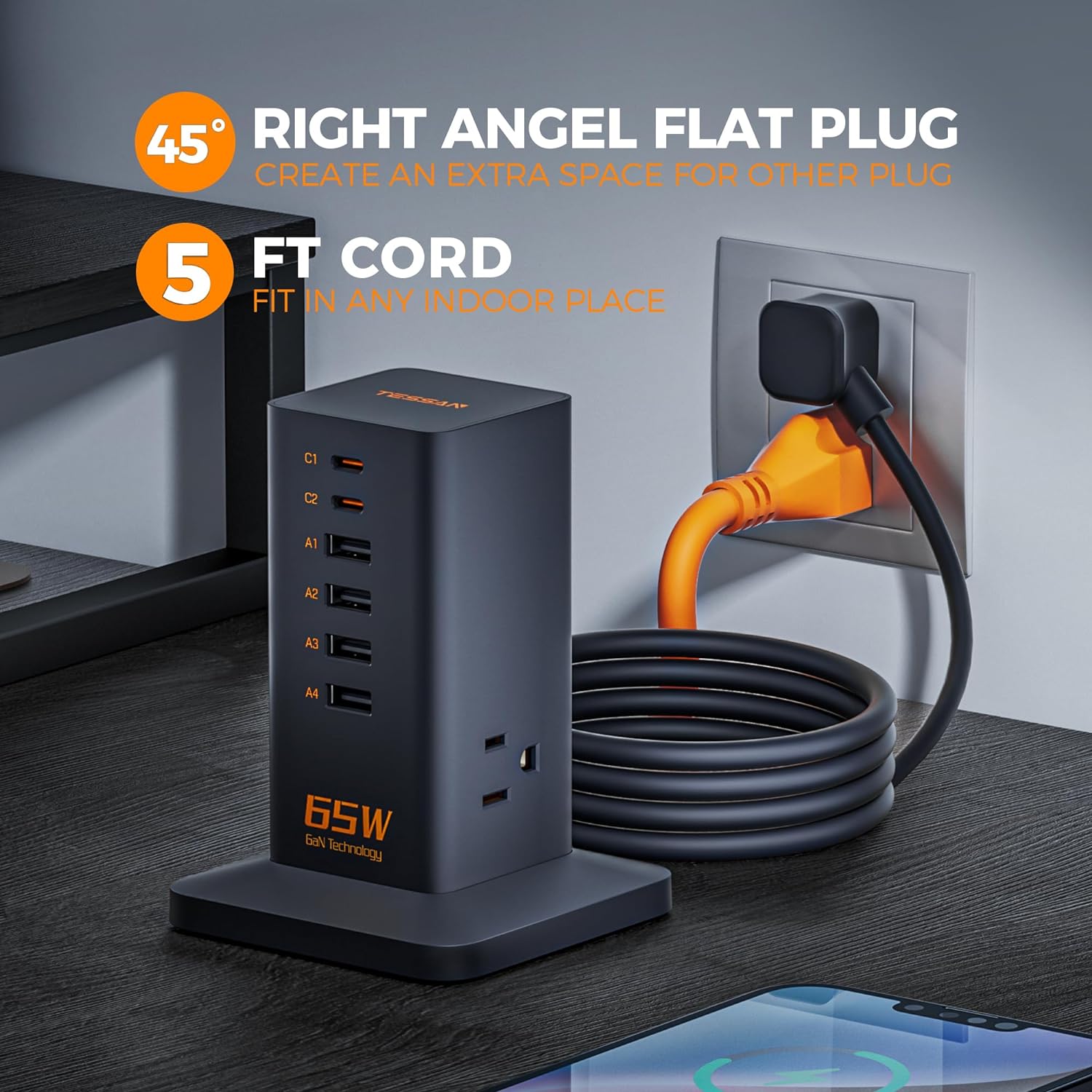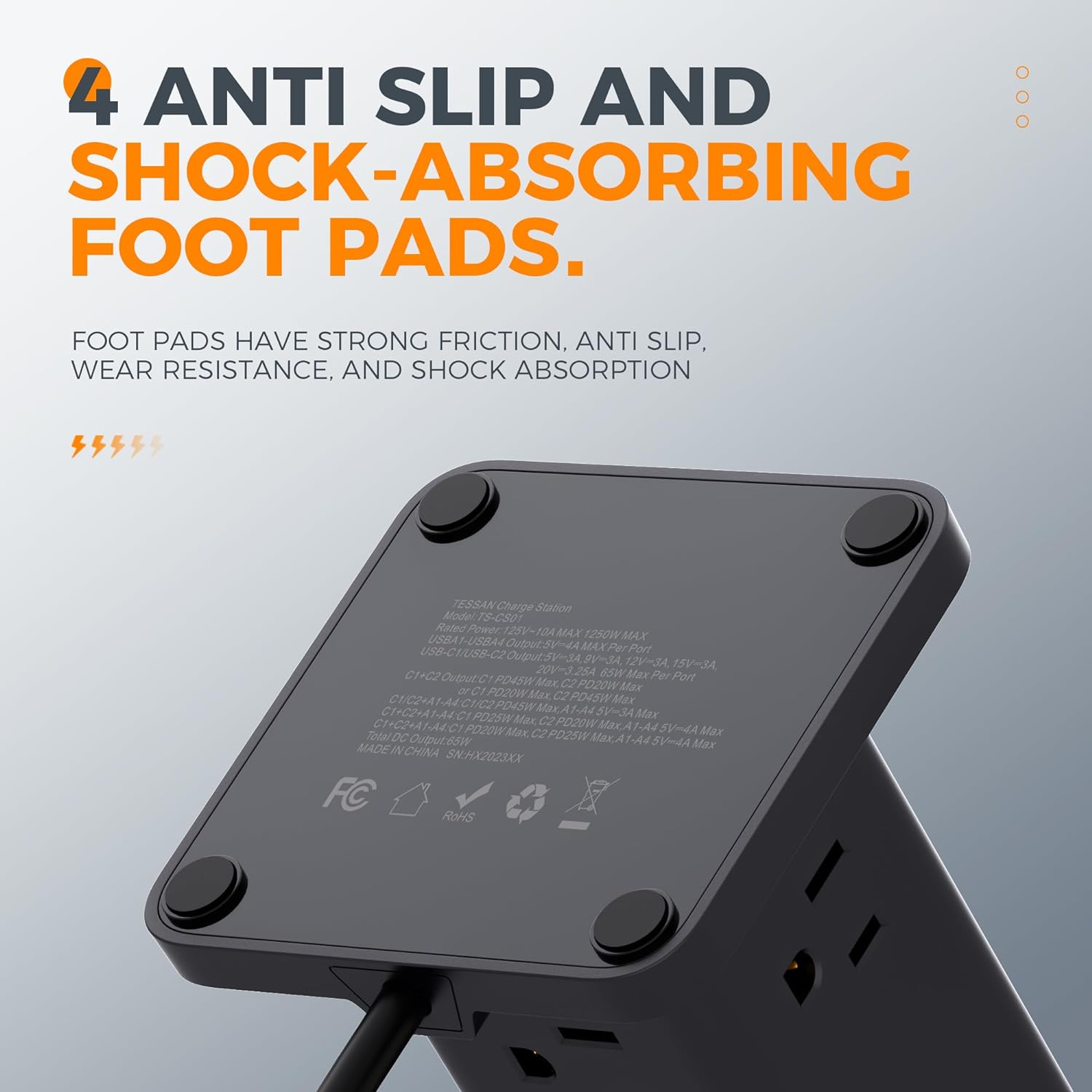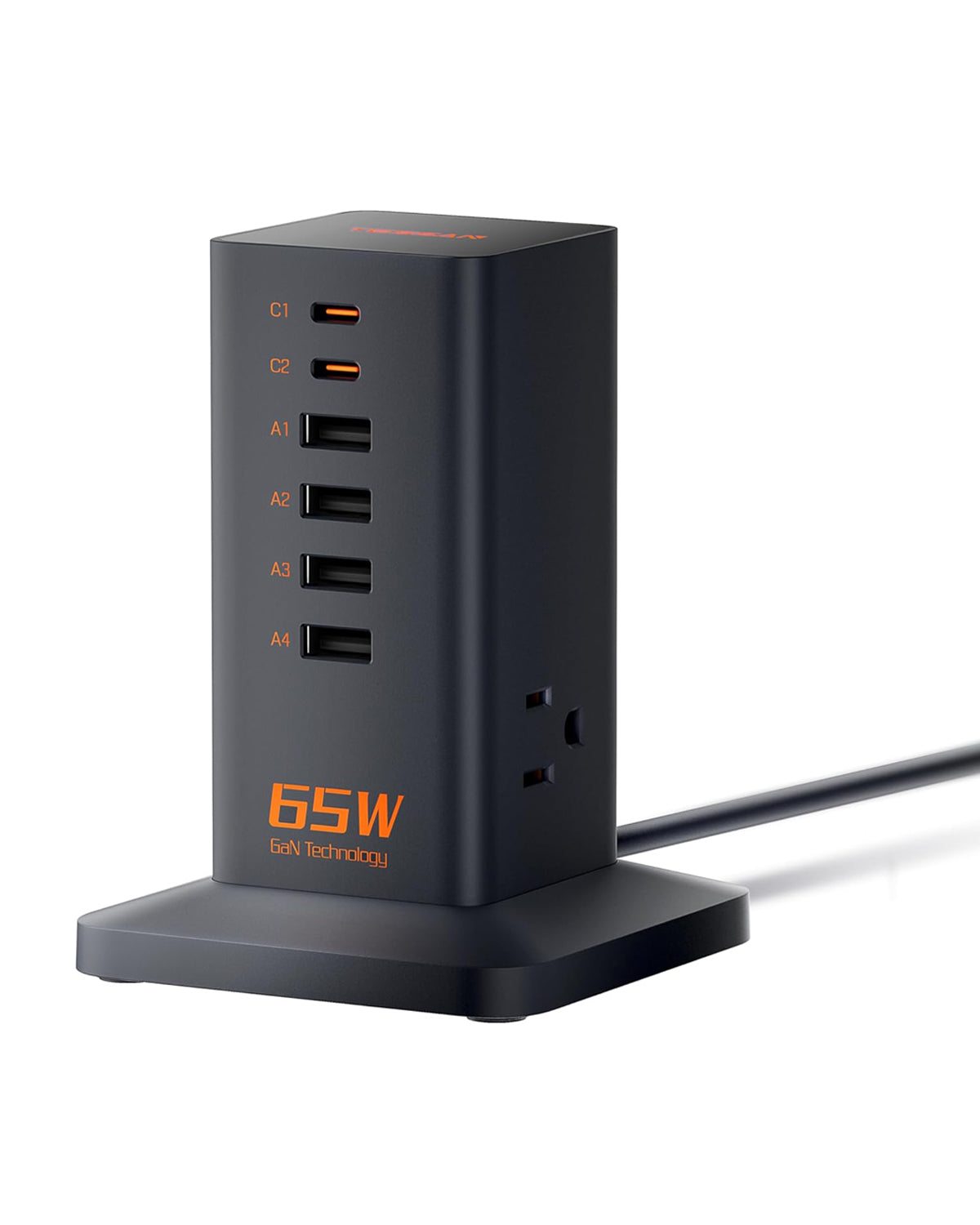 TESSAN 65W Desk Charging Station, 6 Port GaN USB Fast Charger Tower with 3 Outlets
Attention to Our Valued International Customers
Outside the U.S.? Please shop our products hassle-free on Amazon.
Very nice and compact!
This charging station works really well and is very high quality. I was expecting it to be much larger than it was but thankfully it has a pretty small footprint. The presentation was all top notch, and the design is very slim. Included is a double sided sticky pad to keep the station down on a surface if you want, but it has small padded feet and holds itself up pretty well.
Stylish, space-saving, GaN fast charging station with 6 USB ports and 3 120V AC outlets
I really like this stylish Tessan charging station, with GaN (Gallium Nitride) technology for UP TO 65w fast charging (see specifications). It has a small footprint for a desk, entertainment center, or any other place where power is needed. Given its size, it has abundant charging options with six USB ports on the front (two USB-C and four USB-A) and three AC plugs, one on each side and and one on the back. The power cord is five feet long, connected to a three-prong plug at an oblique angle that helps prevent blockage of adjacent wall outlets. It has a small white light on its top which indicates that it is powered on (plugged in). Four rubber feet, one on each corner of the base, help keep the station from sliding or scratching wooden surfaces.
Placing this on my desk provides all the power I need to charge my phone, while powering up a variety of other devices such as laptops, keyboards, mice, headphones, or a wide variety of other devices. As a result it frees up USB ports on my laptop, and its AC plugs allow instant access versus having to thread power cords under my desk to access my surge-protected power strip. In that vein, my only complaint about this charging station is that it lacks surge protection, so perhaps not ideal to use independently during thunderstorms or when local power grids are near their max (as happens too often where I live).
Noteworthy also, is that as I have been writing this review I began charging a Yoocas brand 20000mAh Power Bank with 65W USB-C Fast Charging, which was plugged into the USB-C1 port of this unit (see photo). No other ports were used. When I touched the Tessan charging station it had become uncomfortably hot to the touch, so out of caution I unplugged the Yoocas unit. The Yoocas power bank had charged from 3% to 85% as I wrote the first two paragraphs of this review. After disconnecting the two, the Tessan station began to cool down, eventually to room temperature (during the time it took to write this paragraph). Given that this is the first time I've used either of these products I'm not sure how to interpret the situation. The heat could have just been due to the fast charging, but I won't leave these two devices connected unsupervised in the future. As I continue to use the Tessan station I'll come back to update this review if that heating issue repeats in other situations.
Update Nov. 7, 2023: Since I wrote the review above, I received a 2nd 20000mAh Power Bank with 65W USB-C fast charging, which is a different brand than mentioned above. I also received another 65W wall charger. The second power bank came with a 45% charge, so I plugged it into the C1 port of the Tessan station to charge it to 100%. This time the Tessan station only warmed up a little bit, within expectations. I had discharged the Yoocas power bank during testing, so plugged it into the alternate 65W charger. Again, that charger became alarmingly hot to the touch in short order. So, there is no problem with the Tessan charger, it is with the first power bank.
My five star review of the Tessan power station stands.
This is perfect for my needs.
It has 3 triple prong plugs, 3 usb A ports and 2 usb c ports. Put it on my end table and now everyone has the power and charging they need. It's a fast charger for the usb and only needs one outlet to work. Frees up lots of plug space. It's very handy to have.
Fast Charging, 6 USB ports, 3 power outlets
Charging station provides "Super Fast Charging" when connected directly to my Galaxy Note 20 Ultra. Based on the rate the battery is going up, I would agree it is fast. In my test, both USB C ports are capable of super fast charging. There are two USB C ports and four USB A ports. Three power outlets (one per side) on each of the three sides other than where the USB port is. There is an LED on the top to indicate that the unit has power. It is weighted to keep it from moving around on your desk. I am planning to replace an older charging station that had only USB A ports and lower power output. My only complaint so far is that this unit was obviously returned previously as part of the interior packaging was torn.
Love the Charging Options
This is a review of Tessan 65W Charging Station, it has 4 USB-A ports, 2 USB-C ports and 3 120v AC outlets!!! I will be using this Tessan Charging station to replace my current 55W charging station which only had 1 AC outlet. Aside from having many useful ports, the charging tower has a smaller footprint and it looks better. The bottom of the tower has 4 non-slip rubber pads and it prevents from scratching your table. I have plugged 4 charging cables to it, the power delivery is good, the tower sits sturdy on my table and doesn't tip over. The power cord is thick gauged and the power plug has 3 prong.
Per the User Manual, Rated Power = 1250W Max. They showed the breakdown....USBC-1 + USBC-2 output, C1 PD is 45W max, C2 PD is 20W max or C1 PD 20W max, C2 PD 45W max. USBA 1-4 is 4amp Max per port. But if C1/C2+A1 to A4 output will be C1/C2 PD 45W max, A1-A4 = 3amp max. And if C1+C2+A1-A4 output, C1 PD25W max, C2 PD20W max, A1-A4 4amp max or C1 PD20W max, C2 PD25W max, A1-A4 4amp max. I like the output distribution, recommend this.