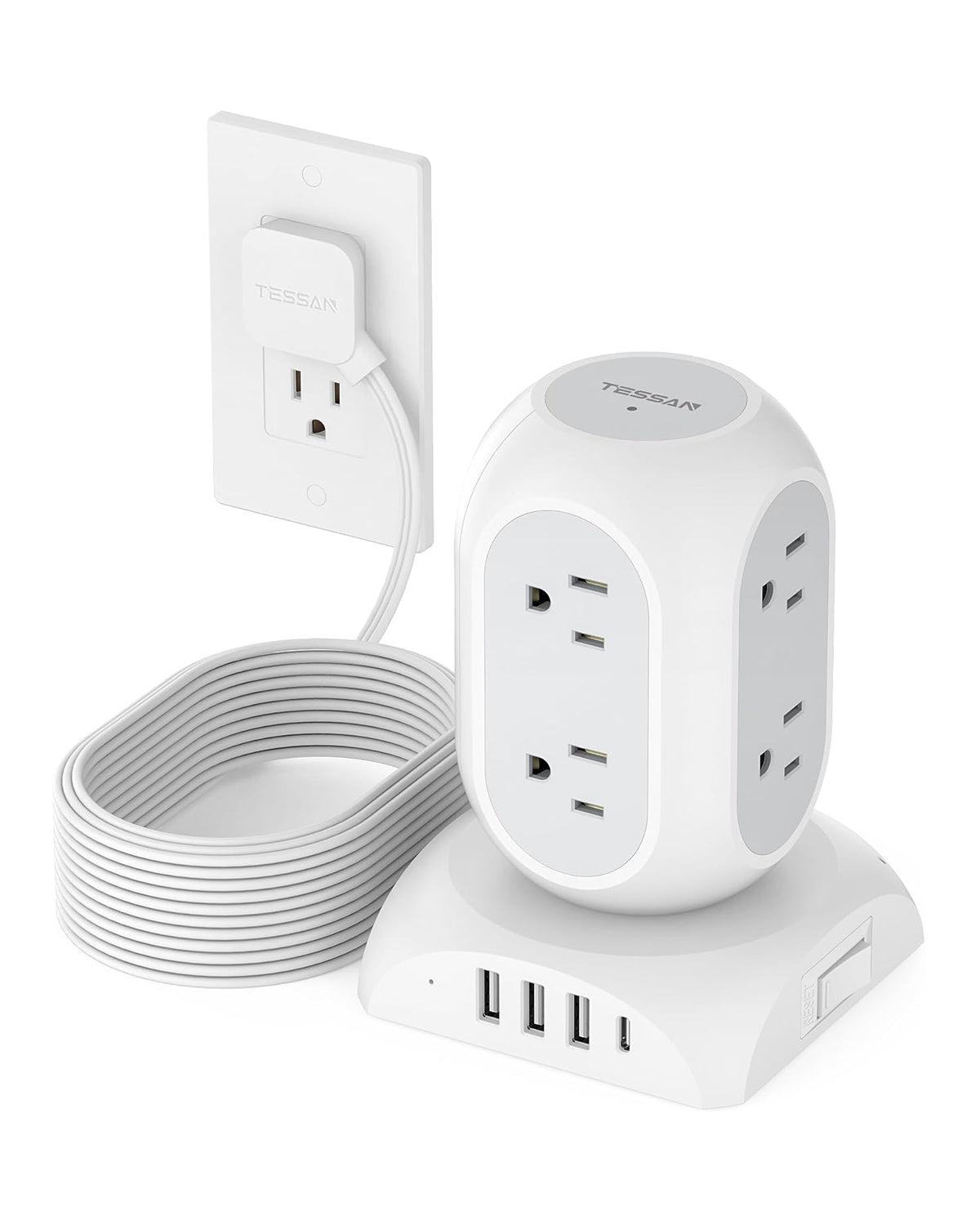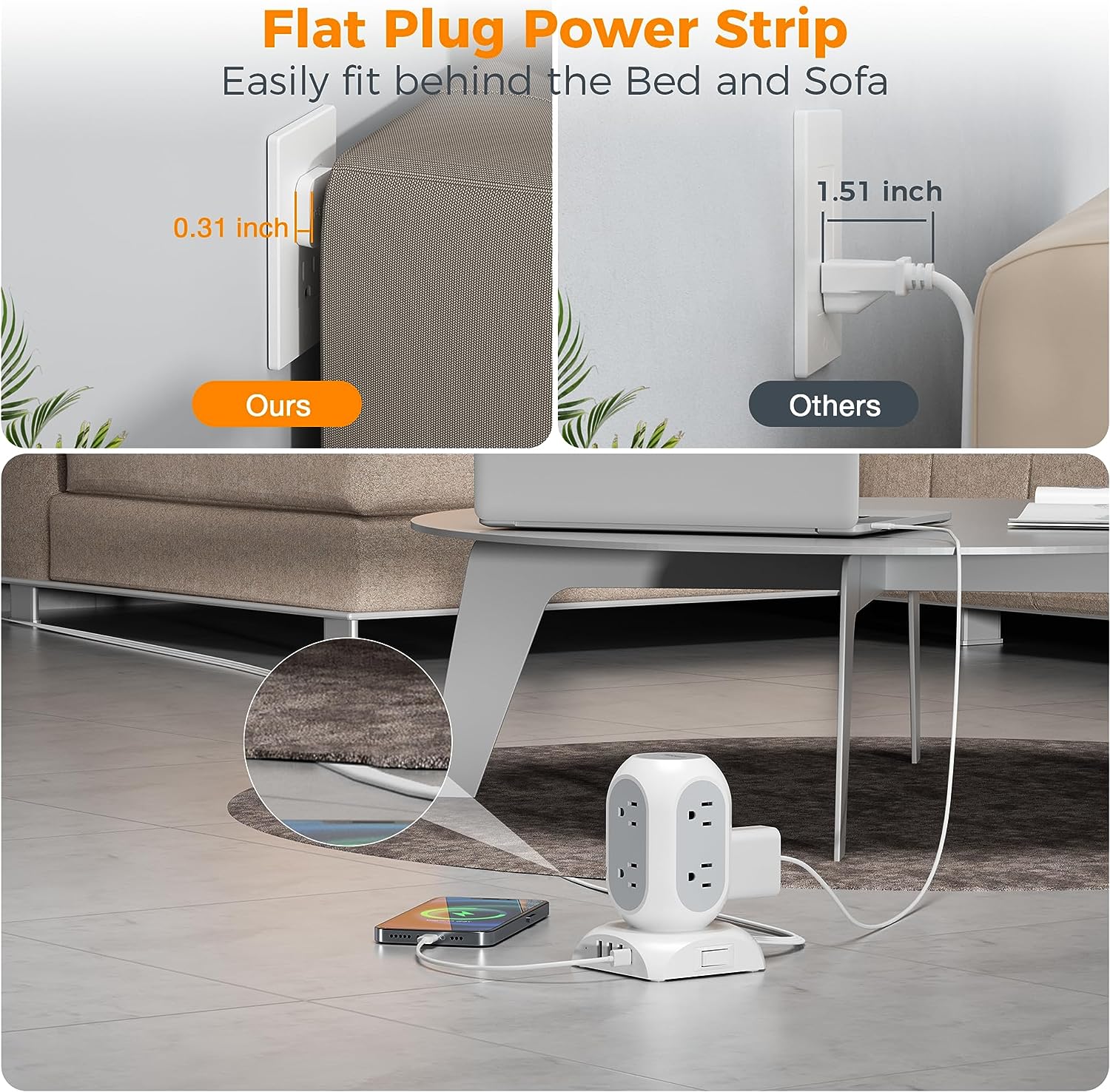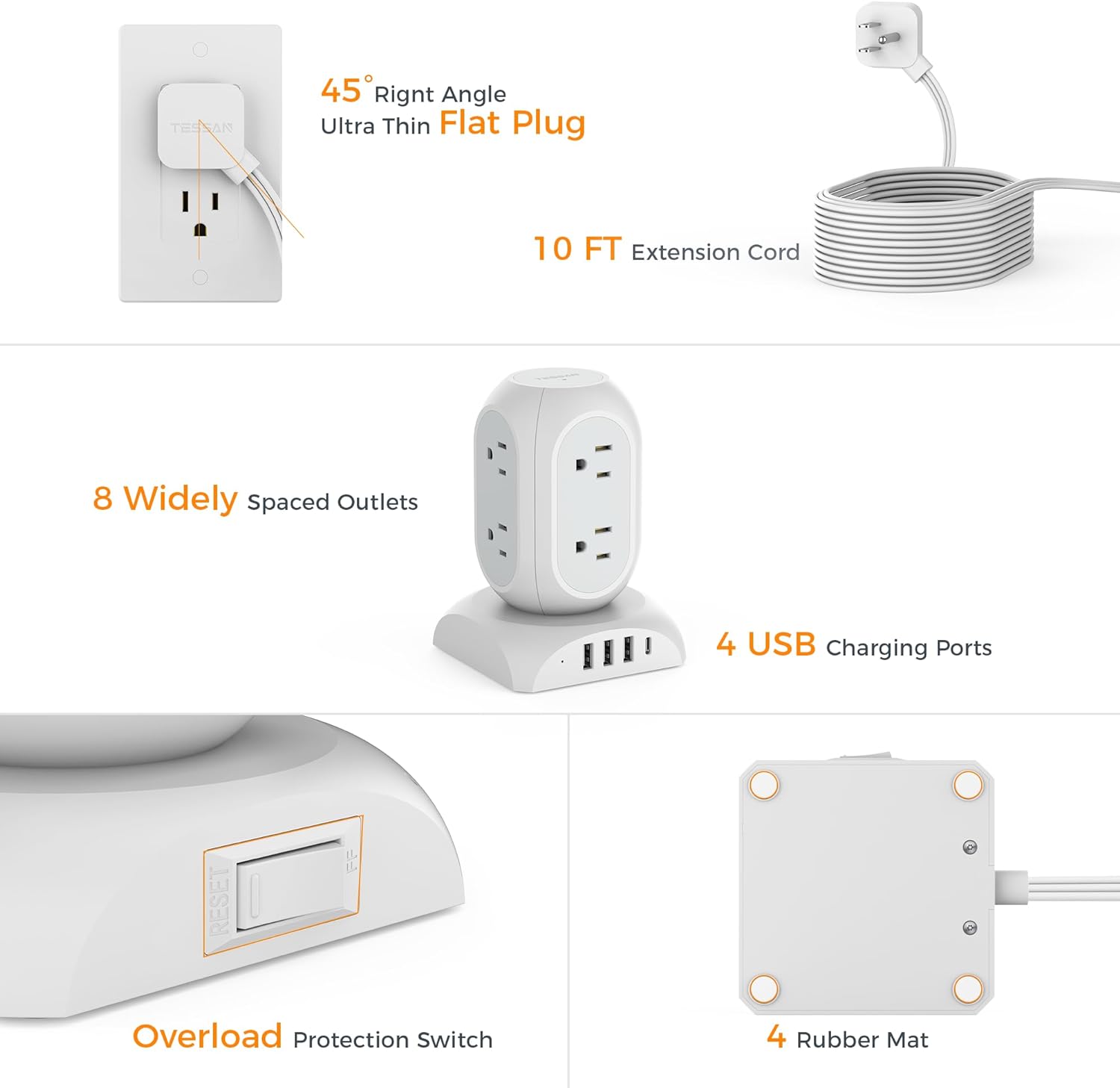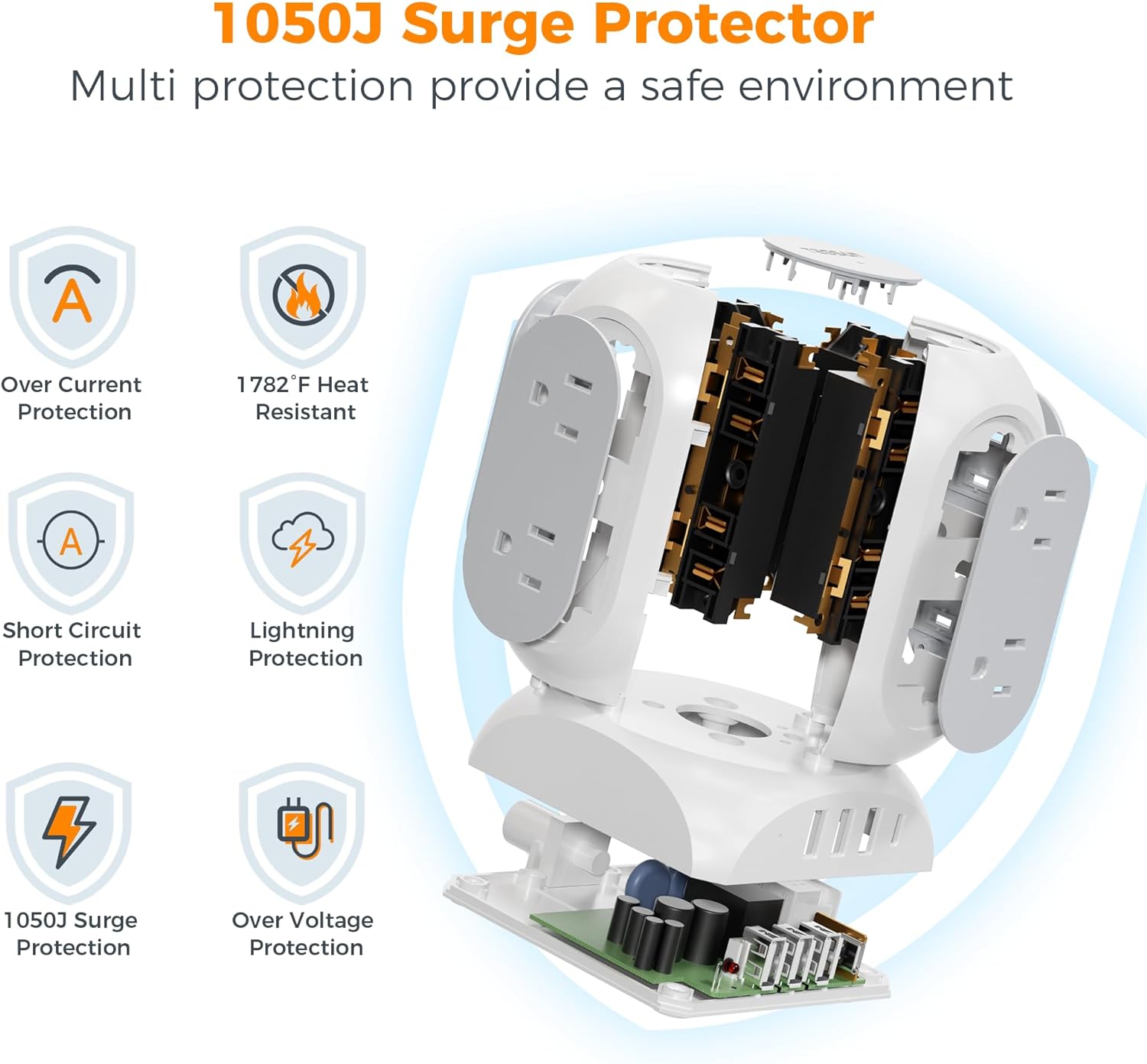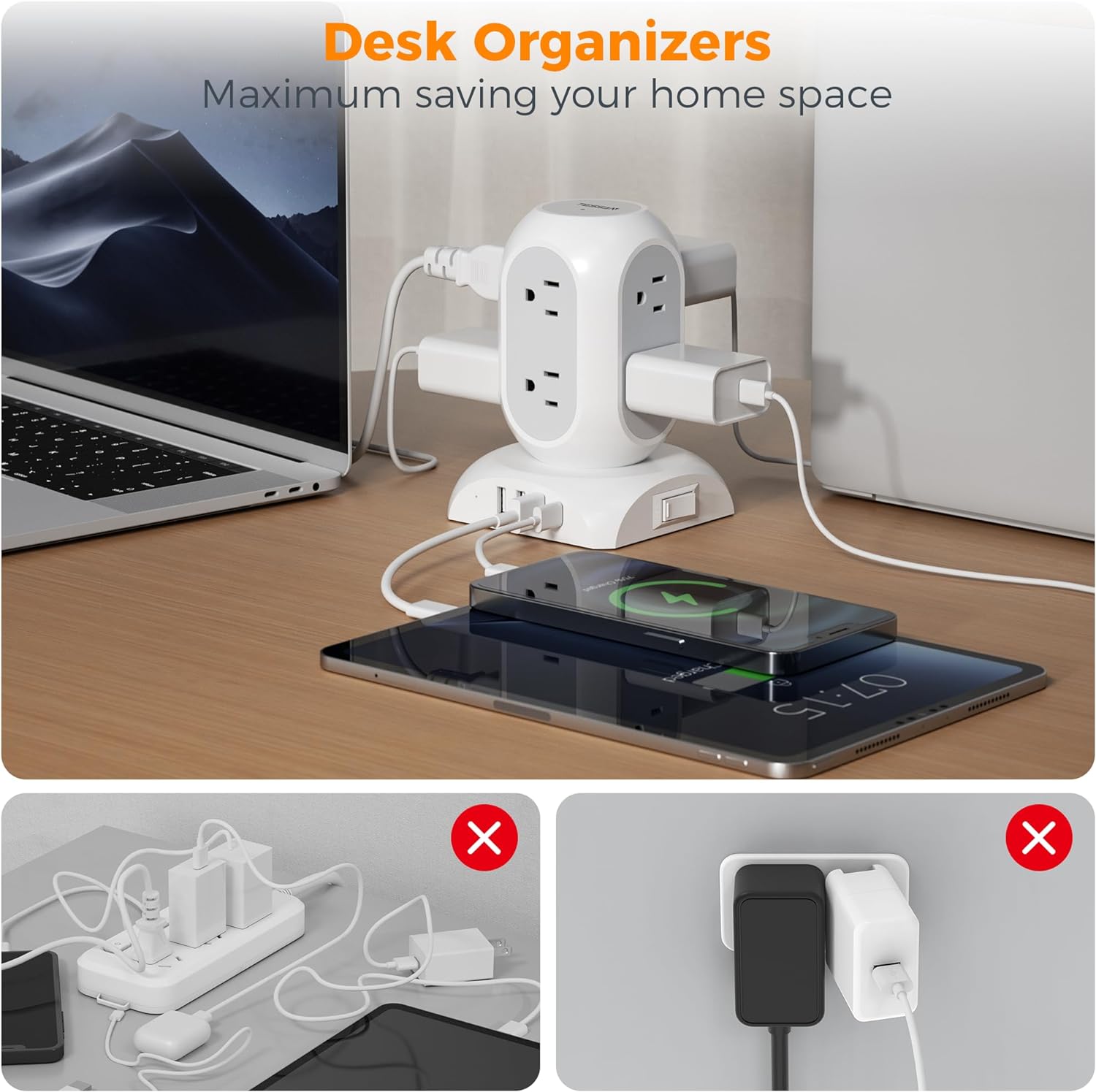 TESSAN Flat Plug Extension Cord 10 Ft with 8 AC Multiple Outlets 4 USB Ports (1 USB C)
Attention to Our Valued International Customers
Outside the U.S.? Please shop our products hassle-free on Amazon.
Excellent and convenient
This is an excellent and convenient surge protector. The plug has. UL certification on it.
Useful AC and USB power tower
This power tower is very well designed. For AC, there are 8 outlets with two on each of the 4 sides. There are 4 USB ports in the bottom. Note from the closeup picture, the wall plug is flat So it can fit in very tight space. Lastly, there is a master switch that turns off all the power outlets on and off. It is a simple product but it is better than others on the market because of the high count of ac outlets and the tower is small. And the low profile wall plug is a bonus.
Plug right.
Able to plug in all items on my desk and able to charge my phone and iPad at the same time.
It's big and needs a flat surface
Believe your eyes, when the pictures present a substantially large surge protector. You will need a flat stable surface. The cord is very long, which helps, if you are going to keep the base on a table top. Because it has a tall tower, it can topple over, if you plug something heavy into one side only. It wasn't right for us, but it is a good hub.
ice and compact, but won't fast charge phones.
I got this to clean up the rats nest of cords and chargers I had on my bedside shelf. I previously had a separate 120v power strip and an old Anker USB power hub, plus a couple of phone specific chargers, etc all plugged into each unit. I couldn't go more than a couple of days without cables tangling up.
This looked neat by combining the power strip and USB hub into one unit. It also keeps all your 120v outlets spaced out so wall warts don't block adjacent outlets.
Only draw back to this is that it won't fast charge my Samsung S22 Ultra. When I first plug it in, it says it is fast charging, but then quickly goes back to 1A slow charging. The USB C outlet is supposed to supply 3A, which should be sufficient for fast charging. It says the total power output is 4.5A, but I tried disconnecting everything else and still got the same result.
Having dissected a few Chinese power supplies in the past, I wouldn't be shocked if this is due to the use of substandard capacitors or lack of any thermal management on the switch mode IC inside. They tend to just quote the data sheet specs on the converter...which also states that to get that number you have to have a proper heat sink and input/output decoupling.