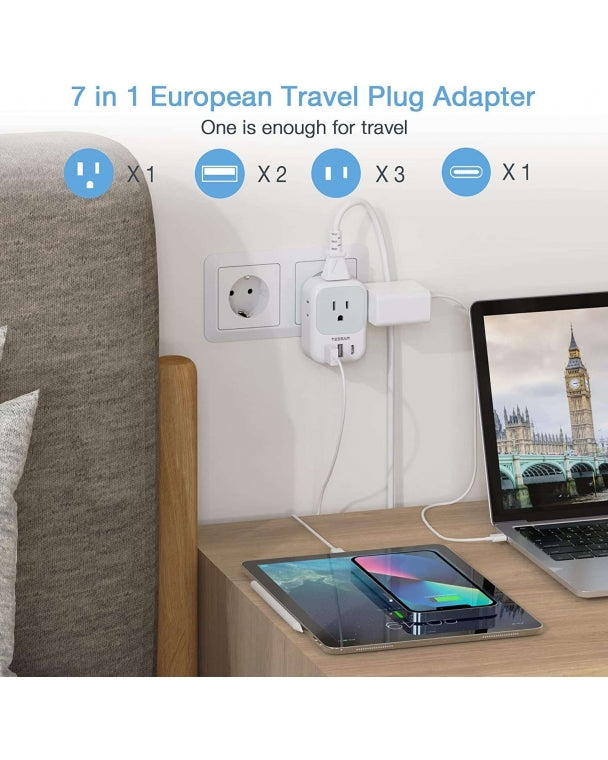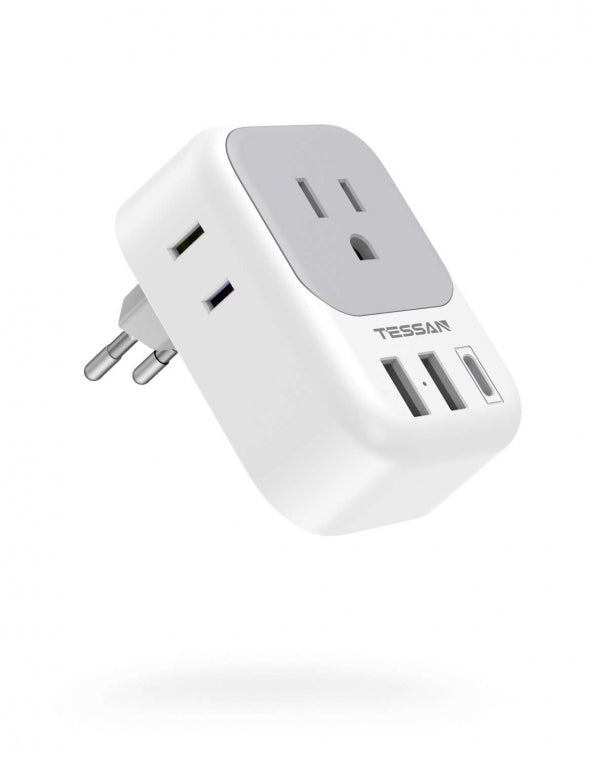 US To European Travel Adapter With 3 USB Ports (Fast Charging PD 15W)
Attention to Our Valued International Customers
Outside the U.S.? Please shop our products hassle-free on Amazon.
European Travel Plug Adapter with USB C Ports
Compatible Countries:
Armenia / France / Italy / Spain / Iceland / Germany / Greece / the Balearic Islands / Chile / Belgium / Bosnia and Herzegovina / Bulgaria / Croatia / the Czech Republic / Denmark / Estonia / Finland / Austria / Georgia / Hungary / Azerbaijan / Kazakhstan / Kyrgyzstan / Latvia / Lithuania / Luxembourg / Macedonia / Moldova / Monaco / Montenegro / the Netherlands / Norway / Poland / Portugal / Romania / Russia / Serbia / Slovakia / Slovenia / the Azores / Sweden / Switzerland / Tajikistan / Turkmenistan / Ukraine / Bahrain / the Cape Verde Islands / Chad / Egypt / the Republic of Guinea / Iran / Iraq / China and more.
Tips: This electric adapter for Europe does NOT work in the UK / Ireland / Scotland/ South Africa.
About This Item:
European Plug Adapter: Compatible in most European countries such as Portugal, Poland, Netherlands, France, Germany, Greece, Hungary, Spain, Turkey, Italy, Austria, Belarus, Belgium, Croatia, Denmark, Finland, Israel; More country list can be checked in description; NOTE: Not work in UK/Ireland/Scotland
European Travel Adapter USB C: Dual USB A ports can charge up to 2.4A, and the USB C port can charge up to 3A; Ideal for cell phone, tablet, power bank, laptop, earphone, etc; Note: The UCB-C port is not Quick Charger 3.0, doesn't support any other devices which need 9~22V charging voltage
7 in 1 US to Europe Plug Adapter: It turns 1 European Type C socket into 4 standard American outlets, max capacity up to 2500 watt (max 250 Volt, 10 A); NOTE: This is not a voltage converter, only compatible for 110V to 240V wide voltage device. Your hair dryer,straightener or curling irons need to support wide voltage, otherwides you may need a power voltage converter
Travel and Study Abroad Essentials: This International power adapter is mini and lightweight, suitable for travelers, businessmen and students abroad; No need to carry extra adapter or power strip for travel; The Indicator for reminding the Europe power adapter is on/off
Suitable for Any Occasions: TESSAN adapters for Europe is portable and suitable for Hotel, bedroom, bathroom, kitchen and college dorm room; No surge protection, no cords, Iceland plug adapter can taken abroad cruise ship
7 in 1 USA to European Plug Adapter
This Iceland power adapter with 4 America Outlets and 3 USB Charger Ports accepts the standard N American 2 or 3 prong flat pin plug and USB charging, without blocking each other.
Product Specification
Product dimension: 3.07*2.20*2.63 inch
Input voltage: 100V-250V
Max load: 10A
Power rating: 2500W (Max 250V, 10A)
USB A ports output: 5V/2.4A
USB C ports output: 5V/3A
USB total output: 5V/3A 15W
Indicator: Soft indicator
Not a Voltage Converter
The US to European plug adapter is not a voltage converter. Please make sure your devices especially your hair dryer, straightener, hair curler, electric toothbrush or electric razor need to support 100V to 250V Dual Voltage. If your device is 110V or 125V only, you will need a voltage converter.
USB C Wall Charger
The European plug adapter has 3 USB ports which charge up to 15W.
NOTE: The UCB-C port is not Quick Charger 3.0, doesn't support any other devices which need 9~22V charging voltage.
European Travel Essentials
This Europe travel adapter is small and weight light to save your precious luggage space.
It's so handy that suitable for overseas business and oversea students.
Not work in the UK
This adapter USA to Europe does not work in the UK / Ireland / Scotland / South Africa.
Type C plug adapter which can work in most of Europe such as Germany, Italy, France, ect, but except for UK, for UK adapter please choose Type G plug adapter.
Specification:
Product dimension: 3.07*2.20*2.63 inch
Input voltage: 100V-250V
Max load: 10A
Power rating: 2500W (Max 250V, 10A)
USB A ports output: 5V/2.4A
USB C ports output: 5V/3A
USB total output: 5V/3A 15W
Indicator: Soft indicator