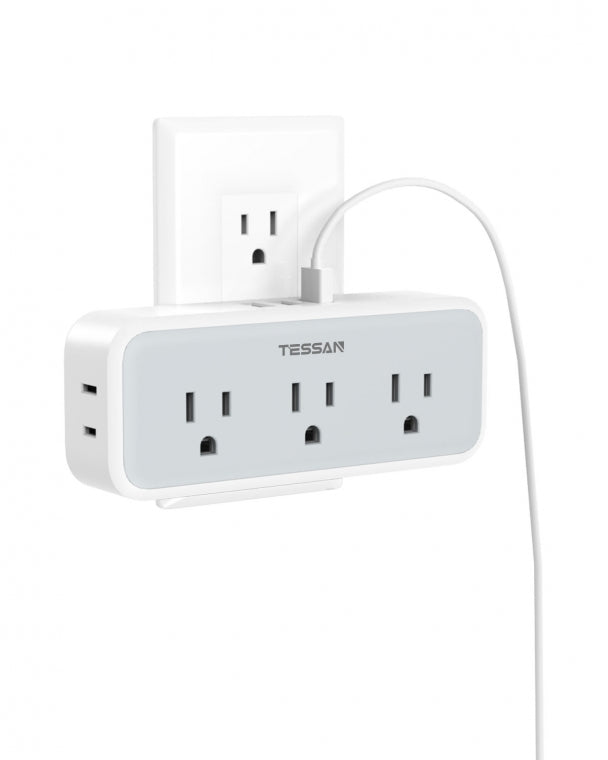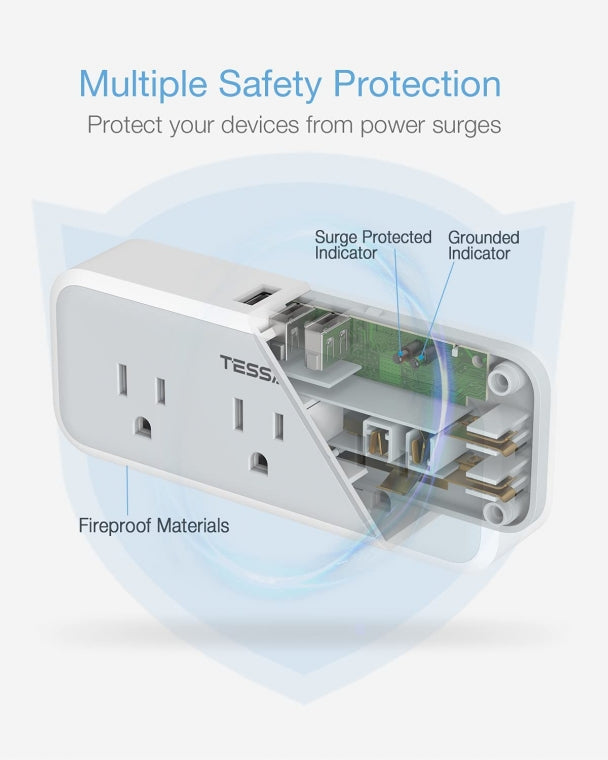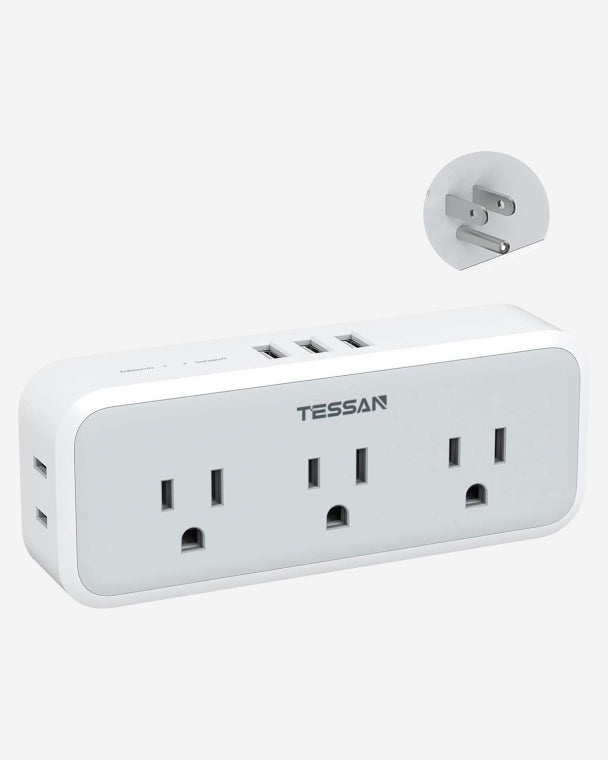 Surge Protector Multi Plug Outlet With 5 Electrical Outlet Extender 3 USB Wall Charger
Attention to Our Valued International Customers
Outside the U.S.? Please shop our products hassle-free on Amazon.
8 IN 1 Multi Plug Outlet
5 AC Outlets 3 USB Ports
TESSAN wall outlet expander is compact design makes it easy to carry around. You can pack this wall plug expander along with your other travel gears while traveling in the US or Canada.
IMPORTANT
The 15W USB charging is NOT Fast Qualcomm QC3.0, It can meet most USB devices charging needs without an extra power adapter.
About This Item
Multi Outlet Wall Plug: Widely Spaced design to accommodate 5 plugs at the same time without blocking; Accept the standard N American 2 or 3 prong flat pin plug, suitable for most appliances like laptops, hairdryers, shavers and more
USB Outlet Plug Adapter: 3 USB ports can detect charger devices and deliver optimum charging speed up to 3A (2.4A max per port), ideal for cell phone, tablet, etc; The indicator let you know the USB charger block power is on/off
Space Saving: Plug extender is supposed to be plugged in the outlet above without blocking the other below; This multiple plug outlet is small, make it fit for both GFCI and standard receptacles
Surge Protection: The power of the wall outlet expander ranges 125V~15A,1875W max; Wall outlet surge protector can protect your electronics from surges and spikes disturbances
Suitable for Any Occasions: TESSAN multiple outlet wall plug with low profile design, makes the outlet extender can be used in home or travel, especially for kitchen, bathroom, office and dorm room
3 Side Outlet Extender
This wall plug extender has 5 AC outlets, rated for 15A, 125V, 1875W. Wide spacing design make it can accommodate 5 bulky plugs. Suitable for most home appliances laptops, hairdryers, shavers and more.
3 USB Charging Station
3 USB ports provide a total of 3 amps of power(2.4A per port). Compatible with cell phone, tablets, and other USB devices. No need to install just plug the usb outlet into the wall socket.
Multiple Protection Wall Outlet
Equipped surge protection can protect your devices from power disturbances; it can prevent your devices from over current, over charge, short circuit, over heated.
Multiple Plug Outlet
Suitable for Any Occasions
It is very useful for your household appliances at home or office. It can be used in any indoor place with socket, especially for the bedroom, bathroom, college dorm room and hotel.
Compact Outlet Splitter
Our power outlet expander is palm-size and ultra-light. helping you save your briefcases or luggage space, making it suitable for travelers, business man, students.
Space Saving Plug Expander
This plug splitter supposed to be plugged in the outlet above without blocking the other below, giving you a neat and tidy place.
Specification
Input voltage: AC 100-125V
Rated power: 1875W-15A Max.
Item Dimension: 5.59 x 2.16 x 1.8 in
Green Grounded Indicator: connected to the ground wire
Red Protected Indicator: surge protection is turned on
What a space saver
I'm so glad I bought this Works perfectly for small spaces charges my phone and makes my charging station smaller I really love it
Very convenient in my bathroom
I got this for plugging in and charging stuff in my bathroom. Has been working great for months. Photo attached. My phone charges quickly and doesn't take up an electrical outlet. I can plug in three items with this little guy and it doesn't cover the other outlet. Stays solidly in the wall without trying to come out.
Charges 8 devices at once! Excellent for Travel.
I VERY rarely give 5-star ratings (5 stars = perfection). However, this little 8-outlet charger is close enough.
Weight: < 0.3.5 lbs. Dimensions: 5-5/8" W x 2025" H x 1.25" D (without plug).
It's small and light for so much charging ability.
My in-use photo shows 8 devices charging (with the exception on my iPhone which i used to take the photo, but it was charging well along with all else listed). From left to right:
(1) Outlets:
• Panasonic electric shaver
• Panasonic Eneloop AAA battery charger
• 18650 Li-on battery charger (for scuba torch)
• Panasonic Eneloop AA battery charger
• Oral B electric toothbrush charger
(2) USB Devices:
• IPhone
• GoPro camera battery charger
• Kindle charger
The device handled charging all 8 at once. I bought this outlet tap for travel, and it should work very well for that. Highly recommended for low-voltage/amperage charging.
NOTE—its maximum output (listed on back of unit). Do not exceed that.
Nice plug extender for top outlet spot
This little thing works great!
Be mindful that if you use it in the bottom outlet spot, you won't be able to use a 3 prong plug in the top spot. This is because it has a little more real estate on the top part of it.
It is pretty stable and doesn't jiggle around like some plug extender I have bought.
USB plug spots are great, and in a great position on the top to be out of the way of the rest of the plugs. The only thing that would help is if there were one or two USB Type C spots. I could not plug in my type C into this.
Works great in our GFCI outlet!
We needed to add a few plugs to our GFCI but we wanted to be very careful and the generic screw in multi outlet will not work with a GFCI. This works PERFECT and we feel very safe with it!