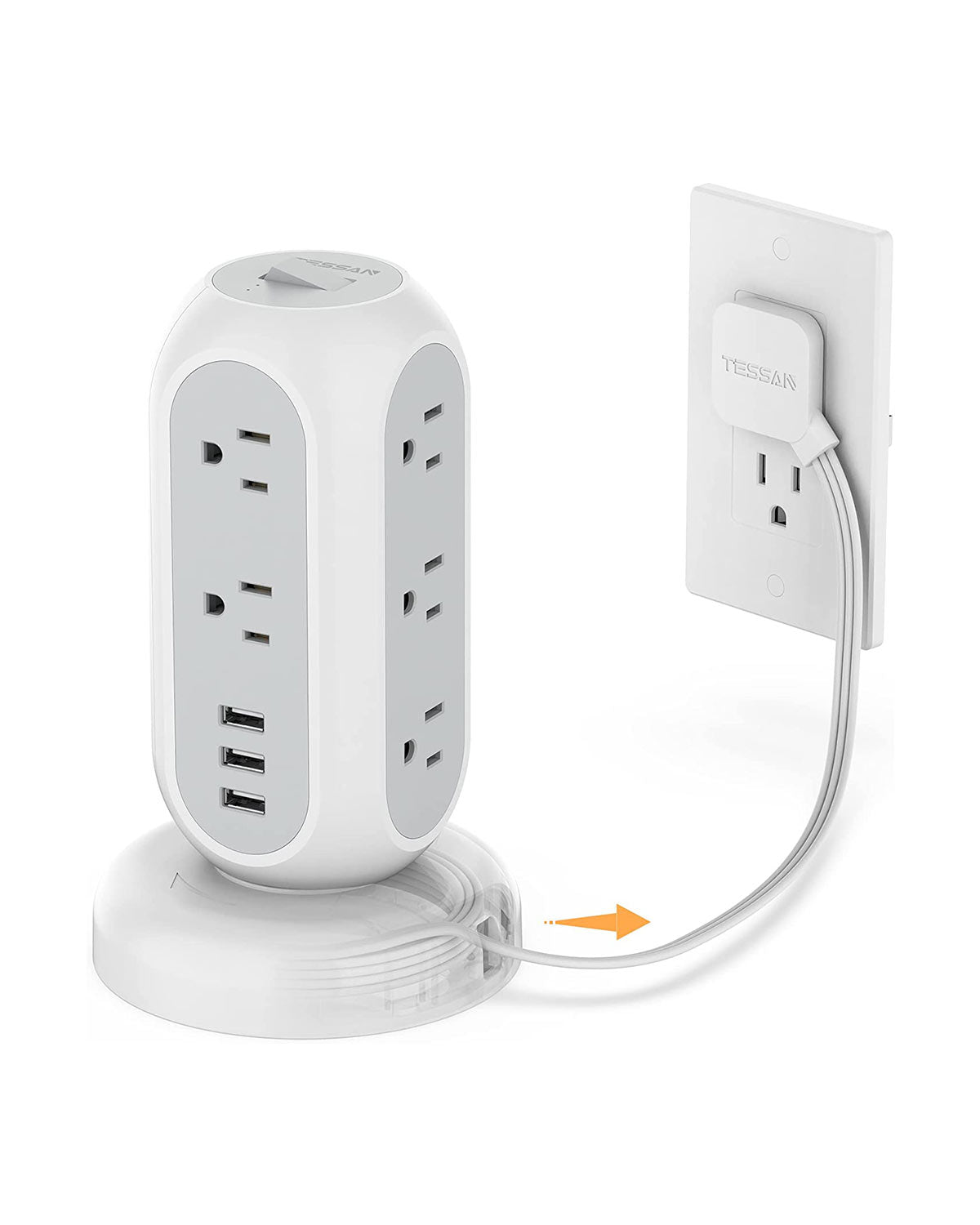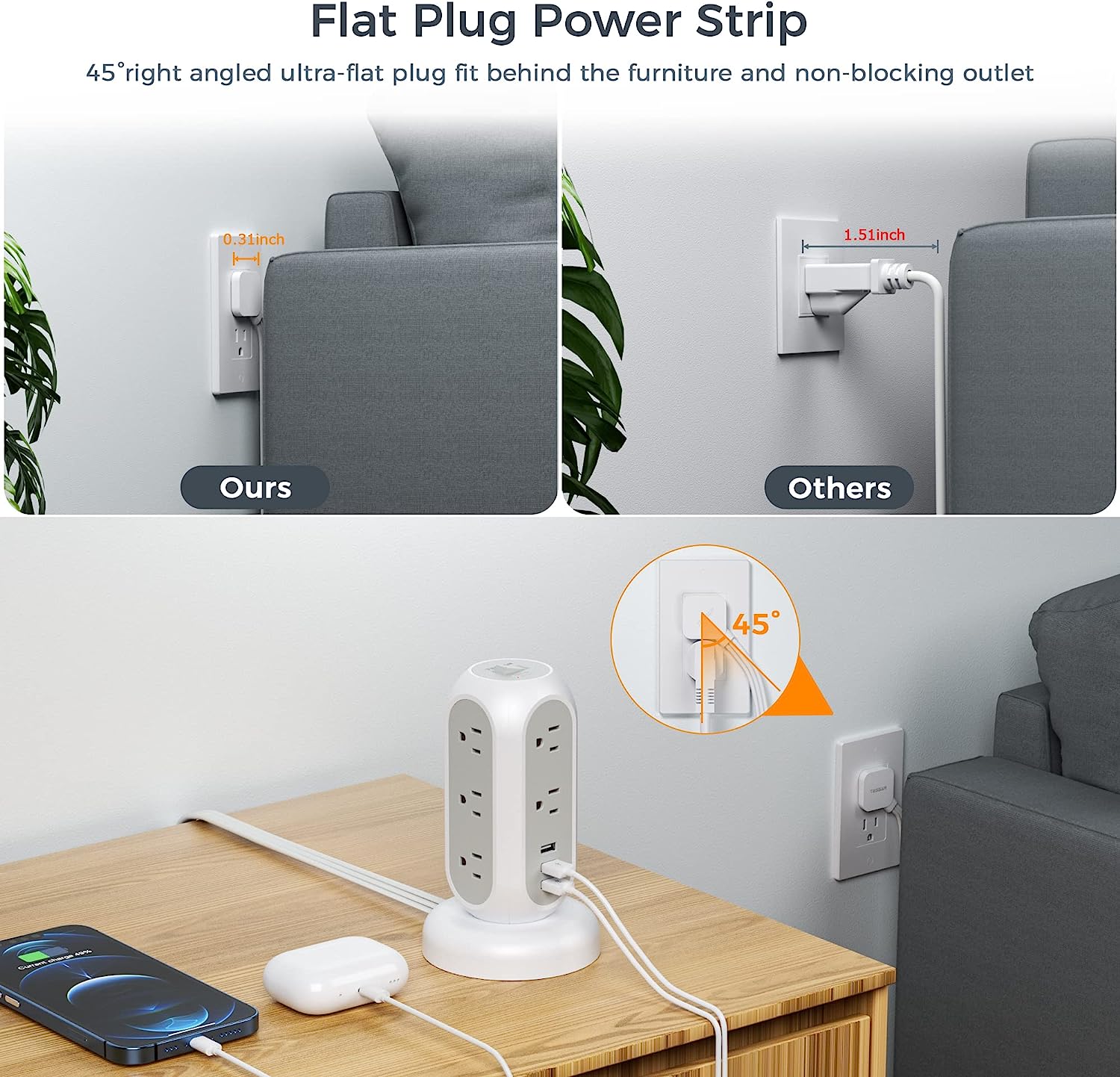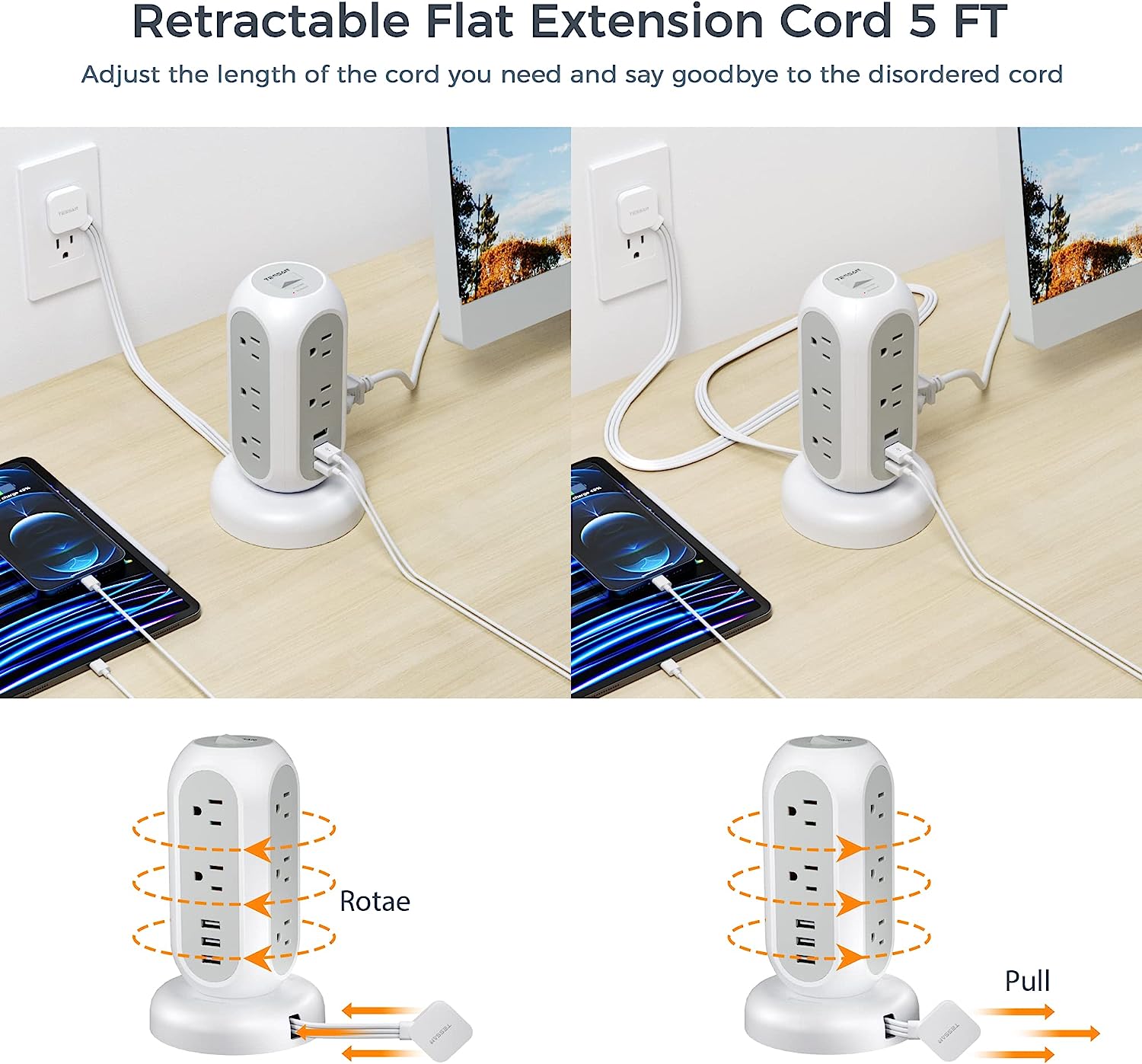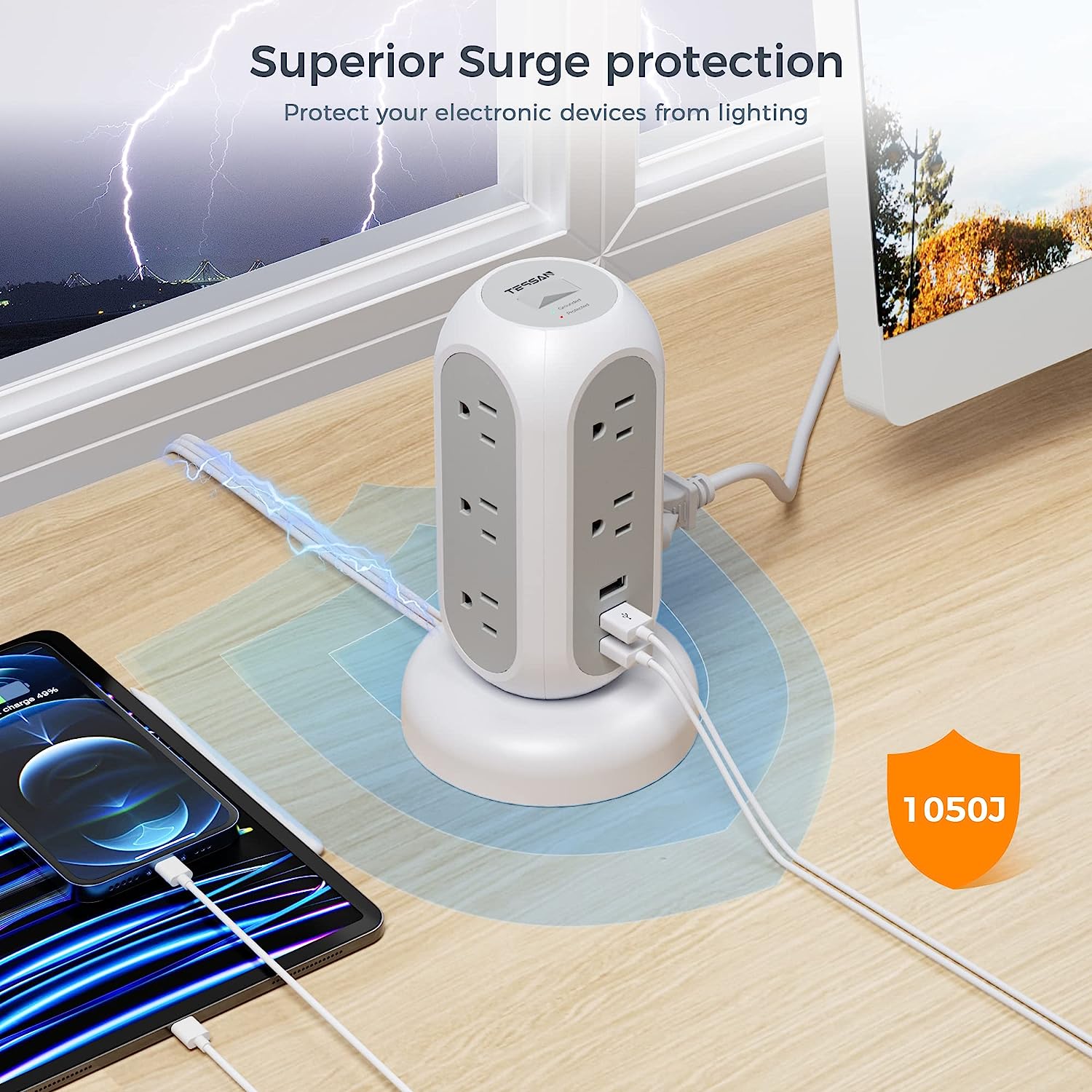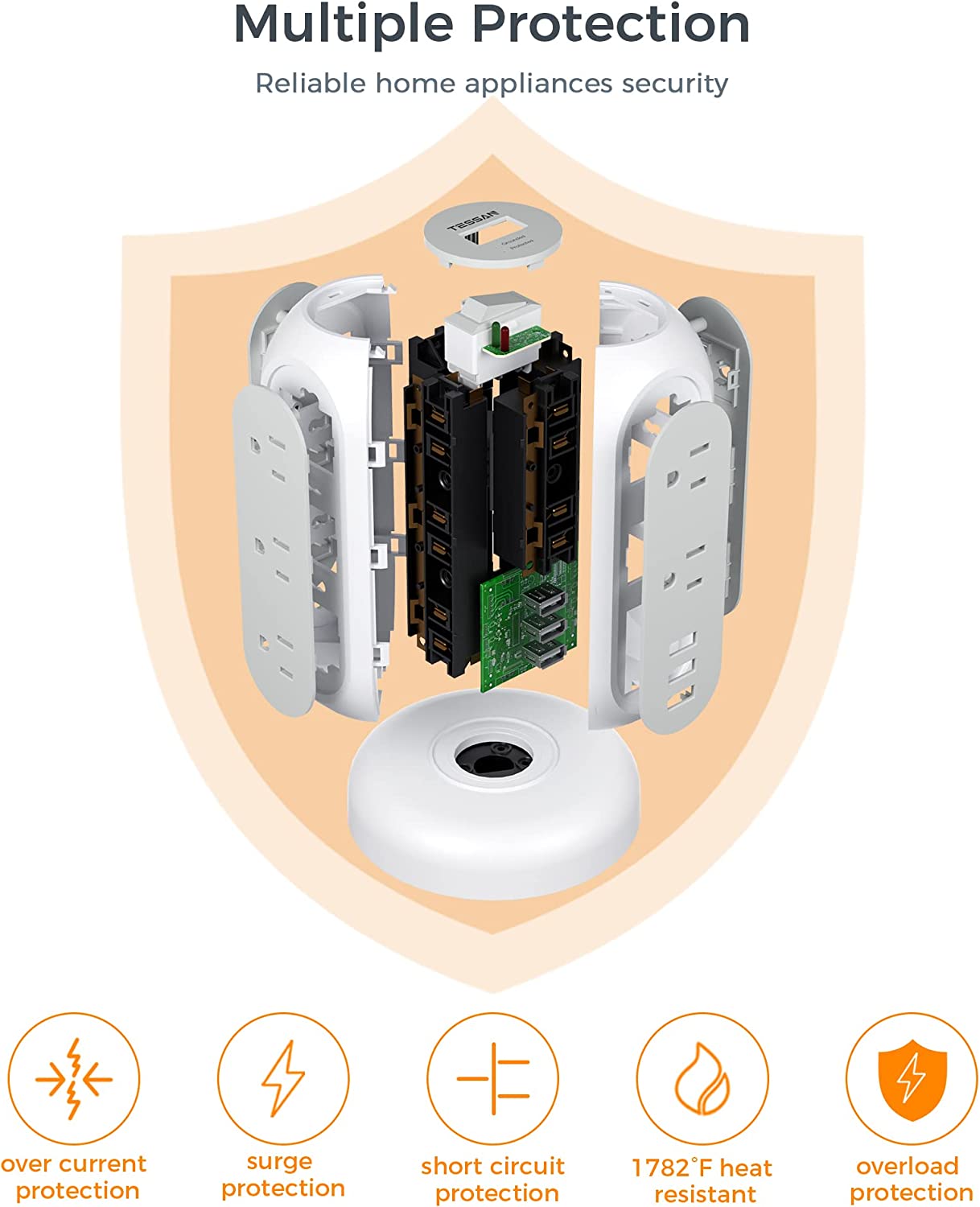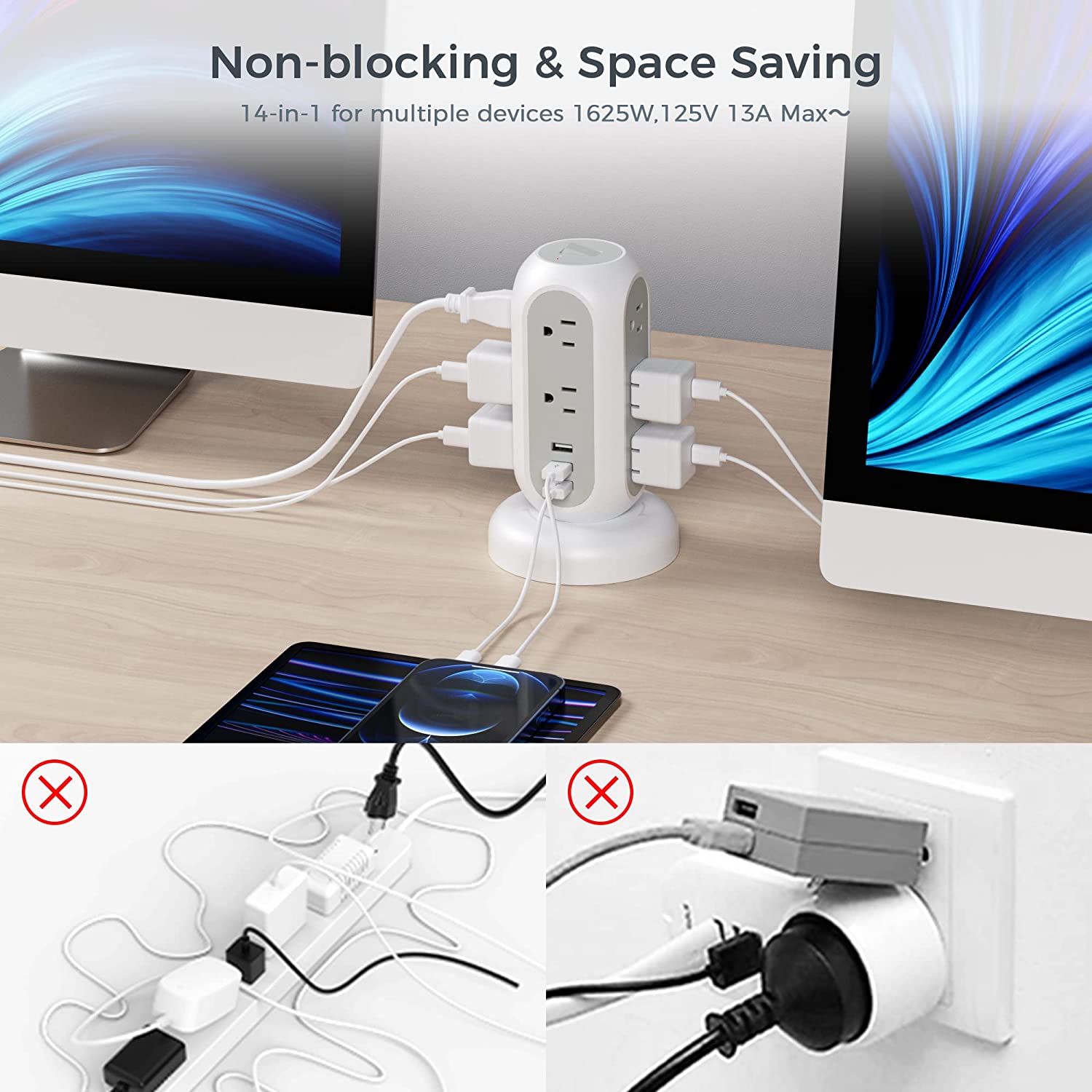 TESSAN Surge Protector 11 Outlets with 3 USB Charging Station
Attention to Our Valued International Customers
Outside the U.S.? Please shop our products hassle-free on Amazon.
TESSAN Ultra Thin Retractable Extension Cord 5 FT
TESSAN Flat Plug Power Strip Tower, Ultra Thin Retractable Extension Cord 5 FT, 1050J Surge Protector Tower 11 Outlets with 3 USB Charging Station, Slim Plug Cord for Office Supplies, Desk Accessories, Dorm Essentials
About This Item:
Flat Plug Extension Cord: With only a 0.35 inch ultra-thin plug design and ultra-flat cable, this surge protector power strip tower can be more easily placed in narrow spaces, and hidden behind furniture, sofa, bedside table, desk or refrigerator; In addition, this plug is tilted 45 °, so it will not block the second socket
Retractable Cord is More Tidy: Designed with retractable extension cord 5 FT, it can greatly save desktop space. You can rotate the product according to the arrow direction marked on the base of the product to pack up excess cord; But when you need a long cord, just pull out the cord
Extension Cord with Multiple Outlets: Our surge protector tower has 11 outlets and 3 USB ports. Not charging 6 devices, but up to 14 devices. The widely space between the outlets is 1.65in, so when you use large plugs, they will not block each other. And the multi plug outlet tower built with 13A circuit breaker (1625W Max. 13A, 125V Max), 3 USB charger (2.4A Max Per Port, 3.0A Total)
Multiple Safety Protection: The power strip has surge protection (1050J), overload protection, lightning protection, short-circuit protection, over-current protection. The on/off switch can automatically shut off to protect your devices at home, office, college dorm when voltage surge is detected
Unique Design and Widely Use: This tower power strip surge protector is novel and stylish. Compared with other larger and bulkier strip, it is more portable and save space. Widely use in Office, College, dorm room or Home for your PC, computer, laptop, phones, tablet, printers, speakers and other devices
I am incredibly pleased with the look and quality.
This power strip tower is an awesome addition to my home office! With an ultra-thin design, it takes up little space and can easily fit on any desk. It's also retractable, so I can quickly and easily store it away when not in use. I love the surge protection features as well. Plus, the 11 outlets and 3 USB ports make it so easy to charge devices and power my computers! Highly recommend as a desk accessory or office supply - definitely a dorm essential!
Tidy, efficient and well made.
Like everything about it. I use it in m my sewing room.
AMAZING
This outlet thingy has saved my sanity! I just moved into a new dorm with poor outlet placement, and this has been a life-saver getting power to my desk! This thing powers so many things for me, including my ipad and laptop chargers, my fan, and often my apple watch and iphone chargers. The retractable cord is also perfect for what I needed it for! It reaches a good length, and I'm superrrrr satisfied with this purchase!!
Clever functional design. Compact. Retractable cord with flat plug. High quality and performance.
Perfect solution for my growing kitchen digital devices. Compact short tower design hides behind counter top kitchen devices. Retractable cord with flat plug reduces clutter and cord exposure. The 11 outlets are positioned sideways to maximize space. The extra USB ports are a useful bonus. Recommend with no reservations.
No more need to find extra outlets