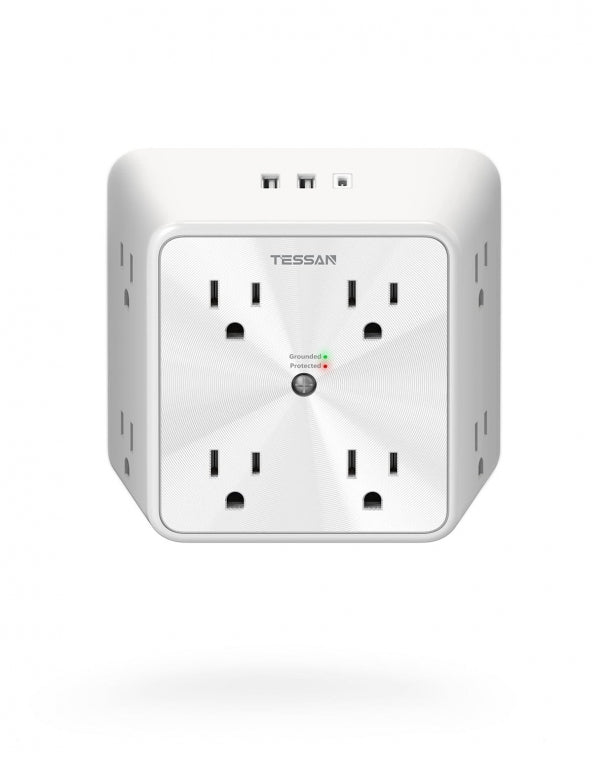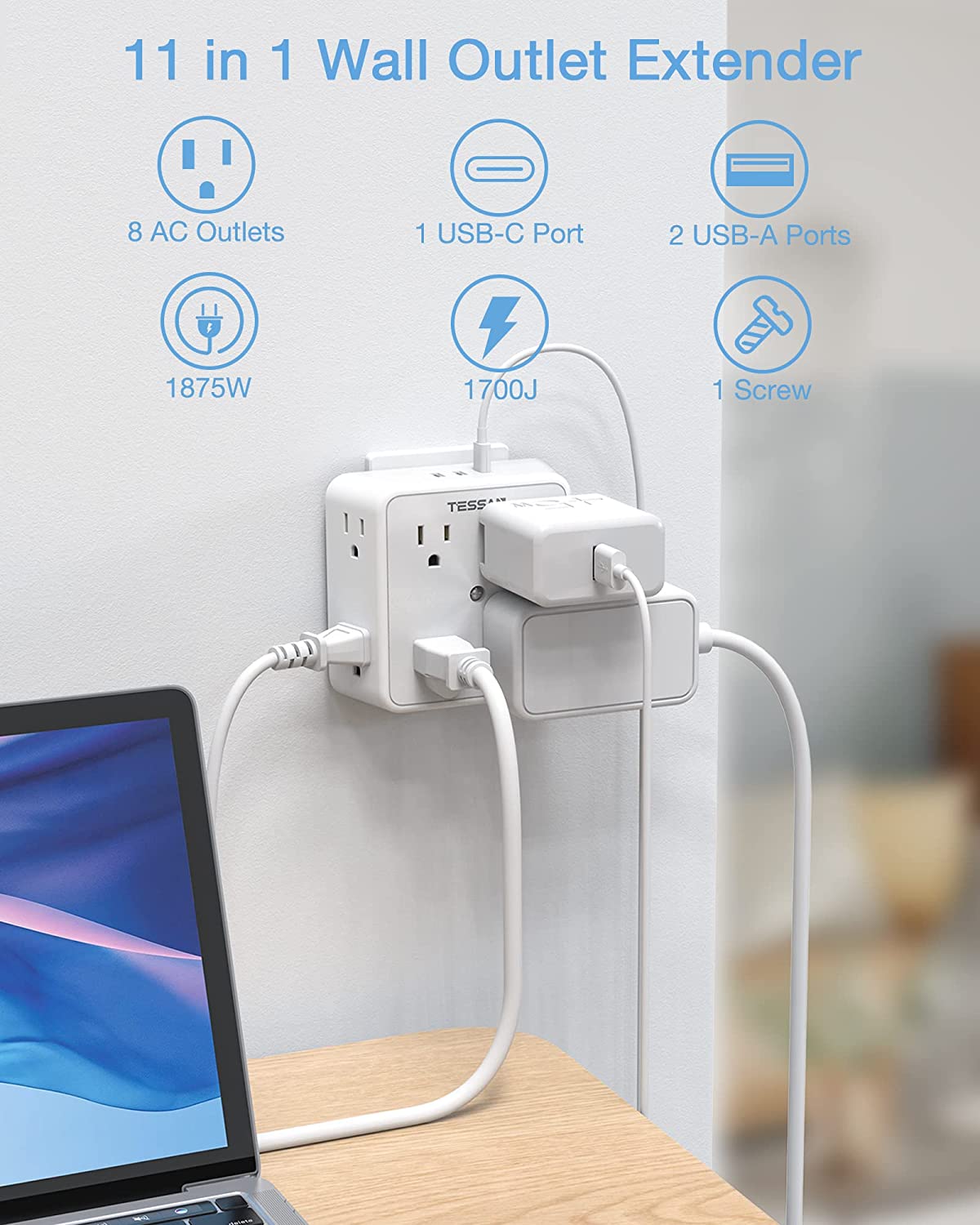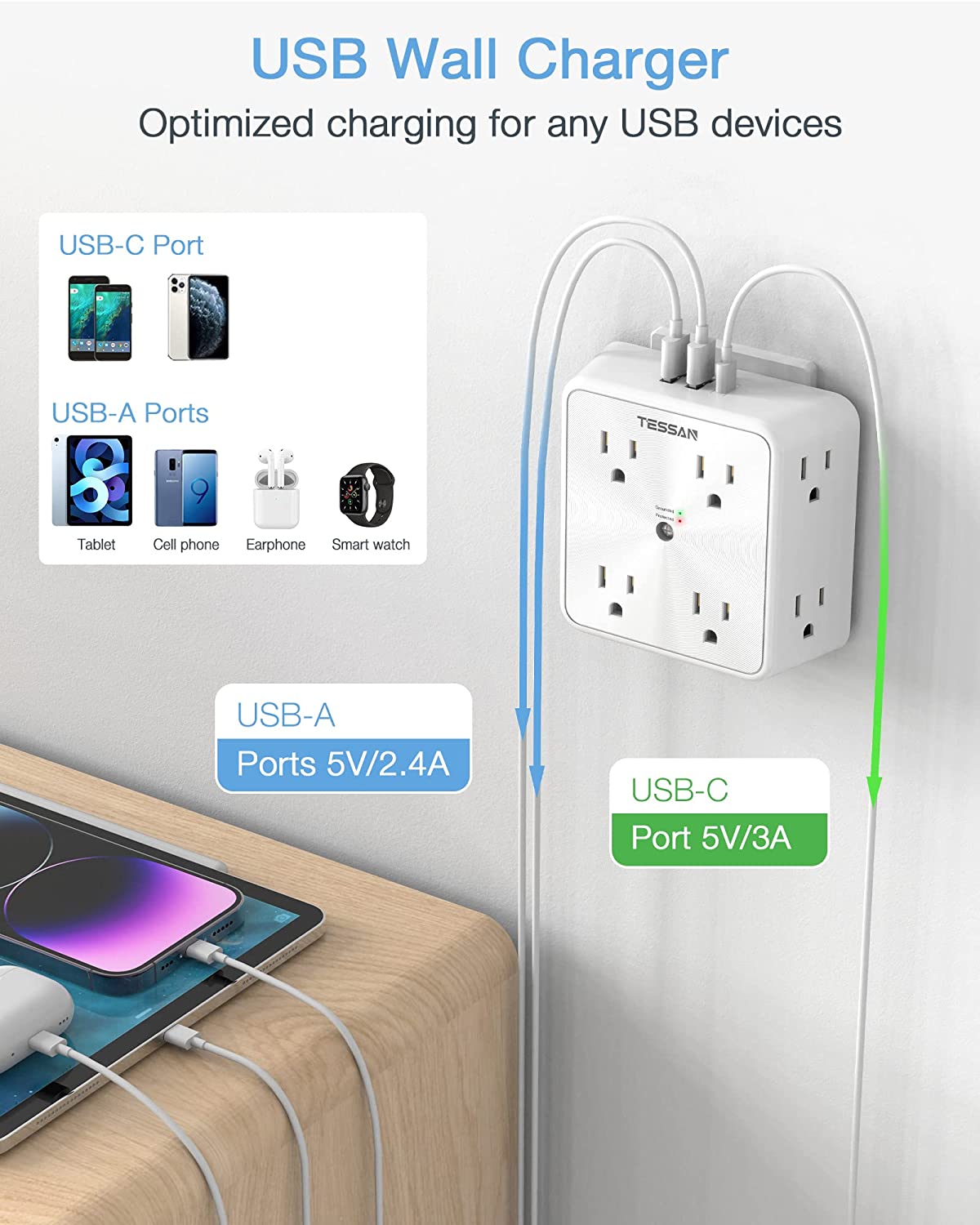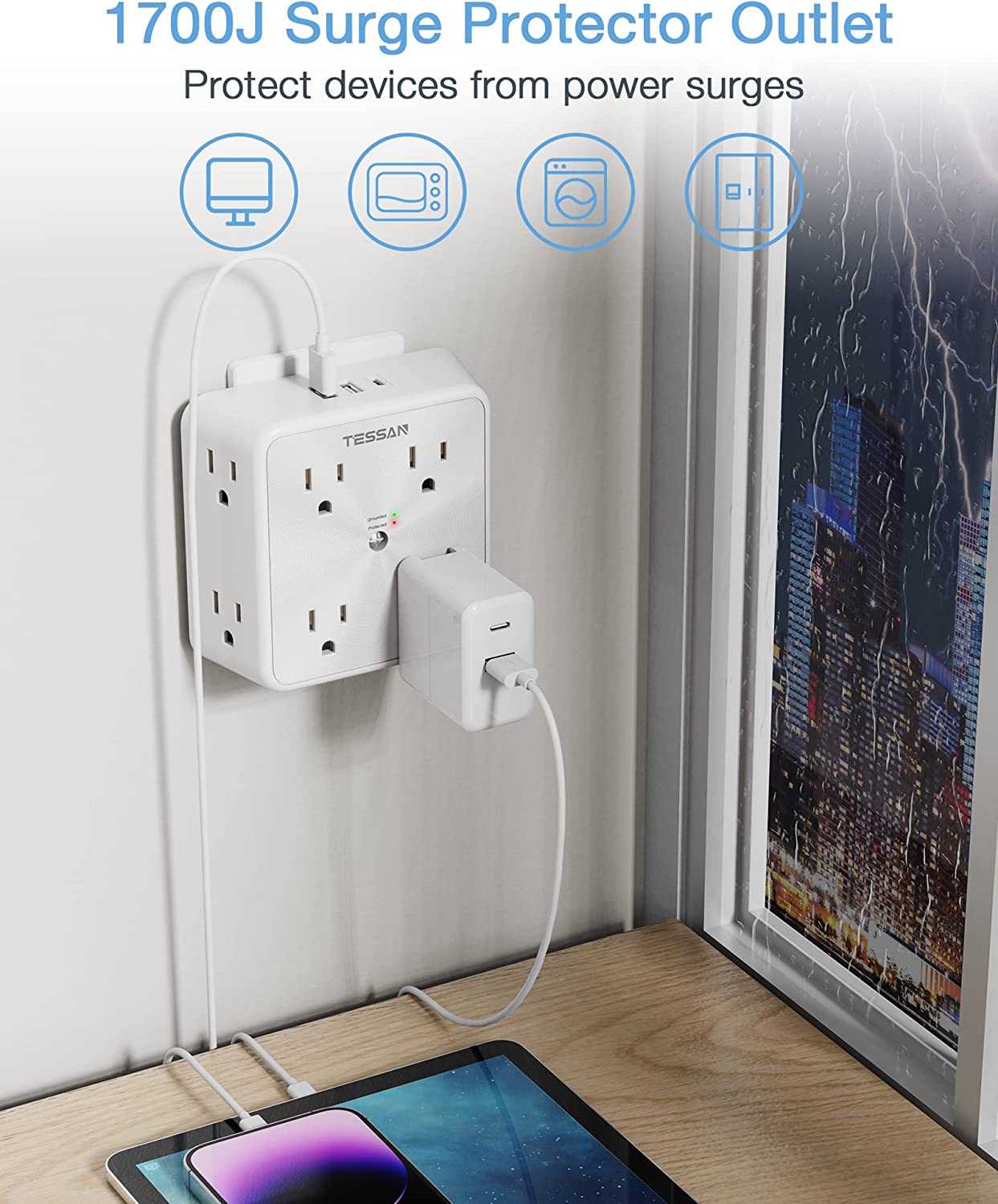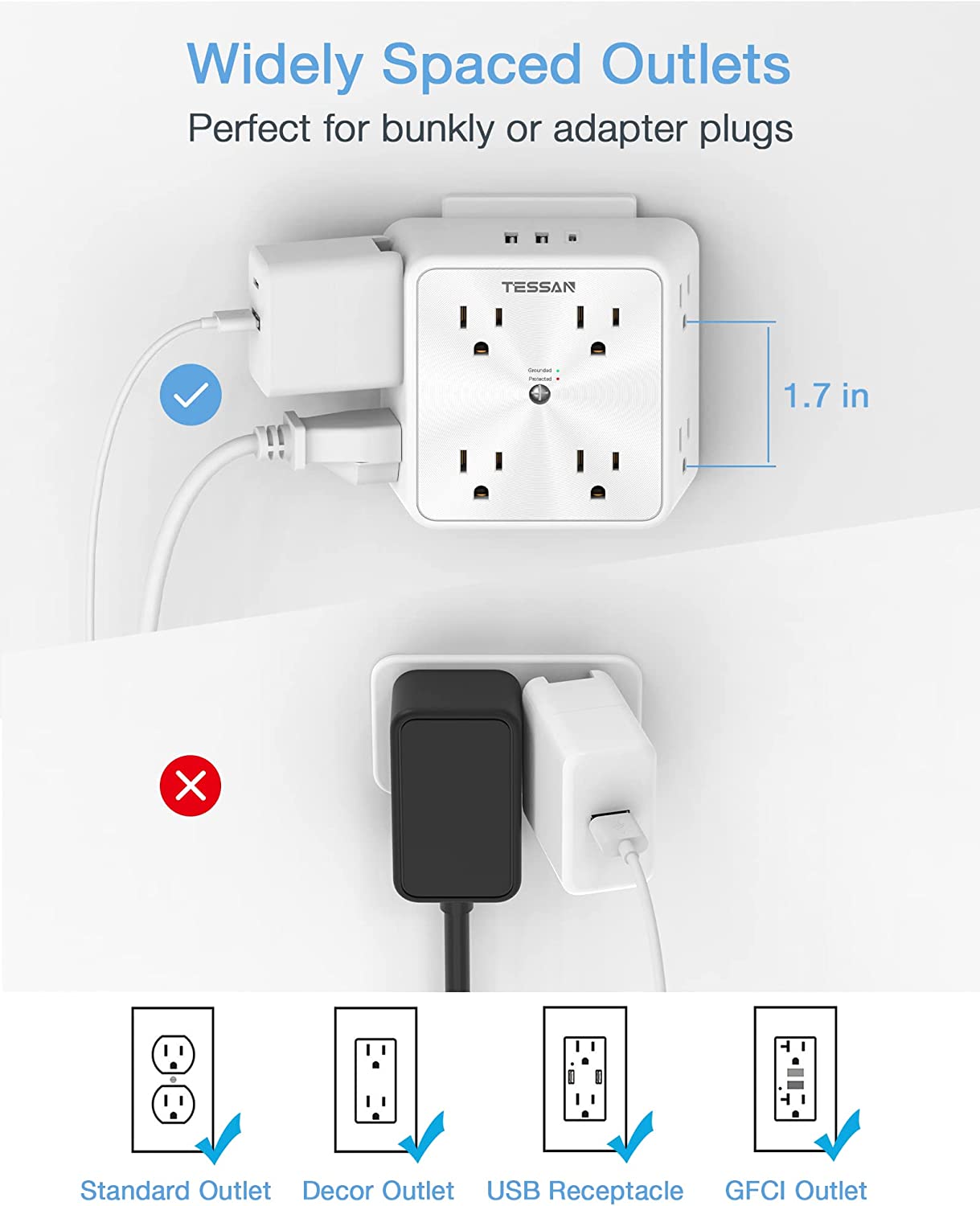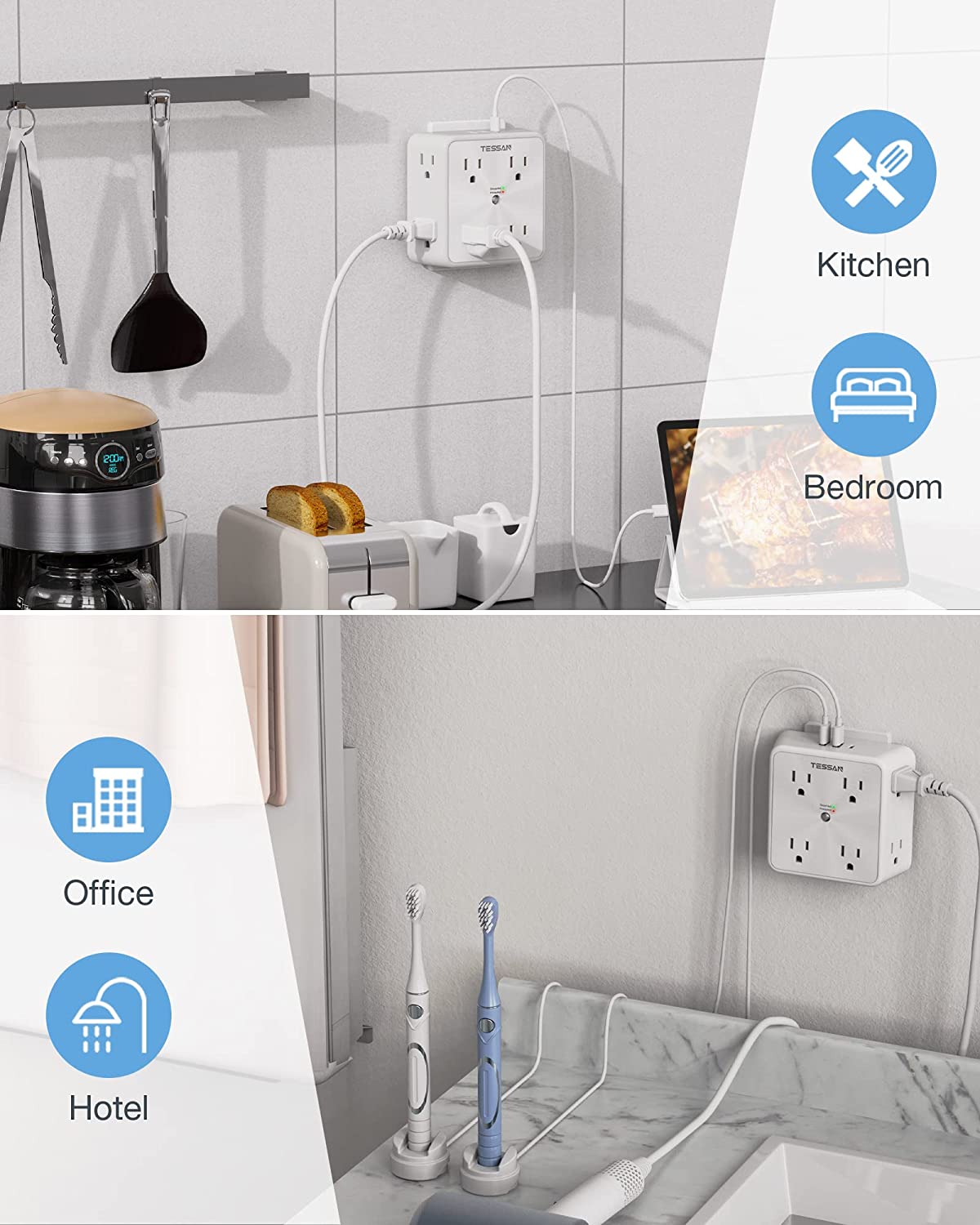 TESSAN Surge Protector Outlet Extender, 8 Multi Outlet Splitter with 3 USB Wall Charger (1 USB C Port)
Attention to Our Valued International Customers
Outside the U.S.? Please shop our products hassle-free on Amazon.
11 IN 1 Multi Plug Outlet
8 AC Outlets + 2 USB-A Ports + 1 USB-C Port
The electrical outlet extender with USB is easy to install, fit for Standard and Decor outlet tightly; For universal compatibality, you can put it in the top socket for fitting the USB receptacle and GFCI outlet
IMPORTANT
The 15W USB charging is NOT Fast Qualcomm QC3.0, It can meet most USB devices charging needs without an extra power adapter.
About This Item:
V11 in 1 Multi Plug Outlet: Plug extender could turn 1 socket into 8 AC outlets 3 USB ports; Smaller size but larger capacity than others, can charge 11 devices at a time; You can use it in any indoor place such as bedroom, hotel, office and college dorm room
USB C Wall Charger: 2 types of USB ports can detect charged devices and deliver optimal charging speed, giving you more charging options; Dual USB A ports features 2.4A, the USB C port features 3A; idea for USB devices like cell phone, tablet, earphone, etc
Surge Protector Outlet: With 1700 joule energy rating can protect your expensive computers, TV, and other electrical appliances from surge attacks that might caused by lighting, surges or spikes; The red light indicator remind you the surge protection is working
Widely Space Outlet: 3-side design AC outlets with 1.65-inch long space in between, can fit 8 big plugs together without blocking, saving your home space; Makes it easier to use various equipment in any place with limited sockets, especially in kitchen, living room
Double Stability: Screw included can secure it on duplex outlet, provide it form falling out when you pull out the devices. The plastic prong at the back provide double protection for the stability; For USB receptacle and GFCI outlet, the plastic prong needs to be cut off before use
Multiple Outlet Wall Plug
3 Side Outlet Extender
Wide spacing design make it can accommodate 5 bulky plugs. Suitable for most home appliances laptops, hairdryers, shavers and more.
USB C Charging Station
3 USB ports deliver optimum charging speed up to 3A (max). Dual USB A ports can charge up to 2.4A, and the USB C port can charge up to 3A.
Securing onto the wall design
Using the screw at the middle to secure it onto the wall for duplex outlet, so it is not pulled out when pulling the plugged in devices and loss power.
Multiple Plug Outlet
Suitable for Any Occasions
It is very useful for your household appliances at home or office. It can be used in any indoor place with socket, especially for the bedroom, bathroom, college dorm room and hotel.
Surge Protector Outlet
Equipped surge protection can protect your devices from power disturbances; it can prevent your devices from over current, over charge, short circuit, over heated.
Please Note the Power Rated
This plug extender has 8 AC outlets, rated for 15A, 125V, 1875W. please make sure your device covers voltage from 100-125V before using
Specification:
Input voltage: AC 100-125V
Rated power: 1875W-15A Max.
Item Dimension: 4.5 x 4.13 x 2.44 in
Green Grounded Indicator: connected to the ground wire
Red Protected Indicator: surge protection is turned on