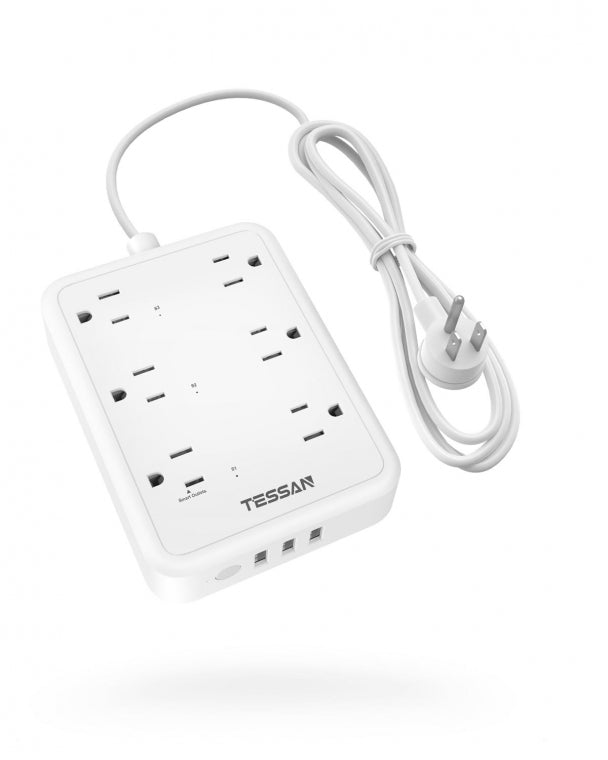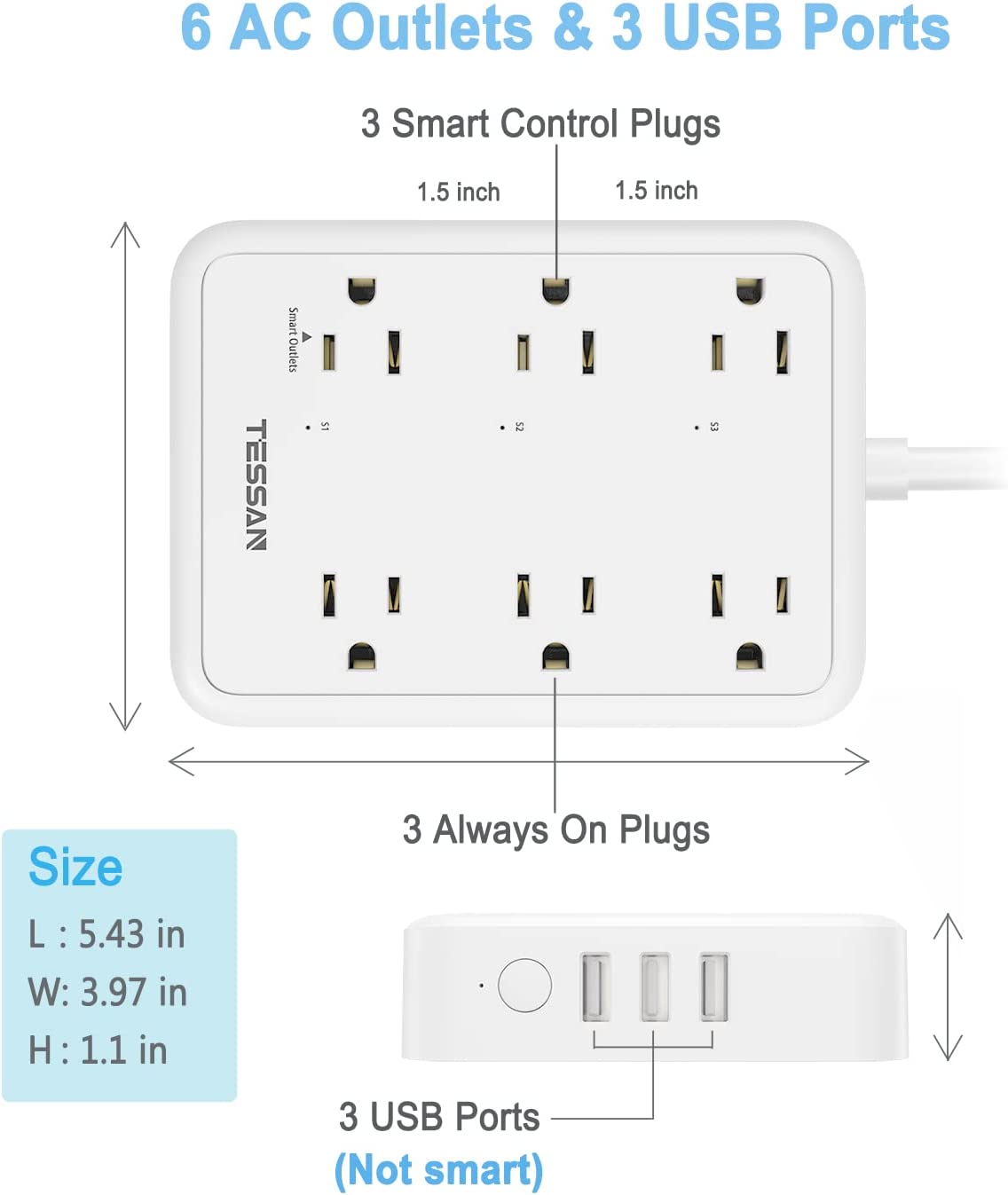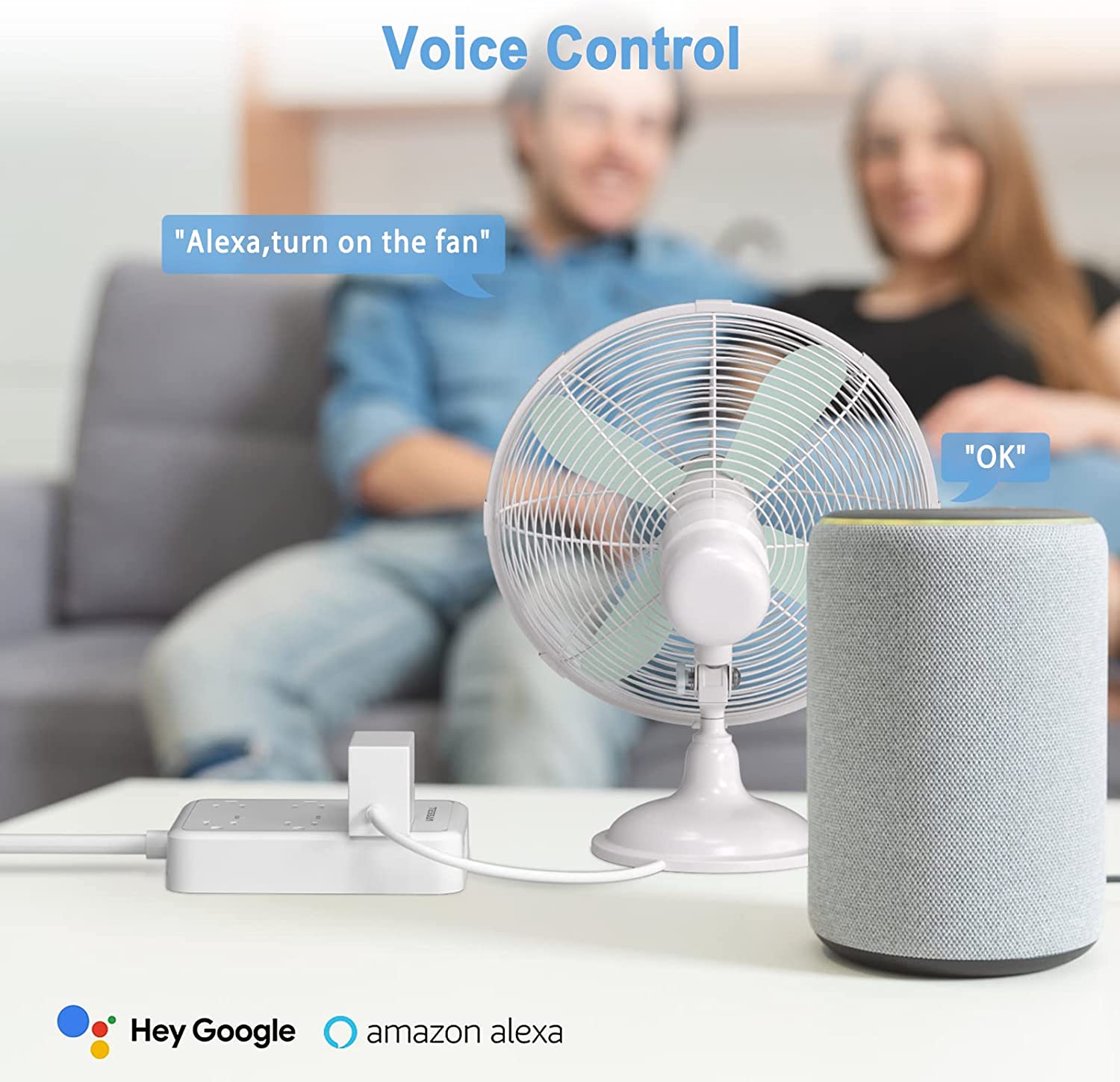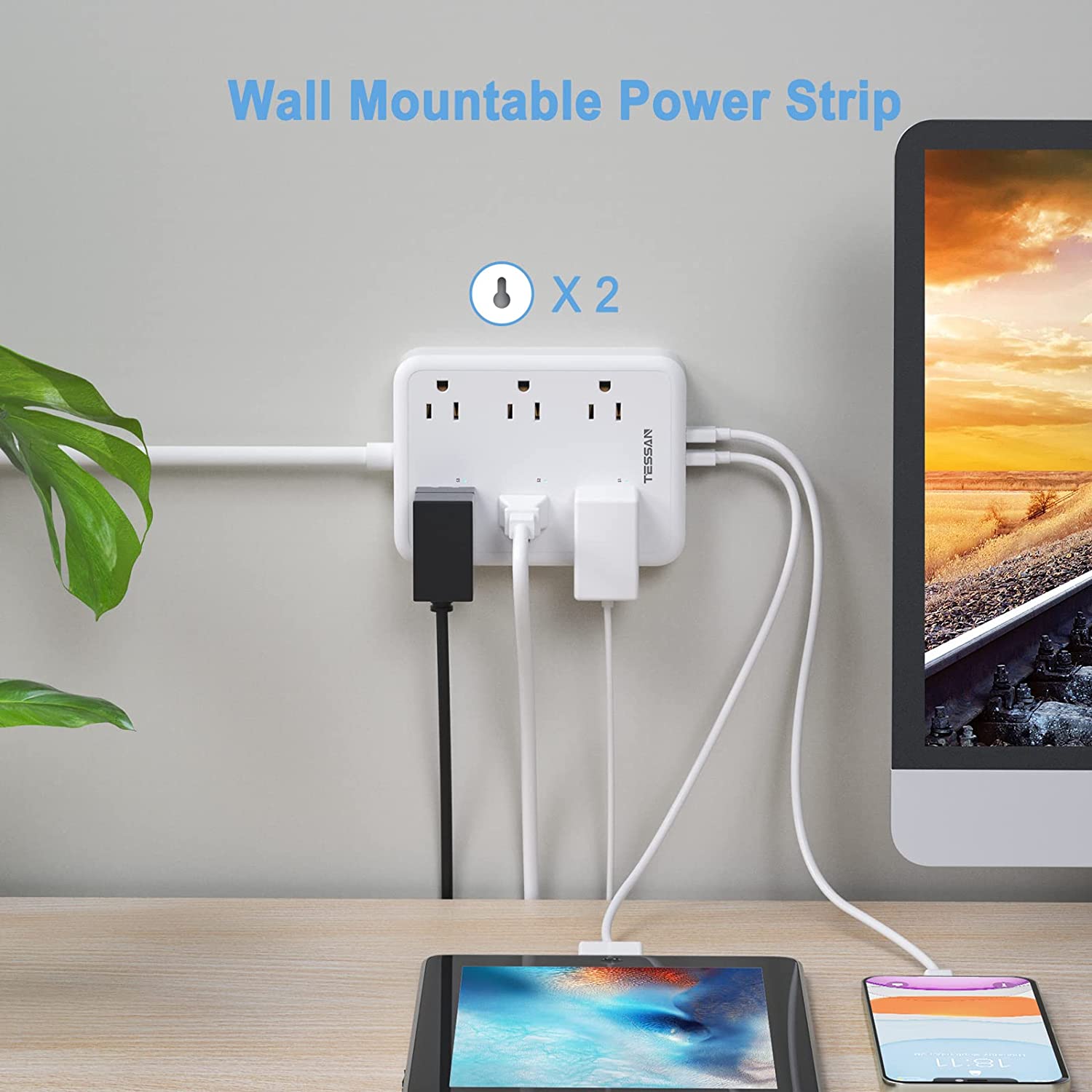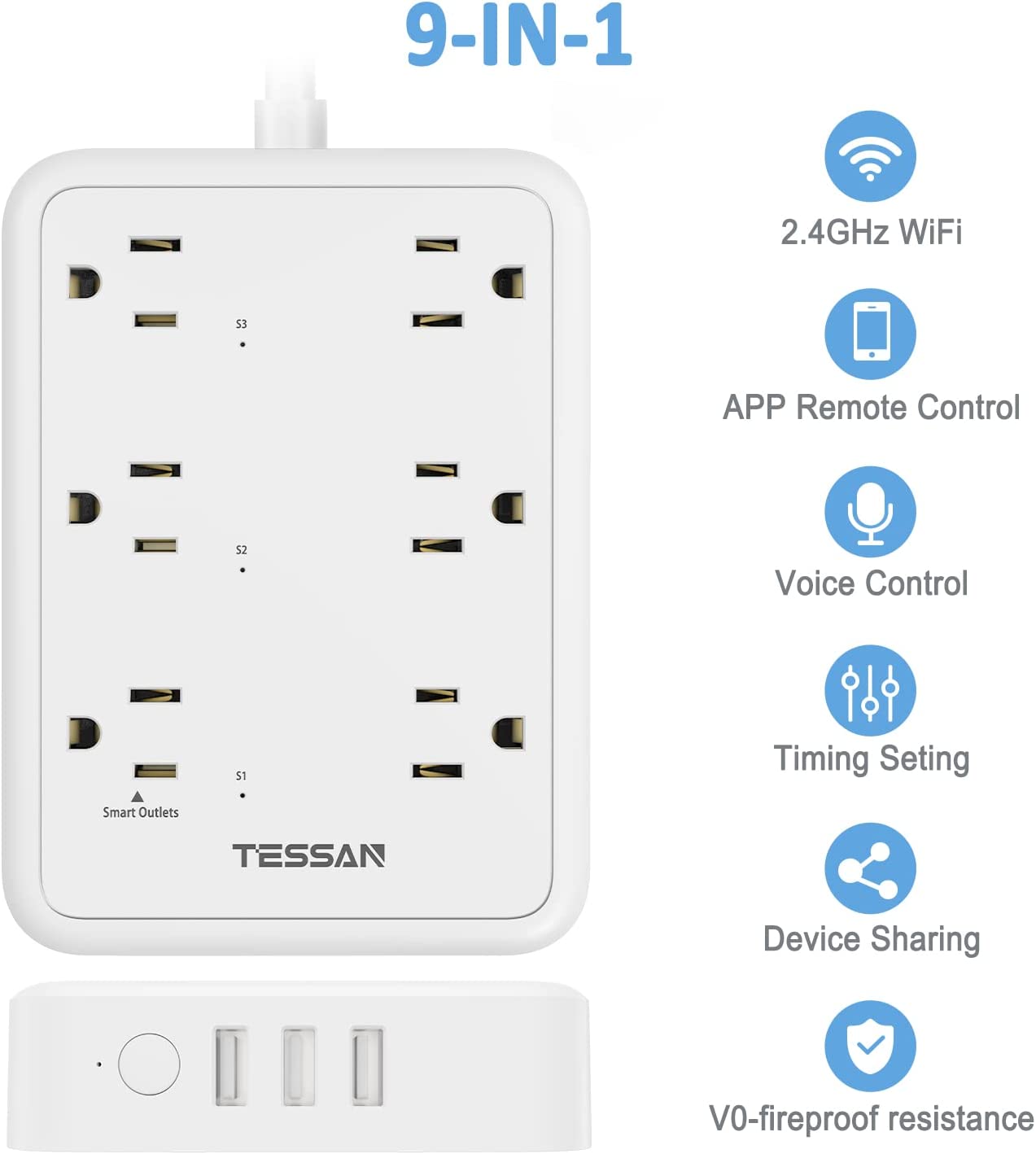 TESSAN WiFi Flat Plug Strip with 3 Smart Outlets and 3 USB Ports, 6 Feet Extension Cord
Attention to Our Valued International Customers
Outside the U.S.? Please shop our products hassle-free on Amazon.
TESSAN WiFi Flat Plug Strip with 3 Smart Outlets and 3 USB Ports
About This Item:
Voice Control: Compatible with Alexa and Google Home. You can define a name for each socket and use it separately. Control plugged in devices with the WIFI power strip with simple voice commands, such as "Alexa, turn off the light"
APP Remote Control: Download Smart Life APP and connect it according to the steps in the manual. You can control home devices plug in the smart plug power strip at any time anywhere. Note: Only support 2.4GHz
Schedule and Timer Setting: Flat extension cord with smart plug supports to set a schedule for the home or office devices. Ideal for aquarium light, bedside lamp, humidifier, and more appliances. Turn on/off at a specific time to save energy and reduce the electricity bill
Wall Mountable: With 2 keyholes on the back allow you to install this smart extension cord in various applications, such as workbenches, floor mounts, wall mounts, under counters, dorm room, garage, etc
9 In 1: Smart surge protector includes 3 smart outlets and 3 always-on outlets, plus 3 USB ports (not smart). In addition, 3 USB ports will deliver the fastest charge speed up to 2.4A MAX of each but is not Qualcomm quick charge (total 5V 3A). FCC certified, made of fireproof PC+ABS material. It built in surge protection and can make it fireproof of up to 1382℉ to ensure your equipment is fully protected
9 In 1 Smart Surge Protector
3 smart outlets, 3 always-on outlets (not smart), plus 3 USB charging ports (not smart), meet your needs for different devices.
With 1.5 inches long space in between, large spacing makes it easier to use for all kinds of equipment. The compact design saves more space, suitable for the home, office, and college dorm room
Voice Control- Compatible with Alexa, Google Home
The smart power strip is compatible with Alexa and Google assistant.
You can use voice commands to control devices plugged into smart outlets even when you are away home. Simple commands like: "Alexa, Turn on the...."
Timer and Schedule
With the free Smart Life APP, you can set a personalized schedule to turn on/off home appliance at specified times,No more worrying about your electricity bill!
Sutibile for Lamps, light bulbs, chargers, TV, humidifier, battery-powered health devices, planted aquarium.
APP Remote Control
Download the Smart Life APP to control your device when you are away from home. (Note: This smart plug only supports 2.4GHz Wi-Fi network)
There are 3 keys on APP to control the 3 smart outlets independently.
How to Connect TESSAN Smart Power Strip
Notice:Scan the QR code of instruction to download and install Smart Life app for iOS 8.0 Higher or Android phone 4.4 higher. Make sure your Wi-Fi network is 2.4G.
Specification:
Max Power Rating: 1250W (125V~ 10A)
USB Outlet: DC 5V (2.4A Max Per Port,3A 15W in Total)
Cord Specification: 18AWG/10A
Cable length: 6 FT
Wi-Fi Requirement: 2.4GHz
Remote Control: Smart Life APP
Voice Control Compatible: Alexa, Google Home
Awesome product
Bought this for a friend. Installed it in the kids room. USB was enough to power their Switch, used smart outlets to control a fan and lamp by voice. Mom had access to shut the TV off or put it on a schedule during the school week.
Love that three are always on
I love this and have one beside my bed. I like having three that stay on all the time. I have my Echo Show and watch charger on an always on in case of power outages during the night. That way, when power comes back on, so does my charger and Show because sometimes the ones that turn off and on default to off when power is restored.
This is a nice surge protector
I haven't really had the time to set this surge protector up the fact that you need to set up the app first before you can use has been a drawback in getting it installed as this plug is replacing the old Surge protector that my router and modem are currently plugged into
Stay Connected and Powered Up: Control Devices with Your Smartphone and Voice!
The TESSAN Smart Power Strip is a high-quality and versatile device that is designed to provide a wide range of smart features and convenient functions. With its three smart outlets, three USB ports, and six-foot power cord, this power strip is a great choice for anyone who needs to power multiple devices and control them remotely.
One of the standout features of the TESSAN Smart Power Strip is its smart functionality, which allows you to control the power outlets and USB ports using your smartphone or other mobile device. The device is compatible with a wide range of smart home platforms, including Alexa and Google Assistant, and can be controlled using voice commands or the mobile app.
The power strip also features three smart outlets and three USB ports, which allow you to power and charge multiple devices at once. This makes it a great choice for use in the home, office, or other environments where multiple devices need to be powered and charged.
Other features of the TESSAN Smart Power Strip include a flat plug design, which makes it easy to plug in and use in tight spaces, as well as a durable and long-lasting construction, which ensures that the power strip can withstand frequent use and rough handling.
Overall, the TESSAN Smart Power Strip is a great choice for anyone who needs a reliable and efficient way to power and control multiple devices. With its smart functionality, multiple outlets and USB ports, and durable construction, this power strip provides a versatile and efficient solution for a wide range of power needs.
I am in LOVE with this!
Will be purchasing this again in the far future! These are very nice, slim, and design is great! I have plugged in 4 items and all have not shut off or shorted so great for many plugs!
(I recommend plugging in Console, Controller chargers (and anything else used 24/7) on the 3 switches that can be turned off and on by Alexa/ you Phone. Easy to use on Alexa and easy to use on your phone!