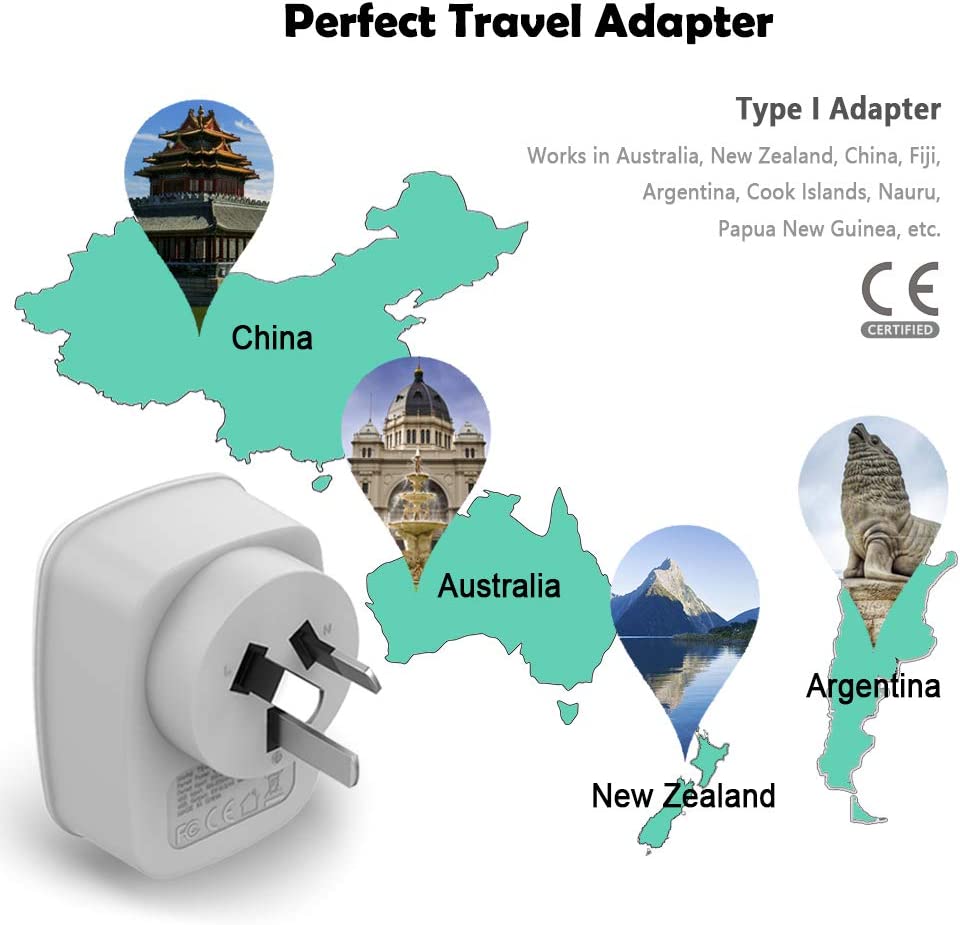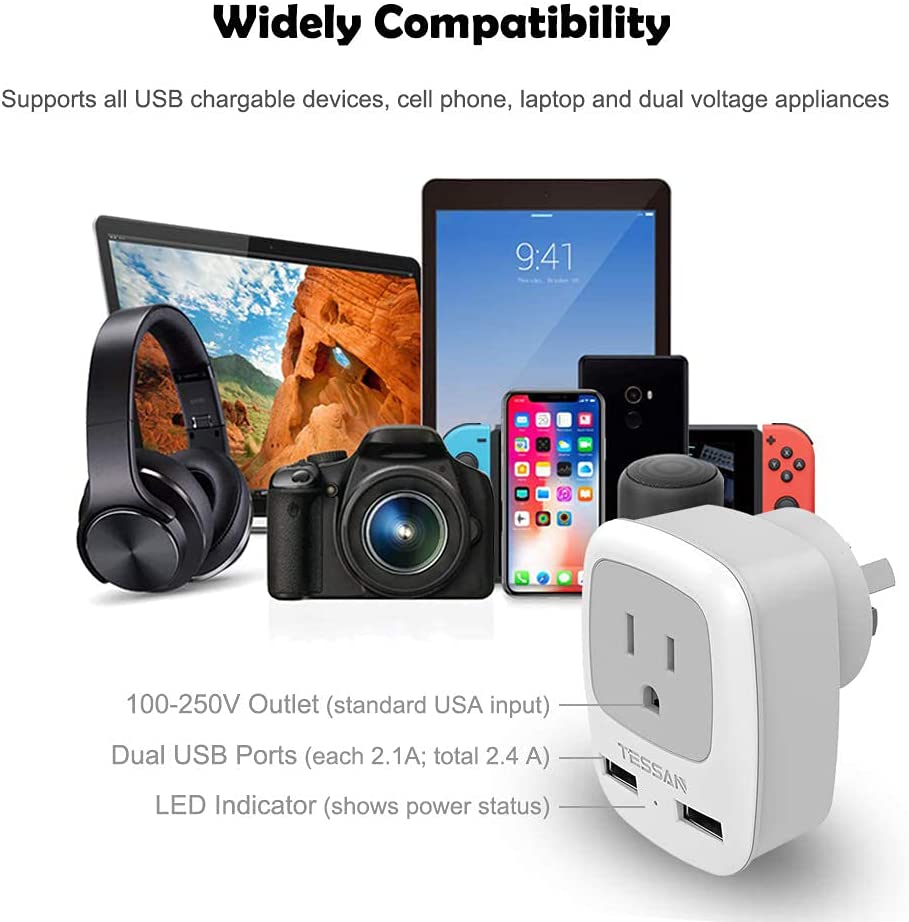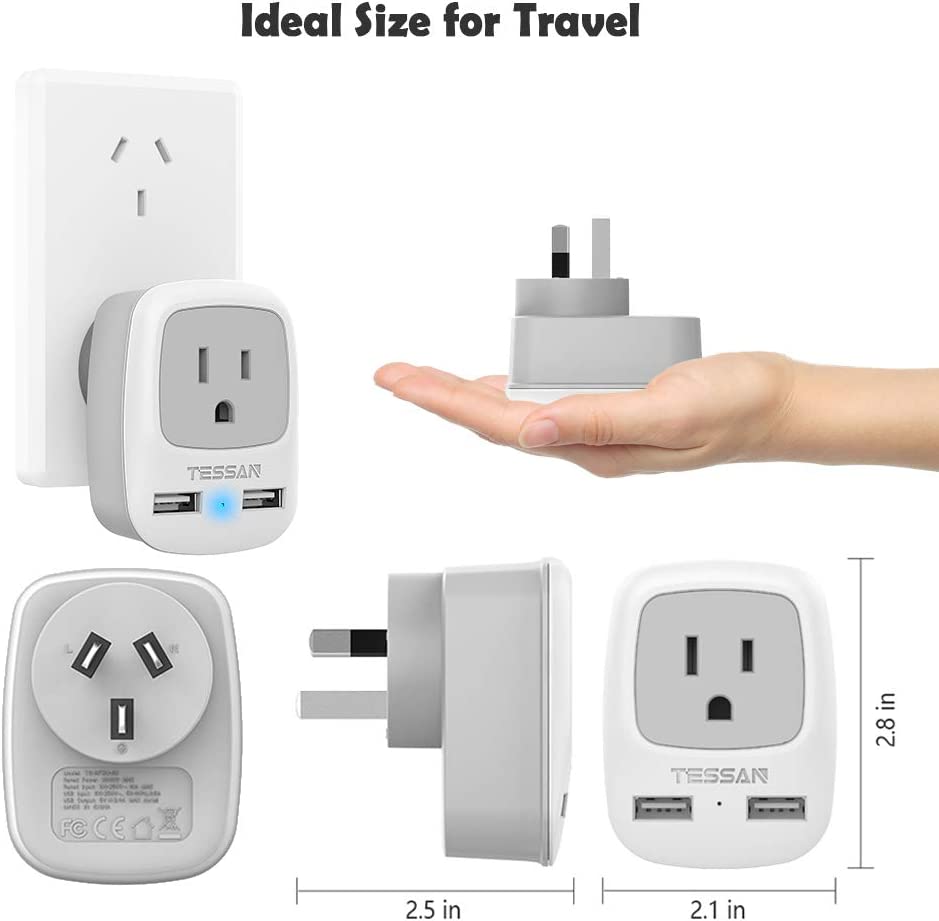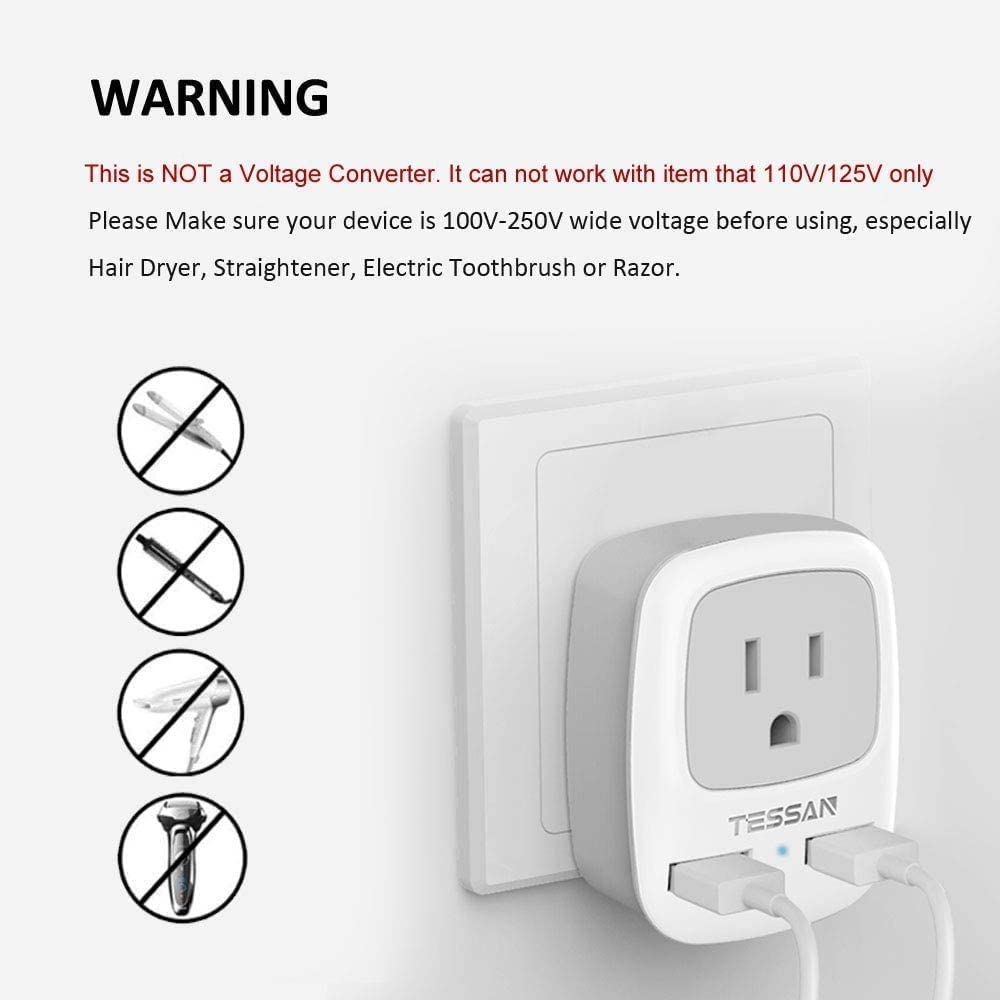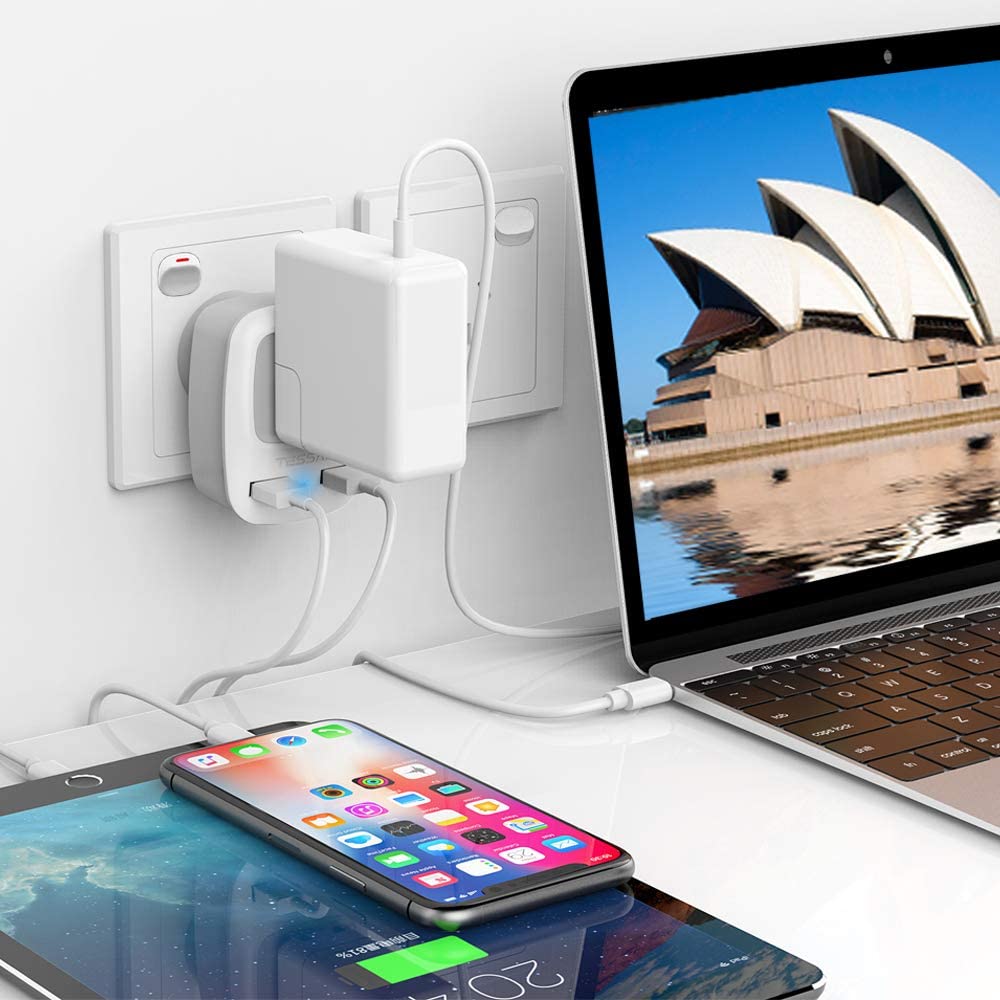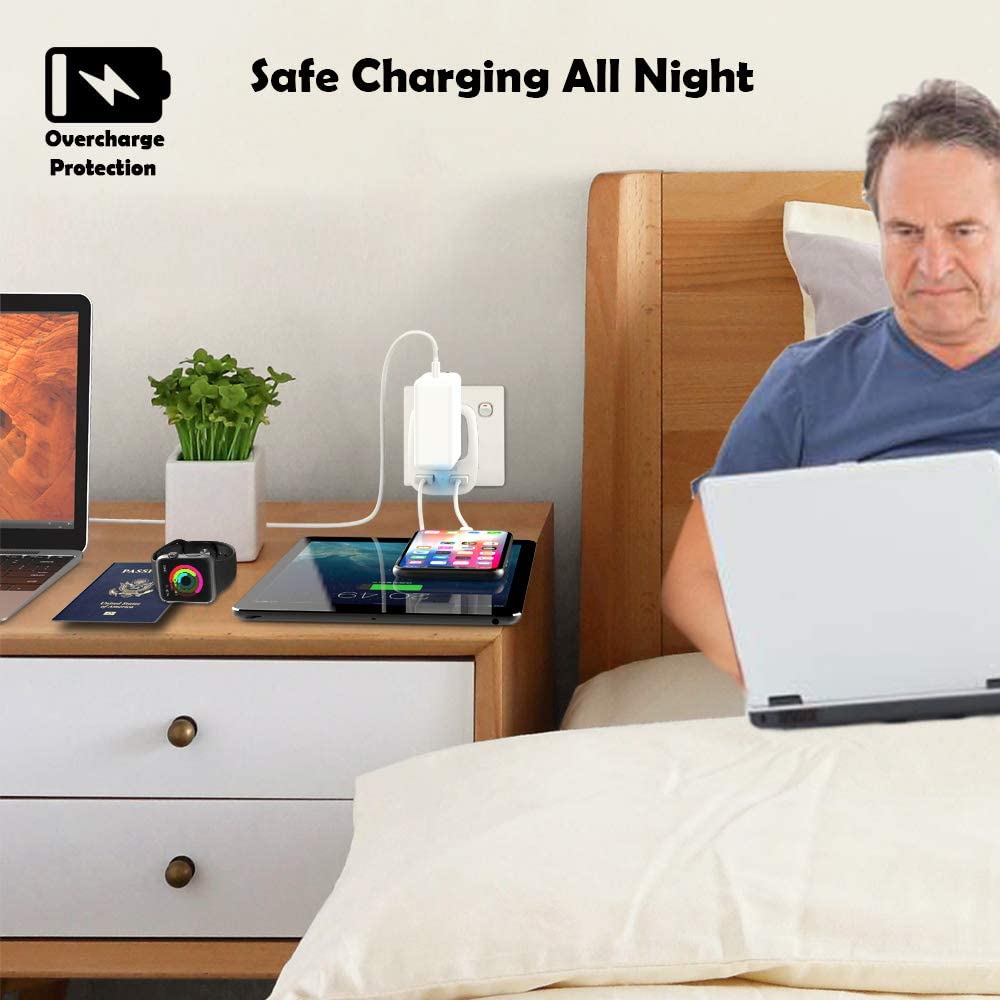 US To Australia/China Travel Plug Adapter with 2 USB Ports (Type I Plug)
Trusted Delivery
Type I Plug Adapter
Australia Plug Adapter
Compatible Countries List:
Australia/New Zealand/China/Fiji/Samoa/Argentina/Myanmar/Cook Islands/Kiribati/Nauru/Papua New Guinea/Saint Vincent and Grenadines/Samoa/Solomon/Tajikistan/Timor Leste/Tonga/Tuvalu/Tokelau/Uzbekistan/Vanuatu/Niue
TESSAN Type L Plug Adapter
3 in 1 Italy Power Adapter
This travel adapter comes with 3 charging ports, you can use in hotel with limited plug sockets without carrying another bulky power strip
1 AC outlets Accepts the standard N American 2 or 3 prong flat pin plug
2 USB Ports multifunctional design create possibility for your multi charging demands; Ideal for laptop, cell phone, tablet, headset etc
About This Item:
US to Australia Plug Adapter: Type i plug adapter is compatible in overseas countries such as Australia, New Zealand, China, Fiji, Samoa, Argentina, Cook Islands, Kiribati, Nauru, Papua New Guinea, Saint Vincent and Grenadines, Samoa, Solomon, Tajikistan, Timor Leste, Tonga, Tuvalu, Tokelau, Uzbekistan, Vanuatu
3 in 1 Mini Australia Power Plug Adapter: This international argentina power adapter comes with 2 USB charging ports 1 USA outlet (2 or 3 prong standard N American); Dual USB ports can charge up to 2.4A total; Compatible with devices like cameras and more Ideal for charging cell phone, tablet and laptop in 1 local socket simultaneously
Note: This is not a converter between voltages; New Zealand power adapter compatible countries are 220V input; This Australia adapter plug for travel is only compatible with dual voltage devices ranged from 100V to 250V, or you may need to use it with a voltage converter
Compact Size and Indicator: TESSAN US to china plug adapter is durable and right size for travel; Save your luggage space instead of loading additional power bricks; Will not interfere with the switch next to the socket in many compatible countries such as Australia, New Zealand, China etc; The blue light lets you know the power is on/off
Suitable for Any Occasions: TESSAN travel australian power adapter is small size and suitable for bedroom, bathroom, kitchen and college dorm room
3 in 1 Travel Adapter
Optimize 1 US AC outlets 2 USB ports. Support 3 devices charging simultaneously.
Ideal for Traveling
Ideal size to plug into local socket which will not interfere with the power switch next to it. Ideal for your personal or family trip.
Specification
Product Dimension: 2.8*2.1*2.5 inch
Input Voltage: 100V-250V AC, 50/60Hz
Max Load: 10A
Power Rating: 2500W (Max 250V, 10A)
USB Output: DC 5V/2.4A(Total)
AC Appliances Must Note
This Type I adapter can not covert voltage from 110V to 220V or vice versa. Please make sure your devices MUST to support 100V to 250V Dual Voltage.
Specification:
Product Dimension: 2.8*2.1*2.5 inch
Input Voltage: 100V-250V AC, 50/60Hz
Max Load: 10A
Power Rating: 2500W (Max 250V, 10A)
USB Output: DC 5V/2.4A(Total)