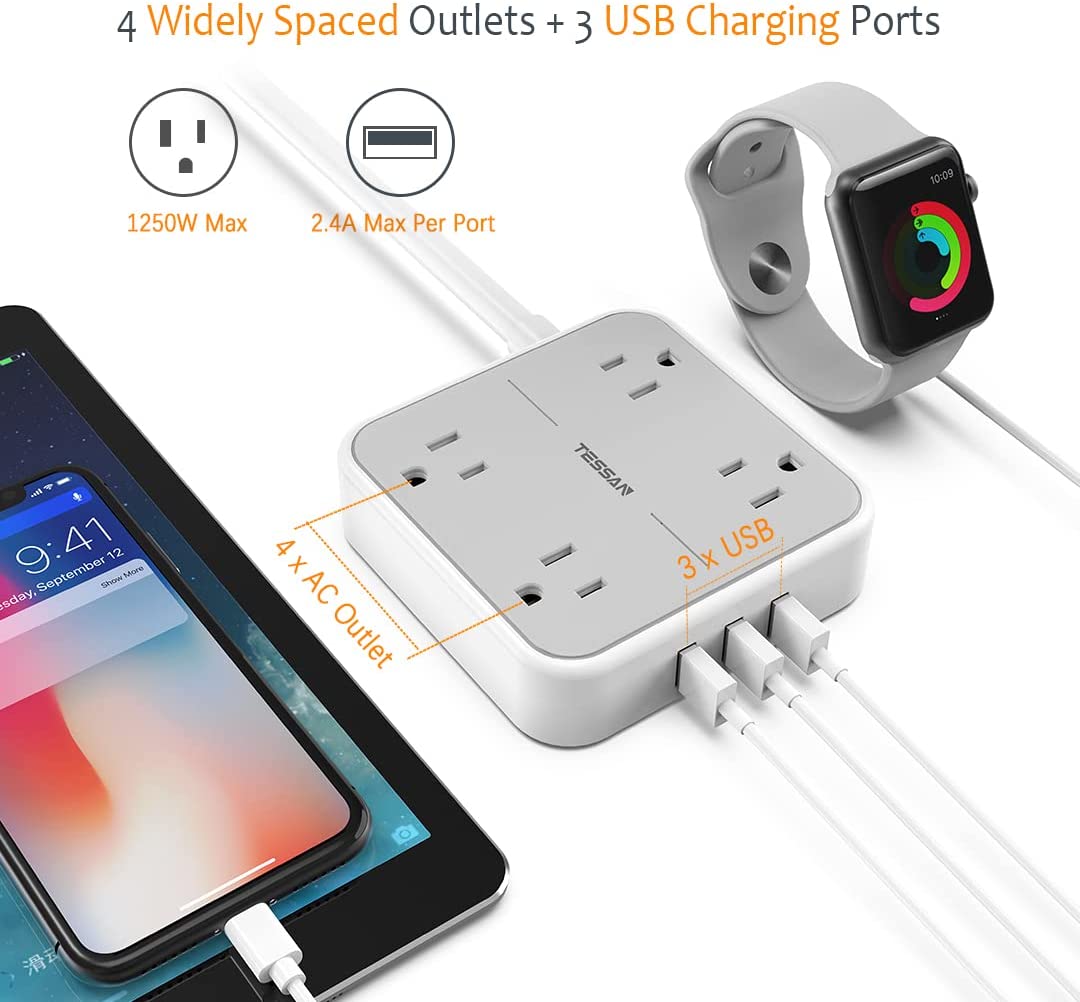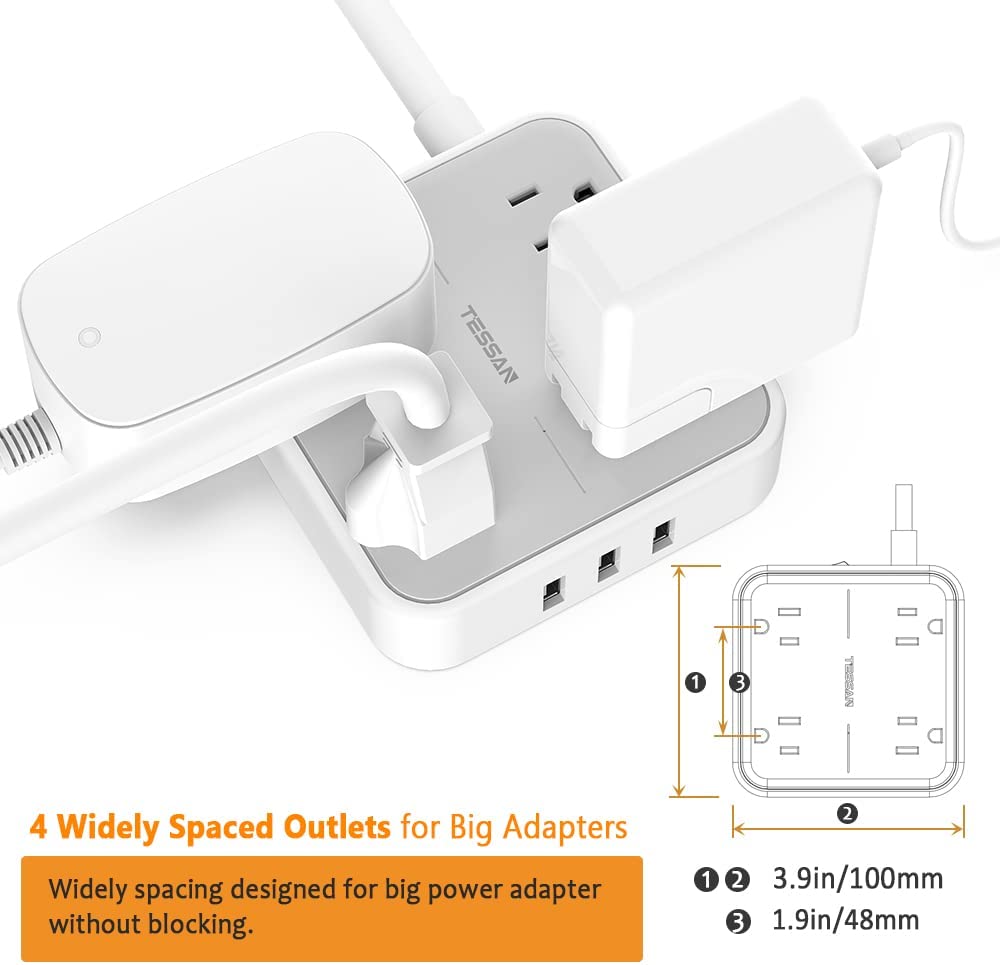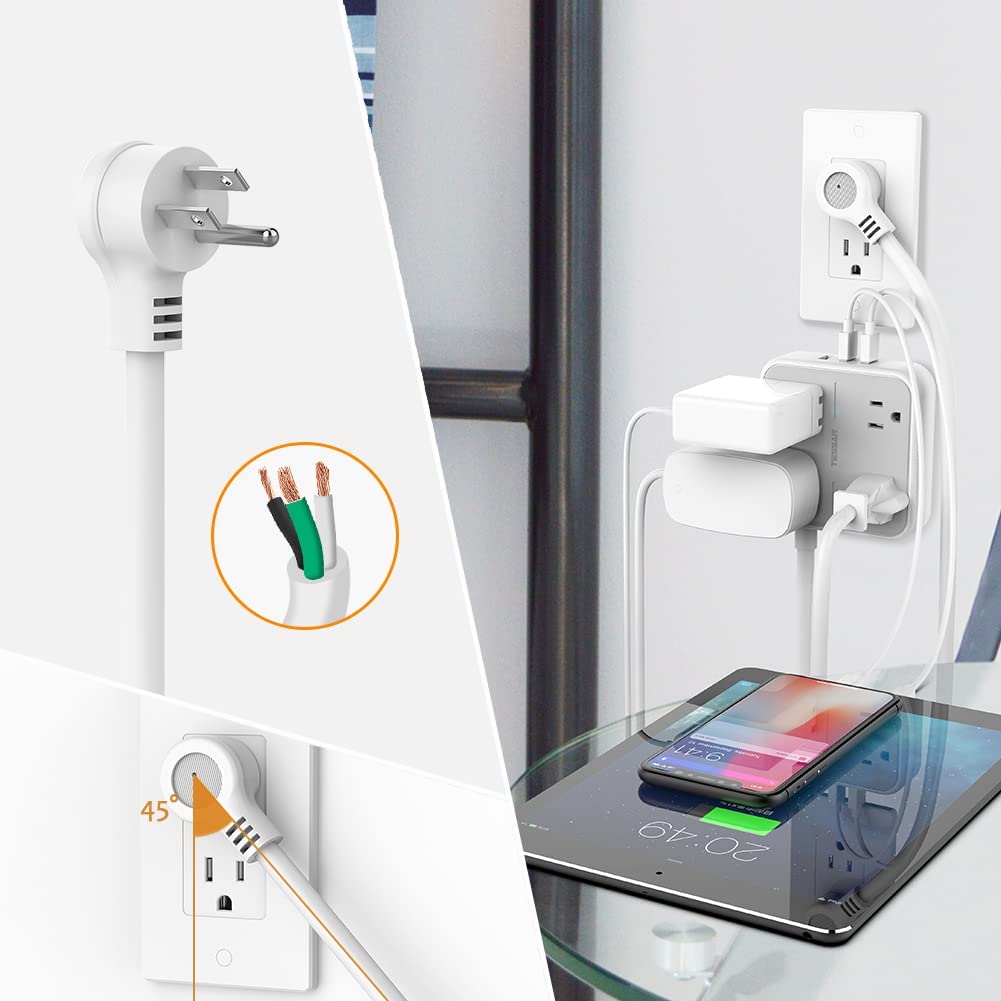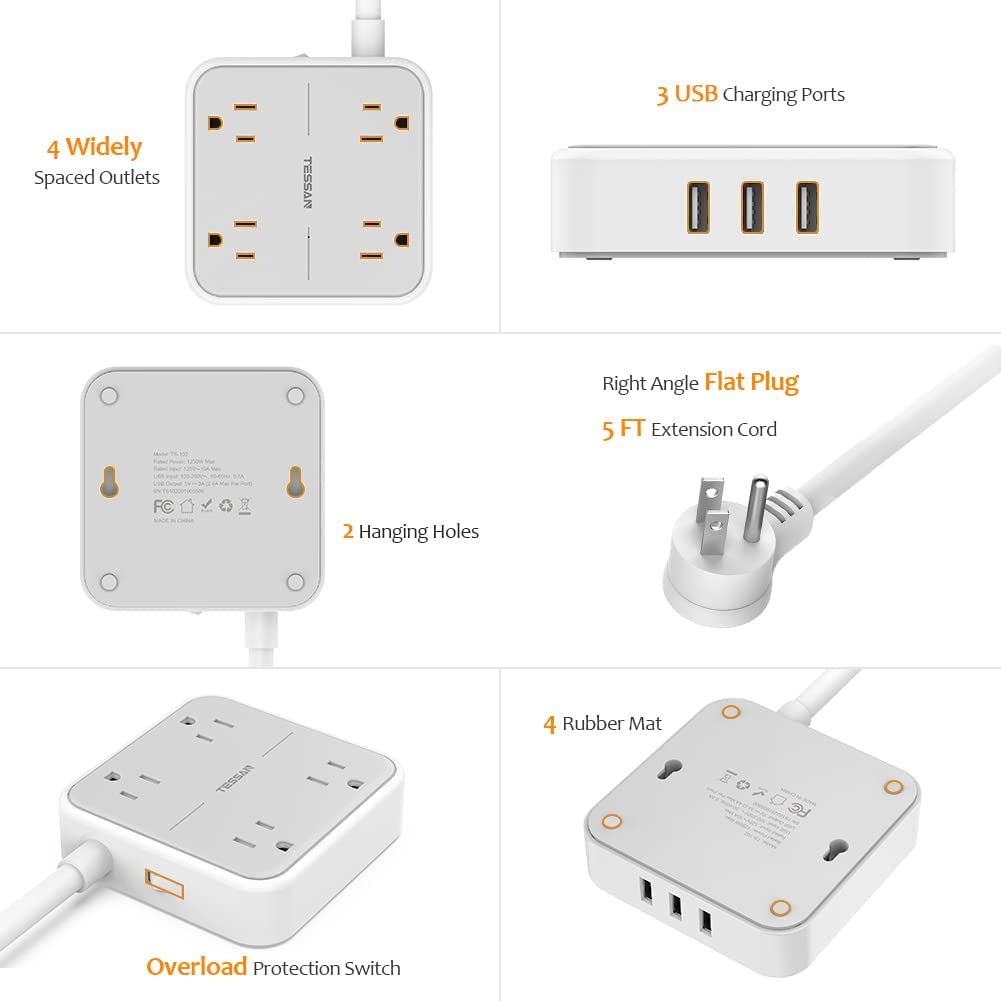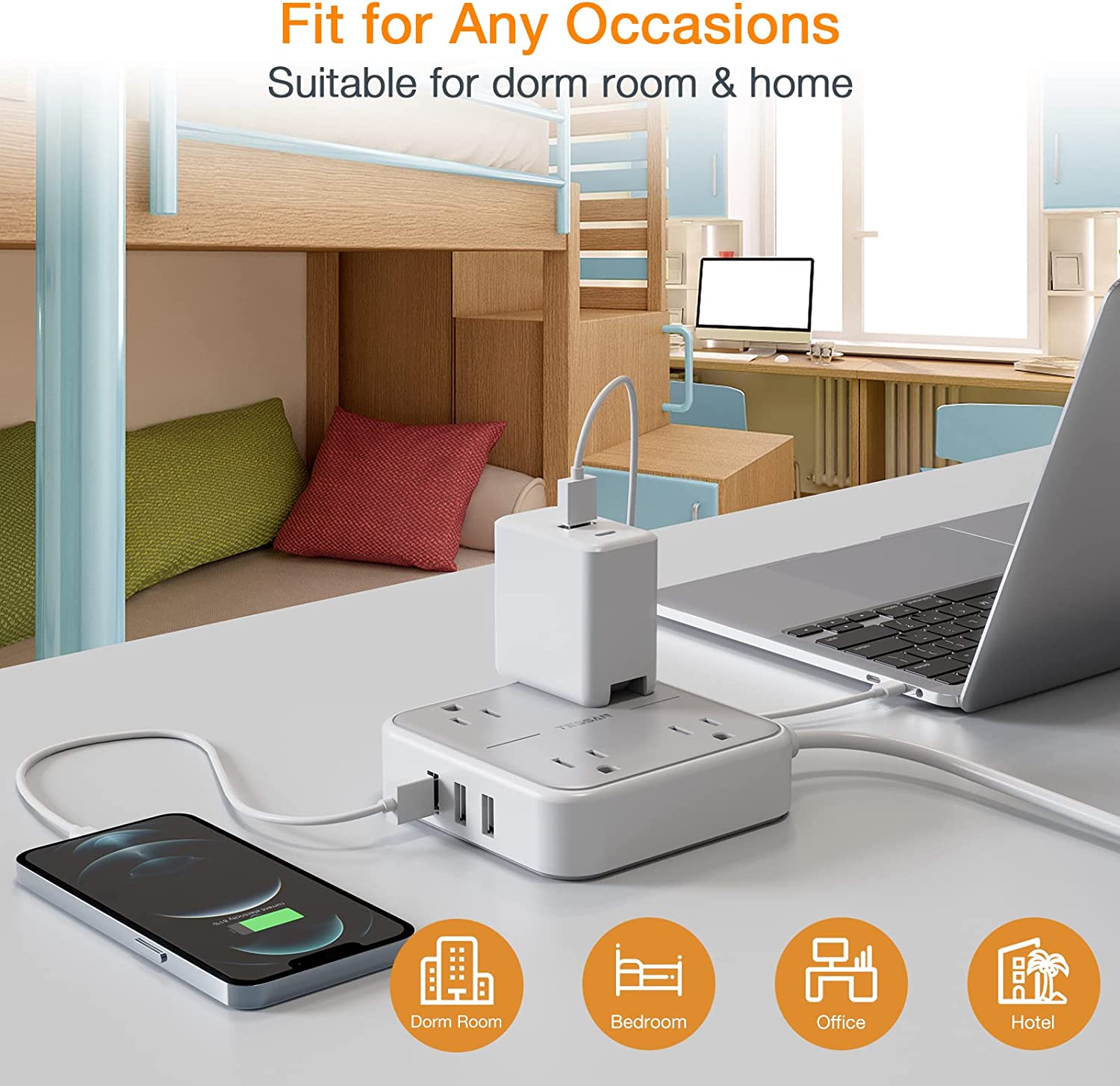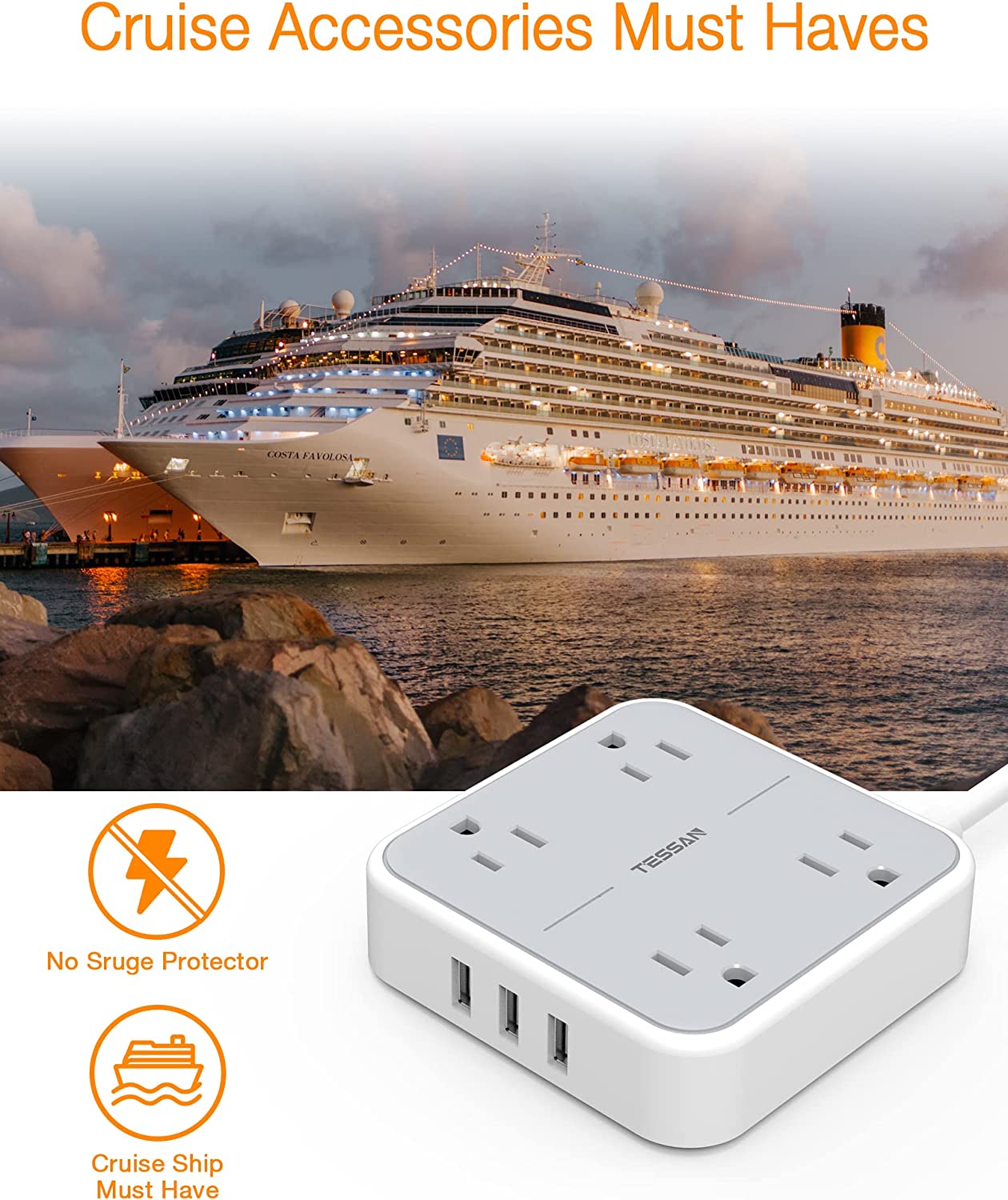 Gray Power Strip 5 FT Extension Cord Flat Plug With 4 Outlets 3 USB Ports
Trusted Delivery
Tessan 4 Widely-Spaced Outlets Power Strip with 3 USB Ports
Tired of using your unaesthetic and space-wasting power strip?
Try this one! This compact power strip offers ultimate convenience and protect various electrical appliances from eletrical short circuit, overheat, overcharging, over current, etc.
USB Charging Hub
3 USB charger provide a total of 3 amps of power. built-in device detection to ensure the fastest possible charging for the specific plugged-in device. fits for iPhone Xs/XSMax/XR/X/8/7/6/Plus, iPad Pro/Air 2/Mini 3/Mini 4, Samsung S4/S5, Huawei P20/P30/Mate20/Mate30 and other android devices.
Non Surge Protector - Friendly for Cruise Ship
Usually, there's one electric outlet in each cabin, so this Tessan 4 Outlets Power Strip is the sloution. you can charge 7 devices at the same time. However, Different cruise lines may have different requirements. power strips and extension cords without surge protectors are allowed on Carnival but prohibited on Royal Caribbean cruise ships. so please confirm these requirements before you placing an order.
Portable and Multifunctional Will Meet Your Most Applications
The Compact Square Power Strip with 4 AC Outlets and 3 USB Charging Ports, will maximum space-saving at home/office or in your travel bag. the wide spaced outlets will fit for the big plugs without blocking each other. the usb charging ports will charge your smart phones, iPads, kindles, tablet and many other usb devices without an adapter.
Customized Overload Protection Switch Safeguards Your Expensive Devices
SAFETY IS IMPORTANT! We Designed and Customized a NEW Overload Protection Switch to safeguards your expensive computers, tv and all other electronic devices from overload, short circuit, voltage fluctuations. the reliable overload switch will trip off automatically to protect your devices and your home when the power overload.
About This Item
4 widely outlets and 3 USB ports;
Right angle flat plug features a low profile fits easily in tight spaces;
Wall Mount Power Strip
Non surge protector friendly for cruise ship;
18 Month Warranty;
Widely Outlet Power Strip
4 widely spaced outlets are separated with enough space to fit big plugs without blocking each other. 3 high-powered USB ports would assign ideal current intelligently for your smart phone or tablets.
Flat Plug and 45 Degree Angled
The flat plug features a low profile fits easily in tight spaces, and the 45 degree angled plug to keep other outlets free, is the ultimate space-saving power strip for your home, hotel, dorm room, or travel.
Power Strip with Circuit Breaker
Built-in Circuit Breaker safeguards your expensive appliances from overload, short circuit, voltage fluctuations.
Wall Mount Power Strip
Mount this usb power outlet on the wall would be easily by 2 slots on the back. Step by Step:
1. Measure the distance between the 2 slots with the vertical and horizontal direction on the back of the power bar. 2. Punch 2 holes on the baseboard with the distance you just measured and insert two self-tapping screws(PA2.5 to PA3.5) 3. Hang the outlet strip on the screws then pull it down a little to make sure the strip is tight.
Desktop Power Strip
The 5ft cord on this strip is flexible enough to be settled in various places like the desk in the office or nightstand at home. The 4 rubber feet on the bottom keep from slipping and sliding.
No Surge Protector and Cruise Ship Friendly
Surge protectors are not allowed on cruise, this power strip without surge protection is an ideal choice for your carnival cruise ship to extend outlets from cabin. Not for Royal Caribbean cruise as they do not allow extension cords of any kind.
Specification
Voltage Compatibility: 100~125V AC 50/60Hz;
Max. Power Rating: 1250W (125V~ 10A);
USB Charger: DC 5V 2.4A each port, 3A 15W in Total;
Cord Length: 5 ft/1.5m;
Cord Specification: 18AWG/10A;
Item Dimensions: 3.9*3.9*1.1 in;
For your safety, ensure that the load power DO NOT exceed the rate power of 1250W.