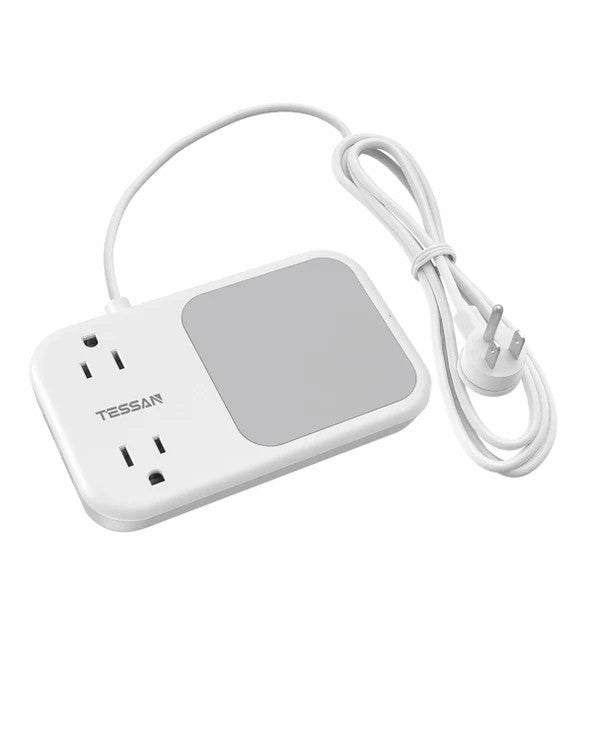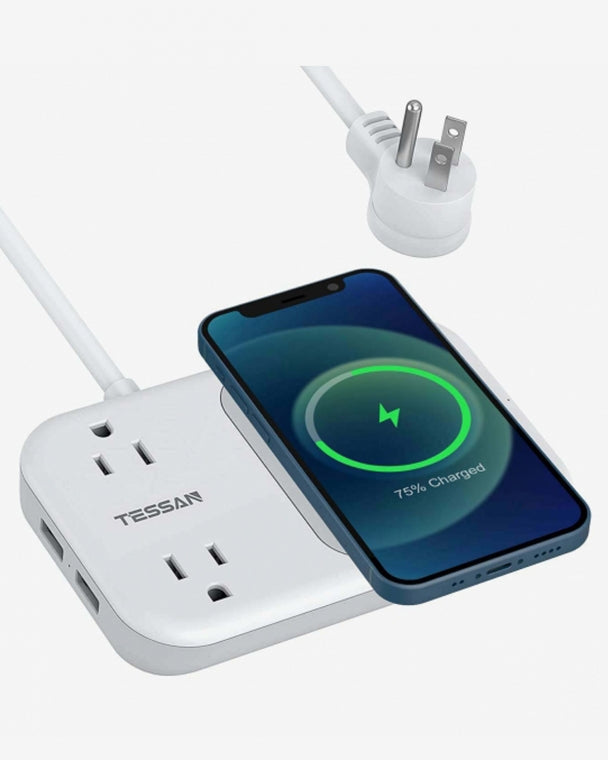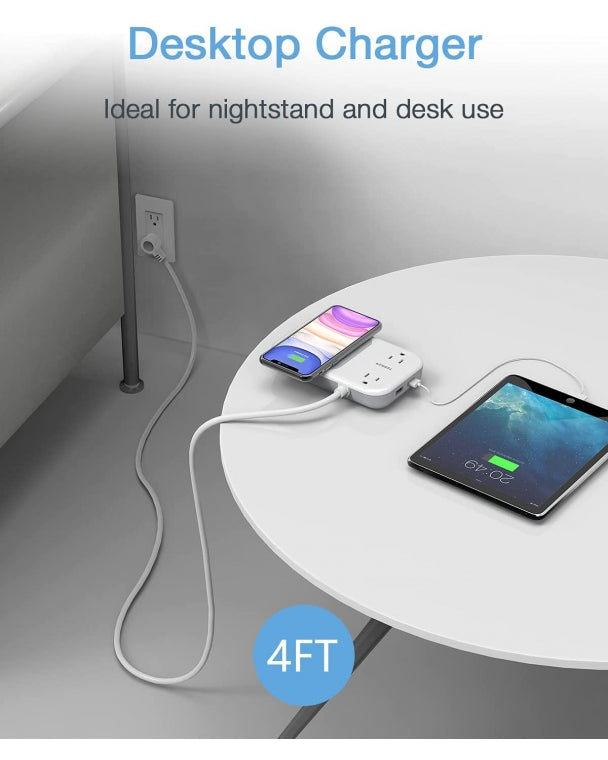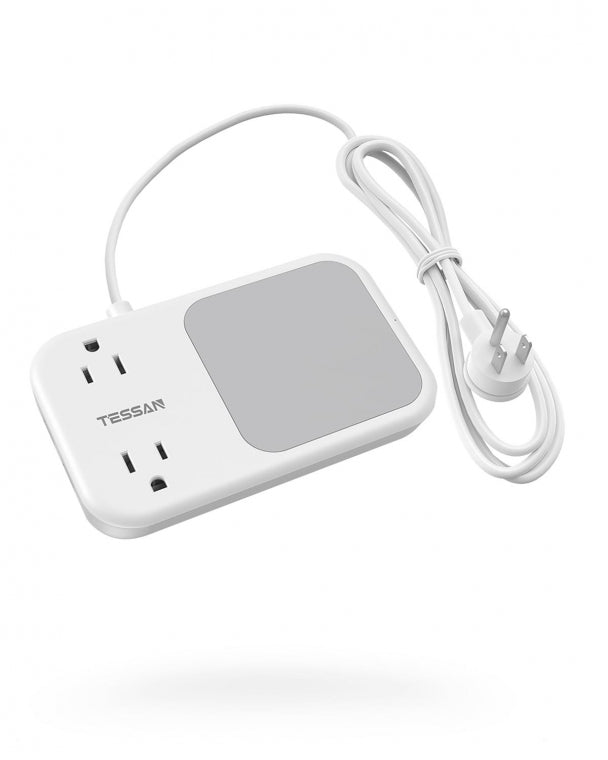 Wireless Charger Power Strip 4 FT Extension Cord With 2 Outlets 2 USB Ports
Attention to Our Valued International Customers
Outside the U.S.? Please shop our products hassle-free on Amazon.
TESSAN All In One Power Strip with Wireless Charger
About This Item:
5 in 1 Desktop Power Strip: With 2 wide space AC outlets,2 USB ports and a wireless charging pad on the top can charge several devices at the same time. As a multifunction charger station hub, it makes your desktop less cluttered and organized
Fast Wireless Phone Charger: 7.5W compatible with iPhone SE(2020) /12/ 12Pro/ 12 Pro Max/11/11 Pro/11 Pro Max/XS Max, XS, XR, X / 8/8 Plus; 10W compatible with Galaxy S20, S20+, S20 Ultra, S10, S10 Plus, S10E, S9 Plus, S9, Note 9, Note 8, S8, S8 Plus, S7, S7 Edge; 15W compatible with LG V30/ V35/ V40; Other phones support 5W wireless charging. (Mobile phones with wireless charging can be charged)
Small Extension Cord: Compact size and lightweight design mini power strip is easy to carry for maximum space-saving at home or in your bag; with 4 feet extension cord, can get easy access to place that's hard to reach, suitable for some old hotels, airports or office
USB Charging Hub: 2 USB ports intelligently recognize your device to boost charging speeds up to 2.4A Max per port; Compatible with phones, tablets, and more electronic appliances; No surge protection, it also can be used for cruise ship travel
Nighstand and Desktop Charger: With 2 AC wide-spaced outlets up to 33 mm are allowing to charging two large plugs simultaneously without blocking each other; Right angle flat plug allows easy access to hard-to-reach spaces, such as behind furniture, ideal for nightstand and desktop use
TESSAN Fast Charging Wireless Charger
Fast Wireless Charger: Compatible with most cellphone devices and provides them up to 15W/10W cordless charging according to the need of the phone's current.
Power Strip with 2 USB Ports: It provides a 5V/2.4A max charging current in one port at a time and a total of 2.4A/12W output, which would charge your cellphone, laptop, tablet.
2 AC Outlets extender for regular powered devices: Widely space design allowing two large plugs to be used simultaneously and without blocking each other.
High Compatibility
The top of the power strip built-in wireless charging pad is compatible with most cellphone devices.
Over Temperature Protection
Specially enlarged space of the pad and back cooling spots can effectively prevent overheating when charging.
Case Friendly
Supports charging through phone cases which thickness within 5MM/0.2inches.
Desktop Charging Station
2 USB ports provide a total of 12W of power. It also comes with built-in device detection to ensure the ideal charging speed( 2.4A MAX per port) for the plugged-in device. You can charge devices without the adapter, more convenient.
Right Angle Flat Plug Strip
The flat plug features a low profile fits easily in tight spaces, and the 45 degrees angled plug to keep other outlets vacant, is the ultimate space-saving power strip for your home, hotel, dorm room, or travel.
Non-Blocking Design
Widely Spaced Outlets fit for a slightly big power adapter without blocking adjacent outlets. Easily plug in your PC, printer & more. four 3-prong outlets and 3 USB sockets for a total of 7 plugs at a time. saving your space and making your desktop organized.
Specification:
Rated Input: 125V~10A MAX
Rated Power: 1250W MAX
USB Port Output:5V/2.4A
Wireless Charger Output:15W (10W、7.5W、5W) Smart identify
Effective Charging Distance:0-5mm/0.00-0.02 inches
Cord Length: 4 ft/1.2m
Nice addition to my "charging table"
I ordered this Tessen power strip with wireless charger to put on a little "charging table" I keep in my family room. I have various cables on it to charge any device, and thought this would be a addition, having a wireless capability, and a couple more USB ports to plug cables into. It also provides a great place to plug in vacuums or other 110 AC devices in the room.
I only have one device that's wireless-charge enabled, a Kindle Paperwhite with a Qi sticker on the back. When I place the Kindle on the charger with the sticker centered, the red light changes to a blue blinking light, and it definitely does charge. I haven't been able to get it to stop blinking, which would indicate a full charge, however I'm not sure if that's a function of the charger, or the sticker receiver. I removed the Kindle from the case and it didn't make any difference, but it is fully charged. Makes it very convenient for me. When I'm done reading I can just place the Kindle on the charger, and the next time I pick it up it'll be fully charged.
The cord is a perfect length, and I love the flat angled plugs. Makes it super easy to plug into any 110 outlet, without blocking the other receptacle.
The device itself seems very well designed and built, and I'm super pleased with it. Also a perfect device for RV, computer desk, or packed in a suitcase for traveling. I also think it's a great value at the asking price. I have many other power strips priced much higher, but none have a wireless charger.
Really Awesome Charger
This has been a great addition to the work-from-home set up that my wife and I share. The room we use as an office is limited power-wise. We had a power strip on the floor that had a dock, 2 monitors, a speaker/microphone system, a lamp and a usb charger plugged into it. That thing was crammed and there were wires all over the place. I added a hidden, under-desk shelf and moved all of the wiring there. It looks so much cleaner and the wires are out of the way, but I had an issue where I couldn't access a free outlet anymore. My wife uses this setup for her computer when she works from home. I use the desk in the evenings for remote podcasting and online school/training. I don't use the monitors and dock because it's not compatible with my machine and I don't necessarily need them. So I plug in my laptop to the power strip and use it separately from everything else. So by moving/hiding the power strip it made it very difficult to plug in my laptop. This charger and power strip from Tessan was the perfect solution. The usb charger on the power strip was for my smart watch and my work phone which I leave in this room when I'm not at work. I was able to remove that usb charger and plug in this Tessan device and kill 2 birds with one stone. I have this sitting on the desktop under a monitor stand where it is out of the way but still accessible. With this Tessan charger I can charge my phone on the wireless pad, plug in my watch charger to a usb port and plug in my laptop for class in the evenings. It's really perfect and works well for our setup. I also think it has a sleek and clean look. I left a few stars off for traveling aspects. It's sort of marketed that way but I find it a bit bulky for that purpose. I think there are better travel charging solutions out there, but this is perfect for a more permanent setup.
Perfect for travel
Oh, I love this device. I shove it underneath my couch because I have a plug, which makes for easy access; charging my iPhone while I can plug in my laptop and work is a big perk, plus I have USB ports to plug other things into charge as well. Put your phone in airplane mode, and within 30 minutes, you can have almost 80%.
It's PERFECT FOR YOUR DESK!
This is exactly what I've been searching for. A place where I can plug-in regular USB type AAs and charge multiple cordless and wireless devices. I have a Dell XPS, just like the MacBook Pro, all it has is three USB type C's and two of them are thunderbolt three. I'm not a big fan of carrying around dongle's or laying them on my desk it just seems messy.
However, this has a wireless charger for anything and that supports it, two USB type-A charging ports, and two plugs on the top for easy access for anything else you need to charge. It's just a little charging station. I love it.
Own an Airbnb? GET THIS
If you own an Airbnb, people are going to want to charge their phones and other devices. I have tested this for over a month and it's worked great. We stuck it to a small table inside the front door with adhesive tape, this is the kind of option that you could provide in every bedroom if needed.