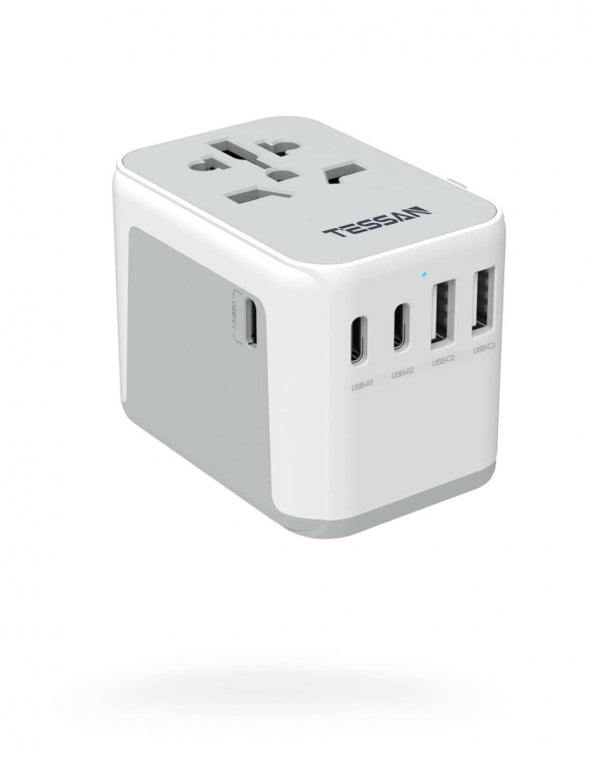 Universal Travel Adapter with 3 USB C and 2 USB Ports (Fast Charging PD 15W)
SKU:
3 USB-C + 2 USB-A (15W PD)
Trusted Delivery
International Plug Adapter with 2 USB + 3 Type-C Ports
TESSAN European travel plug adapter built with 1 universal AC Outlet which can accept those country plugs
Type A/B Plug: USA, Canada, Japan
Type C/E/F Plug: Most of Europe, Germany, France, Spain, Iceland
Type G Plug: UK, Ireland, Scotland, Kenya
Type I Plug: Australia, New Zealand, China
Type L Plug: Italy
This travel adapter does not work in India, Pakistan (Type D), South Africa (Type M)
About This Item:
International Plug Adapter for Travel: Our all in one adapter has 4 different plugs built in which covers over 150 countries: Type C Plug: Most of Europe, France, Germany, Italy, Spain, Iceland, Greece, Israel; Type G Plug: UK, Ireland, London, England, Scotland, Dubai; Type I Plug: China, Australia, New Zealand; Type A Plug: USA, Japan, Canada; so it is perfect for your worldwide travel
3 USB-C and 2 USB-A Universal Power Adapter: The 3 USB C ports can charge up to 3.0A/15W, and the 2 USB A ports can charge up to 2.4A/12W, so our travel adapter is ideal for your USB devices, especially laptop, smartphone, tablet, power bank, camera, etc. All the USB ports output: 5.6A/28W max
6 in 1 Travel Adapter Worldwide: In addition to 5 USB ports, there is also a universal AC outlet that converts plugs of US, EU, UK, AU, so you can plug electronics from different countries (except India and South Africa) into socket of this european travel plug adapter. Max capacity up to 2500 watt (max 250 Volt, 10 A)
Portable and Safety: Compact Size and lightweight design to fit into luggage and backpack. As a universal power adapter, it is made of durable polycarbonate shell and thermal protection layer. This US to UK Plug Adapter has built-in double 10 amp fuse and safety shutter design to ensure that you and your devices are fully protected
Note: It is not a voltage converter; This International power adapter plug is only compatible for 100V to 250V wide voltage device, especially your hair dryer, straightener, electric toothbrush or razor need to support 100V to 250V dual voltage, otherwise you may need a voltage converter
6 in 1 Universal Outlet Adapter
Universal AC Outlet: Accepts US/EU/ AU/UK plug.
3 USB-C & 2 USB-A Ports: Compatible with all USB-charged devices, like cellphones, tablets, cameras, power bank, etc.
You can also share with your family or friends in hotel with limited plug sockets
NOT A Voltage Converter
This travel adapter does not convert voltage from 220V to 110V or vice versa.
Please make sure your devices to support 100V-250V Dual Voltage. Especially hair dryer, curling iron, straightener, electric razor, etc
Compact Size for Travel
This international power adapter is mini size: 2.8*2.1*2.0 in. It will be a great travel companion during worldwide travel and easy to use. Take our universal adapter to enjoy your travel time now
Type C - European Plug Adapter
Compatible Countries::Albania, Austria, Belgium, Bosnia-Herzegovina, Bulgaria, Croatia, Cyprus, the Czech Republic, Denmark, Estonia, Finland, France, Italy, Germany, Greece, Hungary, Iceland, Latvia, Lithuania, Luxembourg, Morocco, Macedonia, Montenegro, the Netherlands, Norway, Poland, Portugal, Russia, Romania, Serbia, Spain, Slovakia, Slovenia, Sweden, Switzerland, Korea, Turkey, Ukraine, etc
Type G - UK Ireland Plug Adapter
Compatible Countries: United Kingdom(England, Scotland, Wales, Ireland), Bahrain, Belize, Bhutan, Botswana, Cambodia, Cyprus, Dominica, Falkland Islands (Malvinas), Gambia, Ghana, Gibraltar, Grenada, Guyana, HongKong, Iraq, Jordan, Kenya, Kuwait, Lebanon, Macau, Malawi, Malaysia, Nigeria, Oman, Pakistan, Qatar, Seychelles, Sierra Leone, Singapore, Solomon Islands, Tanzania, Uganda, Vanuatu, Yemen, Zambia, Zimbabwe, etc
Type A - Japan Plug Adapter
Compatible Countries: American, Samoa, Aruba, the Bahamas, Barbados, Belize, Bermuda, Brazil, Canada, the Cayman Islands, Colombia, Costa Rica, Cuba, Ecuador, El Salvador, Guam, Guatemala, Haiti, Honduras, Jamaica, Japan, Liberia, Mexico, Micronesia, Montserrat, Nicaragua, Okinawa, Panama, Peru, Philippines, Taiwan, Thailand, etc.
Type I - Australia Plug Adapter
Compatible Countries: Argentina, Australia, China, Fiji, New Zealand, Papua New Guinea, Tokelau (the Union Islands), American Samoa, Cook Islands, Kiribati, Nauru, SaintVincent and the Grenadines, Samoa, Solomon Islands, Tajikistan, Timor-Leste, Tonga, Tuvalu, Uzbekistan, Vanuatu, Uruguay, etc.
Specification:
Max. Power: 1000W at 100Vac / 2500W at 250Vac
Input: 100-250Vac 50/60Hz
USB Total Output: 5V 5.6A Max
Single USB-A: 5V 2.4A Max
Single USB-C port: 5V 3.0A Max
Fuse Rating: 10A Max