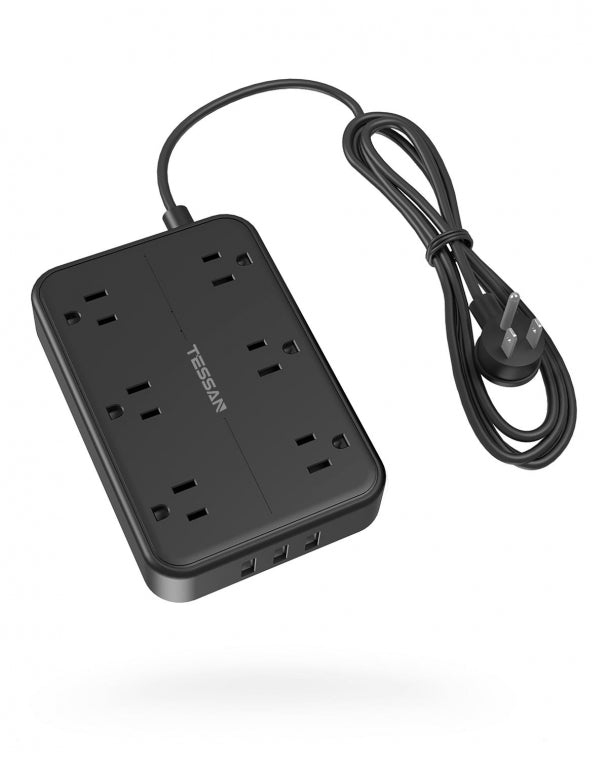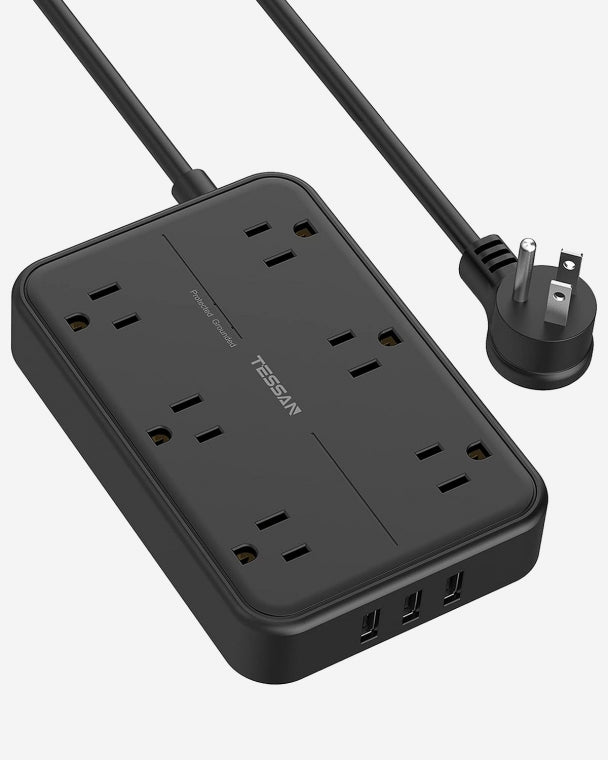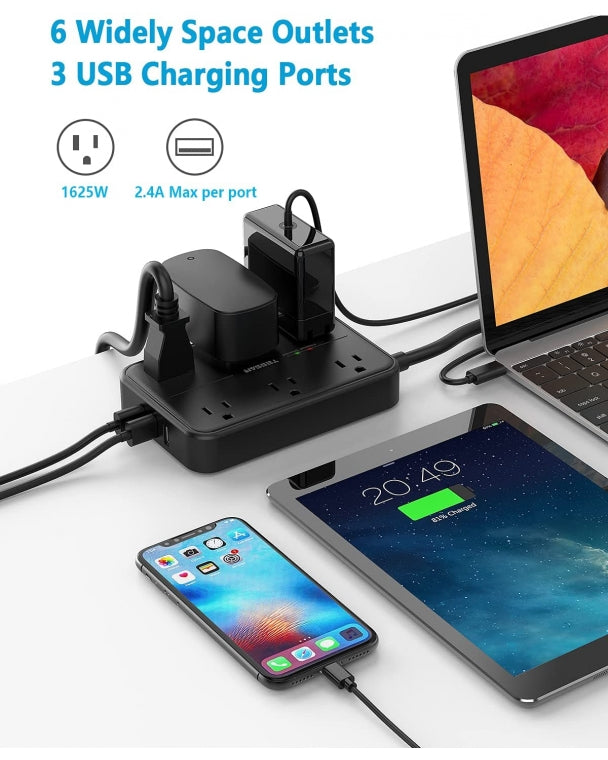 Surge Protector Power Strip 5 FT Extension Cord Flat Plug With 6 Outlets 3 USB Ports
Trusted Delivery
TESSAN Wall Mount Multi Outlets Strip
Don't you expect a technological revolution for power strip with usb? now we did, allow multiple large adapters to use, saving you time and space, keep your electricity safe and more, they will become a must have accessories for your family, room, kitchen, living room, dorm.
Professional Surge Protection
6 Wide Spaced Outlets 3 USB Charging Ports
45° Right-angle Flat Plug
Wall Mount Power Strip
4 Rubber feet
About This Item
Multi Outlets Strip: 6 AC outlets 3 USB power strip with 1080-joule surge-protection for computer, TV and other household, office electrical appliances from voltage fluctuations, surges and spikes.
Multiple Safety Protection: Surge protector power strip with overload protection protects against spikes and fluctuations, Intelligent circuitry with built-in voltage sensing detects and responds to your device's power needs, the reliable overload switch will trip off automatically to protect your devices and your home when the power overload.
USB Charging Station: This black extension cord with 3 USB ports that will detect your devices automatically and deliver the charge speed up to 3A total (5V/2.4 Max Per Port), now you can charge all your devices, your laptop, lamp, mobile phone or tablet.
Wide Space Outlets: widely spaced ac outlets are separated enough to fit big plugs without blocking each other, six 3-prong outlets and 3 USB ports for a total of 9 plugs at a time, easily plug in your PC, TV, more.
Right Angled Flat Plug and Wall Mountable: The space-saving design of the flat plug allows the power cord to sit close to the wall so that it could be easily hide in the back the furniture, 4 keyholes slot allow this power bar to be securely installed in various applications, such as workbenches, desk, more.
Black USB Charging hub
3 USB charging ports Integrated with intelligent charging technology that enables each port to detect and deliver ideal output up to 2.4A, the total USB output is up to 3A. You can charge your cellphone, tablets, and other USB gadgets at the same time.
Surge Protection
Advanced built -in 1080 Joules surge protection energy rating to protect the damage of your devices from the power surges, made of ABS plastic and PC 94V0, can withstand scorching temperatures of nearly 1382℉Celsius, the insulating material can protect you from electric shock.
Protected indicator(Red Light) illuminates when the surge protection feature is working properly.
Grounded indicator (Green Light)will light on while the electrical wiring is properly grounded. If the light DOES NOT illuminate, there may have a ground-wiring problem in your home, you should consult a qualified electrician to examine your outlet wiring.
6 Widely Spaced
6 AC multiple outlets with 1.8-inch long space in between, larger than standard 1.5-inch socket. Widely Spaced Outlets fit for a slightly big power adapters without blocking adjacent outlets.
Overload Switch
Controls the AC outlets and USB ports all together, in the event of power overload (Rated Power: 1625W), the reliable safety switch will trip off automatically to protect your devices and your home.
Right Angle Flat Plug
The flat plug features a low profile fits easily in tight spaces, and the 45 degree angled plug to keep other outlets free,5 ft long cord, allows this power strip to be securely installed in various applications, such as workbenches, under counters & more.
Wall Mountable
4 Keyhole slots allow you to securely install this power strip in various applications, such as workbenches, wall mounts, floor mounts and under counters, 4 rubber feet on the bottom keep from slipping and sliding.
Note: Mounting screws are included.
Specification:
Model: TS-106
Rated Power:1625W MAX
Rated Input: 125V~13A MAX
USB Output: 5V-3A (2.4A MAX Per Port)
Cord Length: 5 ft
Surge Energy: 1080 J